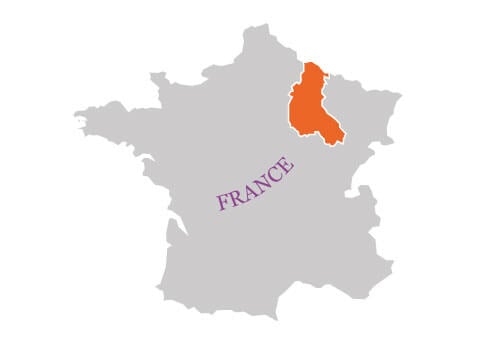 Champagne
and Sparkling Wine
Of the various sparkling wines, there's one which stands head and shoulders above them all – the most coveted and sought-after: Champagne.
An Introduction to Champagne
When the occasion demands the very best, look no further than Champagne. No other sparkling wine can match the aromatic complexity, poised flavours and sheer elegance, while the character of your favourite Champagne is shaped by a thousand variables.

The Story of Champagne
The mention of Champagne evokes a voluptuous bottle of Dom Pérignon reclining in an gleaming ice bucket. In fact, Champagne takes its name from the region of north-east France where the oldest house, Ruinart, began production in 1729 – and true Champagne comes from nowhere else. In this emerald kingdom, the conditions are ideal for Champagne production, with a range of low chalk hills rising gently from an agricultural plain, lifting the vines towards the sun and allowing them to achieve the barest minimum of ripeness. The edgy, high-acid profile of those grapes is perfect base material for the greatest sparkling wine of them all. Quite simply, nothing else drinks like Champagne.
The three grapes behind a true Champagne
Not just any grape can conjure the inimitable taste of Champagne. True Champagne rests on just three grape varieties: Chardonnay, Pinot Noir and Pinot Meunier. Chardonnay is a white grape, while the two Pinots are both black, each bringing its own idiosyncrasies to a Champagne blend. Chardonnay suggests flowers, vanilla, honey. Pinot Noir is earthier, rootier and more structured. Pinot Meunier adds fresh, appley notes. Raise a flute of Champagne and these subtle differences will announce themselves.
The secrets of Champagne production
Just as important is the traditional method for creating Champagne: now imitated for sparkling wine production worldwide, but never equalled. Time-honoured Champagne production begins with still wine made from the classic triumvirate of grapes above. But critically, the wine is then bottled with a little extra sugar and yeast, and carefully laid on its side in the cool, deep Champagne cellars that have been maintained for centuries by houses like Laurent-Perrier, Bollinger, Moët & Chandon, Veuve Clicquot and Ruinart.
Very slowly, the yeast ferments the sugar, producing alcohol and carbon dioxide. Since the Champagne bottle is sealed, the CO2 has nowhere to go. Bubbles form. The fermentation leaves yeasty sediment. After at least twelve months (and usually longer), the Champagne is upended so the sediment settles in the bottle's neck. It is then removed by freezing the neck, allowing the gas to expel the frozen plug of sediment, and quickly recorking the bottle, adding extra syrup at the same time to balance the naturally high-acid profile. The yeasty sediment, too, leaves rich, sometimes creamy flavours in the wine. The Champagne is now ready to be opened and enjoyed.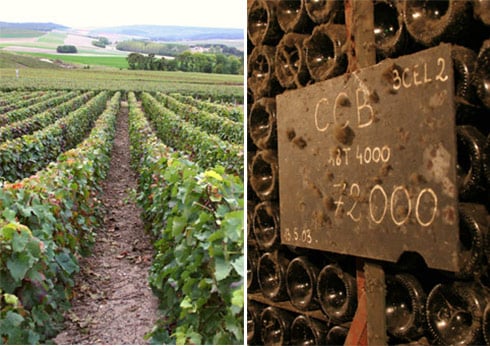 Grapes growing in the vineyards of Champagne / Bottles ageing in the cellar
From Brut to Dom Pérignon: The Many Styles Of Champagne
Centuries later, Ruinart Champagne has been joined by many other brands, and your fizz is as individual as the occasion it is served at. The most widely seen variety of Champagne is non-vintage Brut: a blend of different years, bottled with up to 15g of residual sugar, which encapsulates each house's unique ethos. These wines are usually given a branded name, such as Moët & Chandon's Brut Imperial, Bollinger's Special Cuvée or Roederer's Brut Premier.
Meanwhile, a single vintage (or Brut Millésime) Champagne reflects the characteristics of a single good or outstanding vintage, and receives extra cellar age. Blanc de Blancs means a Champagne made from Chardonnay alone, while Blanc de Noirs is a Champagne from either or both of the Pinot varieties. Very dry Champagne is called Brut Nature, Extra Brut, Brut Zero or Brut Integral, while a sweeter-than-normal Champagne is called Sec (which paradoxically means 'dry'), Demi-Sec or Rich.
Champagne made from the region's best vineyards is labelled Premier Cru or (better still) Grand Cru. Finally, there is the celebrated luxury Champagne, usually called prestige cuvées. Examples of this celebrated Champagne include Moët & Chandon's Dom Pérignon, Roederer's Cristal and Veuve Clicquot's La Grande Dame. Most are wines from a single vintage (although Krug's Grande Cuvée is multi-vintage), and are blended from the finest parcels of vines and the most successful wines of the year.
Champagne bottle sizes
Champagne bottles come in a dizzying array of sizes, from the tiny quart (20cl) right up to the gargantuan Melchizedek, which is a staggering 30 litres – the equivalent of 40 bottles of a standard 75cl size. Curiously, the majority of larger Champagne bottles are named after ancient kings. This is the full list:
Quart – 20cl
Half-bottle – 37.5cl
Demi – 50cl
Standard bottle – 75cl
Magnum – 1.5 litres (2 bottles)
Jeroboam – 3 litres (4 bottles)
Réhoboam – 4.5 litres – (6 bottles)
Methusaleh – 6 litres (8 bottles)
Salmanazar – 9 litres (12 bottles)
Balthazar – 12 litres (16 bottles)
Nebuchadnezzar – 15 litres (20 bottles)
Solomon – 18 litres (24 bottles)
Sovereign – 26.25 litres (35 bottles)
Primat – 27 litres (36 bottles)
Melchizedek – 30 litres (40 bottles)
Champagne and cuisine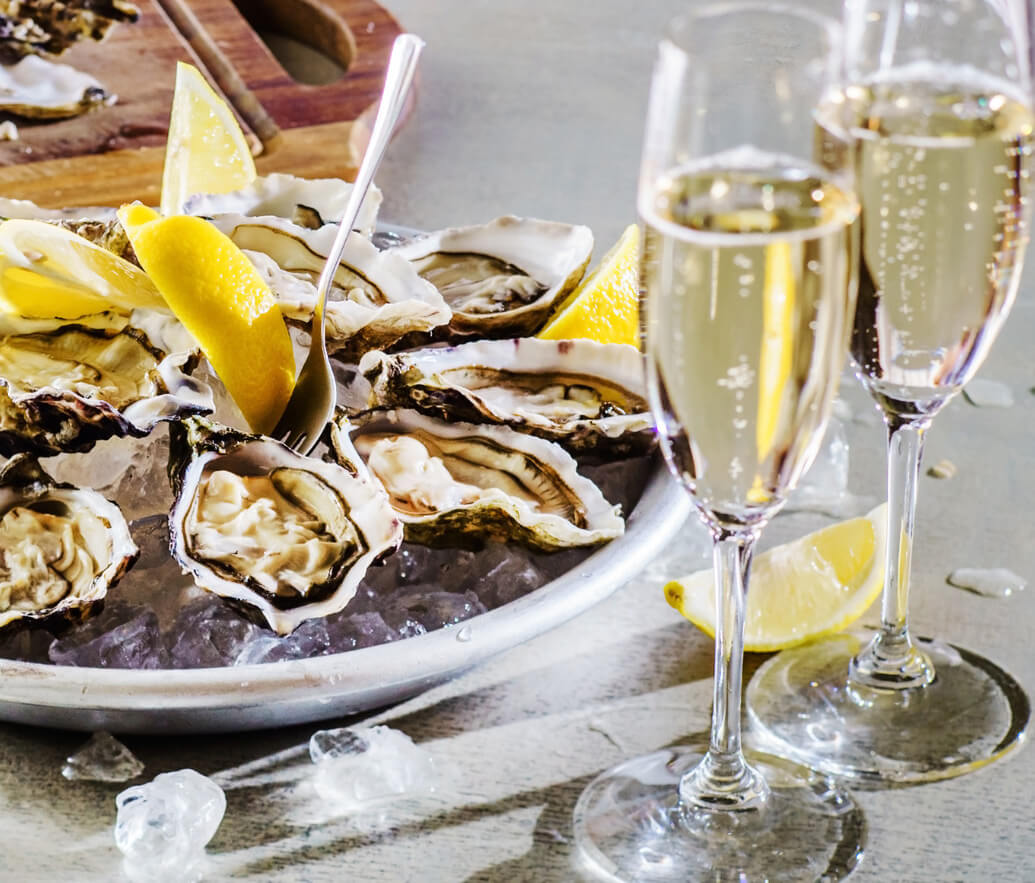 Champagne and oysters are a classic food pairing
Not just the world's favourite party guest, Champagne is also a versatile partner for cuisine, matching naturally with a variety of dishes, ingredients and flavours. Champagne is well-known for complementing seafood of all kinds, but especially oysters, mussels and langoustines, where the elegant, citrus character is the perfect counterpoint. It also excels alongside meat dishes: try a heavier Blanc de Noirs-style Champagne alongside game for a pairing with complexity and character.
But remember, too, that Champagne doesn't have to be the preserve of high society and haute cuisine. Try pairing a flute with traditional fish and chips: you'll be amazed how the clean, refreshing acidity of the Champagne perfectly cuts through the fattiness of the fried food.
Did you know?
a Champagne cork can reach

up to 40mph

when popped
there are approximately

50 million

bubbles in a 75cl bottle of Champagne

Marilyn Monroe

reputedly once took a bath using 350 bottles of Champagne
Typical Character and Style of Champagne
Yeast

Biscuits

Toast

Lemon
Close