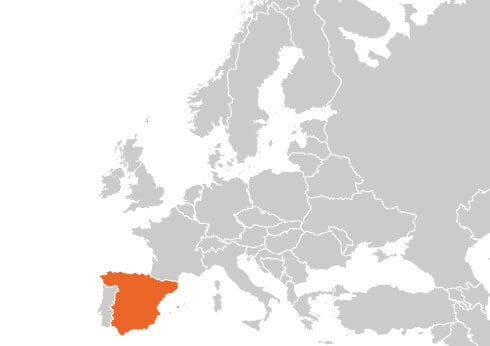 Sherry
Sherry is a fortified wine from the region of Jerez, Andalucia in south-west Spain. These wines are made from white grapes, typically from the Palomino, Moscatel and Pedro Ximénez (PX) varieties. Although a seriously undervalued wine, sherry is making a real revival in certain parts and is becoming increasingly easier to find in bars and restaurants across the UK.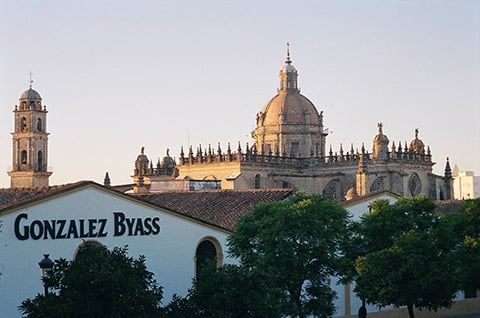 Sherry is made in Jerez in south-west Spain
Production
Sherry production can be split into two primary styles: fino (which is known as manzanilla when made in Sanlúcar de Barrameda), and oloroso, which are both made from the Palomino grape. As a still wine in itself, Palomino produces a light, rather bland style of wine; it's the second process where the characters and flavours of sherry are brought to life.
When making fino sherry, still wine is fortified with alcohol to 15-15.5% and transferred into sherry butts which typically hold 600 litres. These barrels are filled five-sixths full and a layer of yeast, known as flor, forms on the top, preventing oxygen from getting into contact with the wine. After a minimum of three years' ageing, it can then be called sherry and it will usually be bottled shortly after this time. By leaving it for longer, the wine will develop a richer, nuttier and more biscuity flavour, however the yeast will usually die after seven to eight years.
For oloroso, still wine is fortified to 17% abv as the yeast flor is unable to survive at this level of alcohol. The wine is once again transferred into butts and left to age oxidatively where it will pick up much flavour. The other striking difference between how oloroso and fino sherry is aged is down to the solera system, which consists of a series of barrels (often layered on top of one another) called the criaderas y solera. The newest wines start at the top criadera and over the years are slowly passed down to the next level and mixed each time with older wines, until they arrive in the final solera from which it will be bottled. With this process, the wines can take many decades to pass through the solera.
Styles
Fino (manzanilla)

These wines are light bodied, bone dry and low in acidity. Typical aromas and flavours include, almonds, yeast, toast, chamomile, savoury notes, citrus, ripe apple and lemon peel. Manzillas are often regarded as tasting slightly saltier due to them being aged by the sea. Best served chilled.

Amontillado

This style is richer and nuttier than a fino but lighter than an oloroso, and benefits from being served lightly chilled. Typical flavours that you would find in these wines are almonds, dried fruit, woody notes, caramel, orange peel, and burnt marmalade.

Palo Cortado

Often regarded as having the nose of an amontillado and palate of an oloroso, palo cortado tends to be less bitter than amontillado. These wines are typically medium bodied, and dry with flavours of toffee, caramel, dried fruits, raisin, almonds and hazelnuts, with some savoury and leather notes in the older styles. These are best served at room temperature or slightly chilled.

Oloroso

These wines are best served at room temperature, although some styles can be delicious slightly chilled. Oloroso is usually full bodied and low in acidity, and although dry, the richness of olorosos can often be misleading. Expect to smell and taste flavours of Christmas cake, dried fruits, orange peel, woody notes, almond, brazil nut, bitter chocolate and toffee.

Pale Cream

Similar to cream sherry, these contain slightly less residual sugar and are therefore not quite as sweet. The base sherry in these tends to be fino or amontillado rather than oloroso, with Moscatel or PX added to provide the sweetness. These tend to have flavours of caramel, raisins, burnt sugar, toffee, dried fruit, grape, almonds, biscuits and yeast.

Cream

The base for these wines is typically oloroso, which then has PX or Moscatel added to create sweetness. The best examples are often blended in their youth and mature for many years before being bottled to create a more balanced wine. These tend to be sweet with flavours of caramel, raisins, burnt sugar, toffee, dried fruit and grapes. Until recently, terms such as sweet amontillado, oloroso dulce and rich oloroso were banned, and these must now be labelled as cream sherry.

Moscatel

Moscatel, also known as Muscat in France, is one of the few wine grapes that actually tastes of grapes. The grapes are usually grown in vineyards to the north of Jerez but the wine must be made in Jerez to be able to use the name 'sherry'. Moscatel produces a naturally sweet wine which is then fortified. These tend to have lots of floral characters along with honey, grape, blossom, raisin, citrus, caramel and orange peel. These are best served chilled and pair fantastically with fruit-based desserts or sweet pastries.

Pedro Ximénez (PX)

Pedro Ximénez, often referred to as PX, is the grape behind this lusciously sweet style of sherry often containing 300-500g of sugar per litre. These wines typically have flavours of dried fruit, fig, raisin, prune, toffee, caramel, dates, dark chocolate, Christmas cake, citrus peel, candied peel and coffee. PX is best served chilled to balance the high sugar content and pairs well with chocolate, mature and full-bodied cheeses, or even drizzled on vanilla ice cream.
Did you know?
Harvey's Bristol Cream accounts for around

75%

of all sherry sales in the UK.

Fino en rama

is a fino that has not been filtered and tends to be richer and fruitier than an traditional fino.
if you swap dry vermouth for fino sherry in your

Martini

, you have yourself a Gordon.
Typical Character and Style of Sherry
Grape

Hazelnut

Almond

Dried Fruit
The Sherry region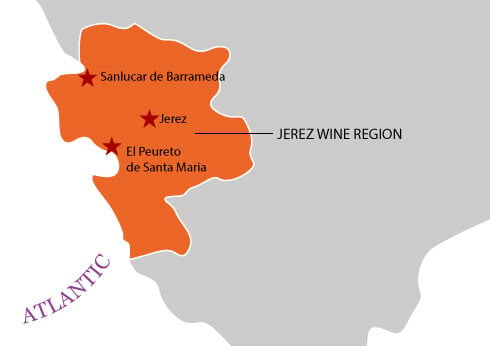 Close