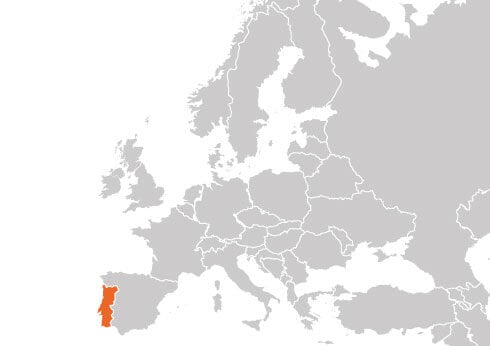 Port
The Douro Valley in northern Portugal is the home of port, the famed fortified wine that has significant historical ties with the British. The region runs from close to the Spanish border to Porto in the east, the coastal city that gives the wine its name.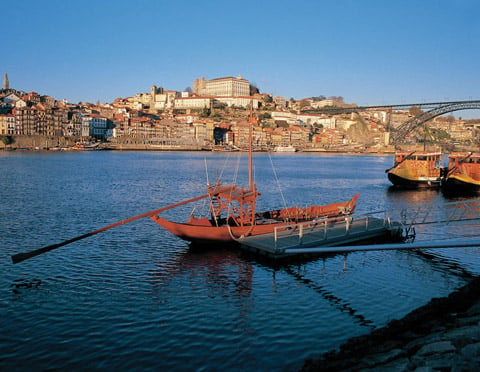 The view from Vila Nova de Gaia, home to dozens of port lodges, looking over to Porto
Port production starts with wine – grapes are picked, crushed and fermented. Before the process has completed, the fermentation is stopped by adding grape spirit, and the wine is then aged. The different types of port are aged in different ways, producing a wide range of styles.
Vintage

The best-known style of port. After a maximum of two-and-a-half years of ageing in oak barrels, the finest years of wine production are bottled as vintage ports. A vintage is not declared every harvest; only the best years, as authorised by the industry's governing body, are chosen – about three times a decade is the norm. Each vintage uses grapes harvested in a single year, and the wine is bottled with its sediment, allowing it to develop in the bottle over many decades. These wines are sweet and fruity, and keep their rich red colour. As vintage ports are bottled with their sediment, they need to be decanted before drinking.

Ruby

The most regularly available style of port, ruby is aged in large tanks or vats before bottling. The size of the tanks minimises the wine's exposure to oxygen, allowing it to develop in flavour while maintaining its bright colour and freshness. These wines are bottled after filtering and generally don't improve with age, instead usually being drunk fresh.

Late Bottled Vintage (LBV)

Similar to vintage port in style, LBV is bottled after longer maturation in oak. These are still brightly coloured and fresh, but the extra time in barrel gives them some of the flavour of an old, bottle-aged vintage port without quite the same level of complexity. LBV is bottled most years and doesn't require a vintage declaration.

Crusted

Crusted ports are made by blending a number of different vintages, before bottling with sediment. This allows the producers to combine the flavours of a number of vintages in a wine that will be laid down for years to mature.

Tawny

Tawny ports are aged entirely in oak for at least two years, with many maturing for decades. Wood is porous, which exposes the wine to oxygen, changing its flavour and colour. Over time, some of the wine will also evaporate, concentrating the flavours and giving it more depth. Older tawny ports are bottled with an 'indication of age', either 10, 20, 30 or 'over 40 years'. This is not the exact age of the wine, but an idea of the flavour profile the producer has aimed for. The wines are normally browner in colour than wines aged in glass, and are also nuttier in character.

Colheita

Most tawny ports will be blended from wines of different ages, but colheitas are made using wines from a single vintage. They have the same character as a regular tawny, but will vary more due to the lack of blending between years.

White Port

While the most common ports are made using red base wines, there are also many examples using white wines. Generally, these are light and young wines, often drunk mixed with tonic water, but older versions, aged in oak, are as rich and complex as tawnies.
Did you know?
Port became popular in England during the

1700s

as the country was at war with France and needed a new source of wine
Until the

1960s

, barrels of wine were transported from the vineyards to Porto on small, flat bottomed boats called rabelos
while Port is named for the city of

Porto

, more wine is aged in its sister city, Vila Nova de Gaia, on the south side of the river Douro
Typical Character and Style of Port
Cherry

Blackberry

Prunes

Dark Chocolate

Fruit Cake
Close