Sweet almond and citrus
Amaretto
This silky cocktail has subtle marzipan notes, perfect for those with a sweet tooth
How To Make It
Prep time:

7 minutes

Serves:

1

Skill:

Medium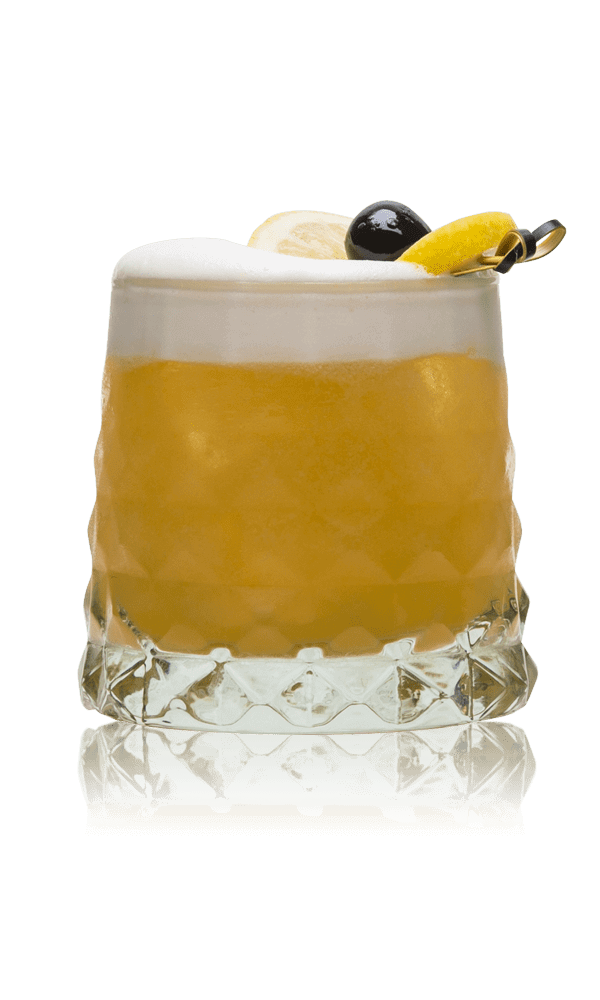 Ingredients
50ml amaretto
5ml sugar syrup
20ml fresh lemon juice
2 dashes Angostura bitters
1 fresh egg
1 Maraschino cherries
ice cubes
Equipment
chilled rocks glass
mixing glass
shaker tin
shot measure
hawthorne strainer
lemon squeezer
bar spoon
Method
Pour the amaretto, lemon juice, egg white and sugar into one half of your cocktail shaker.
Cover and shake well without ice to emulsify the egg white.
Open the shaker and fill with ice.
Shake again until thoroughly chilled.
Strain into a rocks glass filled with fresh ice.
Garnish with a maraschino cherry and lemon wedge.
Did you know?
If you prefer something with a little more strength, this drink works incredibly well with bourbon. Either shake the bourbon in with the other ingredients (add 15ml bourbon or try 50:50 bourbon/amaretto) or float a bar spoon of whiskey on top of the finished cocktail – known as an A and B Sour.
Make this Cocktail
Choose your products
Bitters
Angostura Bitters

Essential kit for bartenders and amateur mixing enthusiasts alike, and a vital ingredient in a string of classic cocktails including Mai Tai, Singapore Sling, Old Fashioned etc

£11.45
Drinks
Saliza Amaretto Veneziano Liqueur / Bepi Tosolini

Formerly known as Amaretto Mascarada, Saliza is a cut above standard-issue amarettos with a delightful lightness and intense yet elegant marzipan flavours. This authentic Amaretto is a refined almond distillate, harmonious, natural and incredibly balanced.

£27.25
Equipment
Mixing Glass 16oz (46cl)

A medium-sized mixing glass that will help you make 46cl of your favourite beverage.

£3.95

Boston Stainless Steel Shaker Can / 28oz

An essential tool of the trade for professional bartenders and amateur mixologists alike. Use in conjunction with the Bar Strainer and the Boston Shaker Glass (See Glassware), to create the cocktail of your choice.

£2.75

4 Prong Hawthorne Strainer

For use with the Boston shaker.

£3.75

Mexican Elbow Lemon Squeezer

Designed to do the hard work for you, this Mexican Elbow will juice your lemons quickly with the minimum fuss and is durable and easy to clean. A great piece of equipment worth its weight in gold in a busy bar.

£8.95

Bonzer Bar Spoon 10"

A solid Bonzer spoon with disc on the end and a spiral shaft - perfect for layering cocktails.

£6.95

Japanese-Style Jigger 20, 25, 40 & 50ml

A Japanese-style jigger, perfect for measuring out shots when adding to cocktails, with 20 and 25ml measures in one side, and 40 and 50ml on the other.

£9.75
Garnishes
Luxardo Maraschino Cherries / 400g

A jar of Luxardo's excellent maraschino cherries. These aren't the bright red cocktail cherries you usually see, made by removing all the cherries natural flavour and replacing it with syrup. These are marasca cherries steeped in a maraschino flavoured syrup, creating little cherry flavour bombs that will ruin you for other cocktail garnishes.

£9.25
Glasses
Gem Tumbler / 11.25oz (32cl)

A bobbly, inwardly tapered tumbler from the Gem range. Tactile and decently weighty.

£5.25
Syrups and Mixers
Monin Gomme Syrup

The industry standard cocktail sweetener across the UK bar trade, Monin's gum arabic syrup is lightened by a trace of orange blossom. Essential for all manner of sours, daiquiris and just about any cocktail containing lemon or lime juice.

£4.75