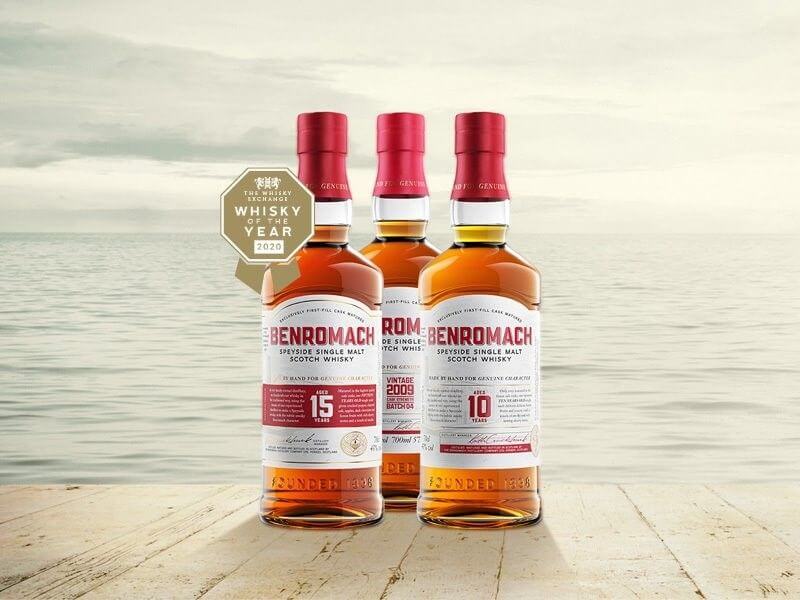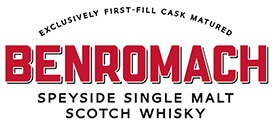 New-Look Range
Speyside gem Benromach has rebranded their whisky range, with new packaging and a new statement of their ethos: "Made by Hand for Genuine Character".
The packaging features design elements that reflect both the whitewashed walls at Benromach and the red colour of the distillery chimney and doors, while the font is the same as that on the distillery's vintage hand-painted sign.
Learn more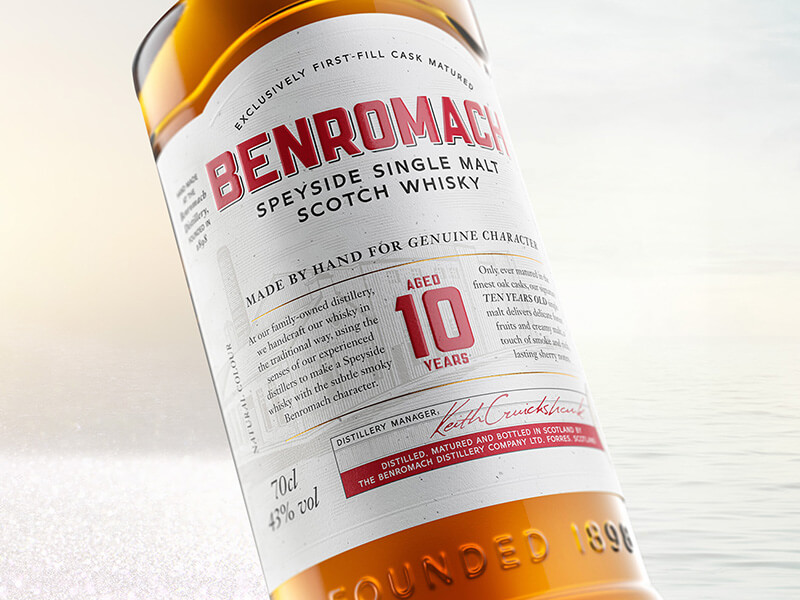 Benromach
10 Year Old
Fetching Price
Fetching...
This characterful whisky is a great introduction to the Benromach style. Full of toffee, apple, liquorice, gentle smokiness and mineral notes, it has been winning fans the world over since it was launched in 2009.
Style
Body

Richness

Smoke

Sweetness
Character
White Pepper

Liquorice root

Apple

Smoke

Malt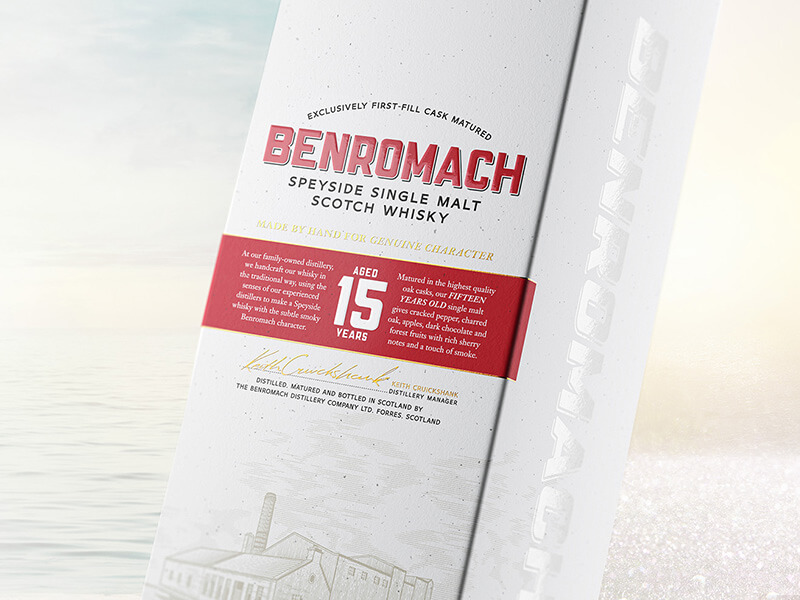 BenRomach
15 Year Old
Fetching Price
Fetching...
Voted Whisky of the Year 2020 by our customers, this lusciously rich Speyside single malt is a fruity, chocolatey and lightly smoky dram that will delight fans of traditional styles. Matured in a mixture of ex-sherry casks and ex-bourbon casks, with a greater emphasis on sherry than the Benromach 10 Year Old, this is a charming reflection of Speyside both past and present.
Style
Body

Richness

Smoke

Sweetness
Character
Ginger

Mint

Apple

Milk Chocolate

Honey

Fruit Cake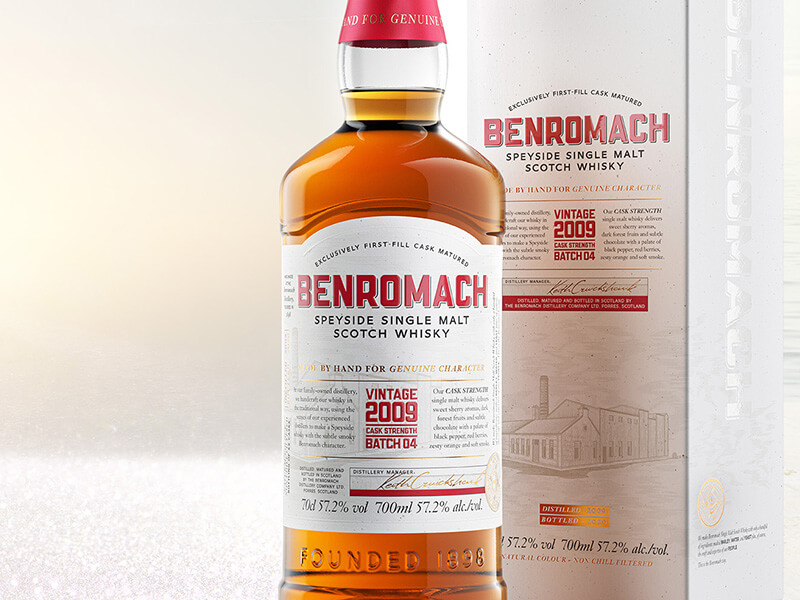 BenRomach
2009 Edition IV
Fetching Price
Fetching...
The fourth edition of Benromach's cask strength expression, made from single malt distilled in 2009 and bottled at 57.2% ABV. It's sweet and smoky with notes of sherry, dark forest fruits, zest orange and black pepper.
Style
Body

Richness

Smoke

Sweetness
Character
Black Pepper

Clove

Raisins

Orange

Blackberry

Dark Chocolate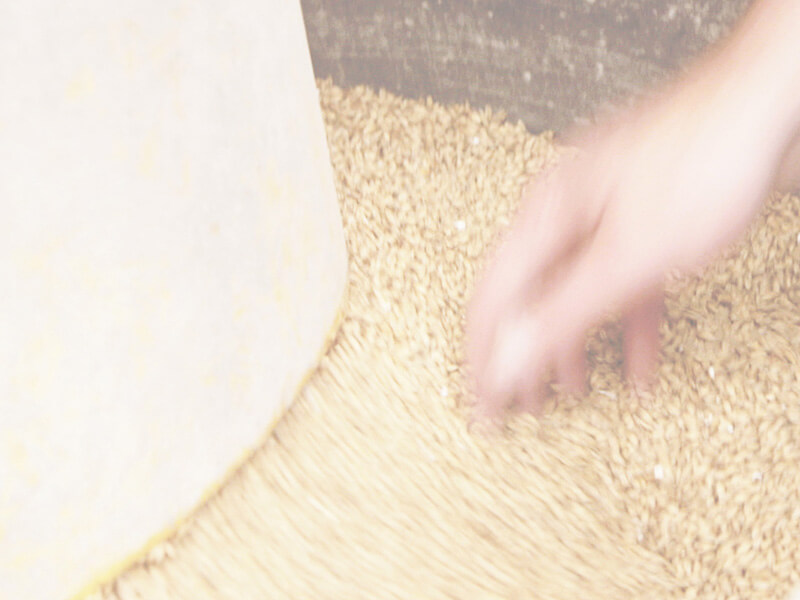 About Benromach
Founded just before the turn of the 20th century, Benromach made whisky intermittently for the next 85 years, changing hands frequently during that time.
It was closed in 1983, one of the many victims of a glut of Scotch whisky on the market, and lay silent for 11 years. Gordon & MacPhail, well known to whisky fans for their independent bottlings, then bought Benromach and set about creating a new distillery within the shell of the old.
It took the company several years to create the distillery and the spirit they wanted, and in consequence it wasn't until the late 1990s before their first spirit was made. Since then Benromach's philosophy has remained the same: to recreate a traditional style of Speyside whisky that's elegant, nuanced and offers just a wisp of smoke, something which would have been created by the occasional use of peat in barley malting in decades gone by.