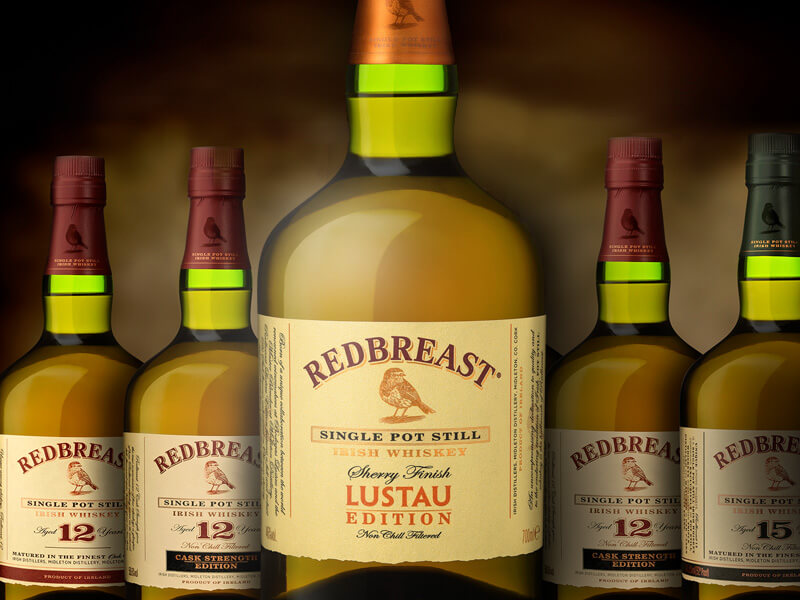 Lustau Edition
The magic of single pot still Irish whiskey
Redbreast is one of the finest Irish whiskeys, and its Lustau edition takes the flavours a step further, adding a layer of richness to Redbreast's classic notes of fruit and spice thanks to extra ageing in Lustau sherry casks.
The secret to Redbreast's complexity is the way it's made – it's a single pot still whiskey, made with both malted and unmalted barley, giving an extra dimension to the whiskey and unlocking more flavours. This style of whiskey is only found in Ireland – if you've never tried it, prepare to be won over...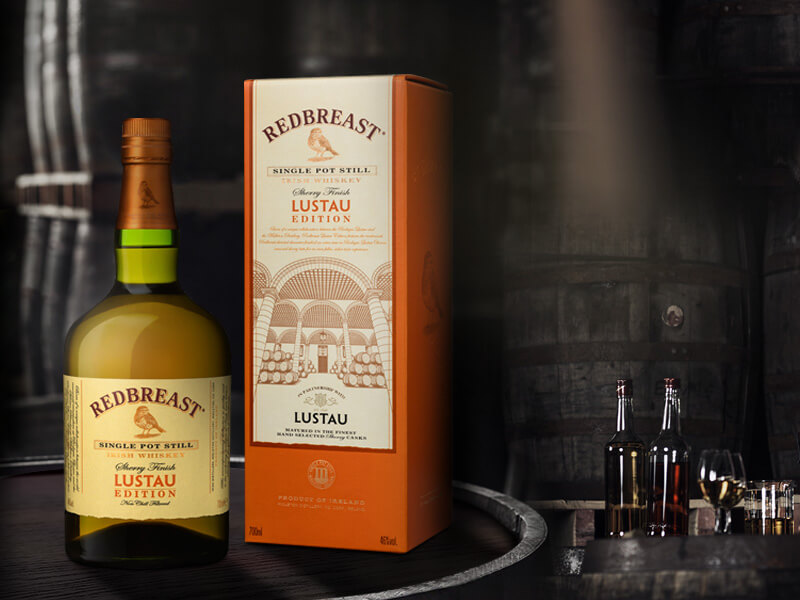 Fetching Price
Fetching Price
Redbreast's Lustau edition is the perfect marriage of single pot still whiskey and sherry casks. This was finished in oloroso sherry butts for one year, adding notes of dark fruits, nuts and spice.
Tasting Notes
Nose

Rich infusion of dark fruits, prunes, dates and figs with liquorice, marzipan, toasted oak and Redbreast spices.

Taste

Creamy pot still with Redbreast spices balanced with richness of sherry finish and contribution of fresh Spanish oak.

Finish

Endless. Sweetness and pot-still spices endure while oloroso sherry and Spanish oak have the last word.

Character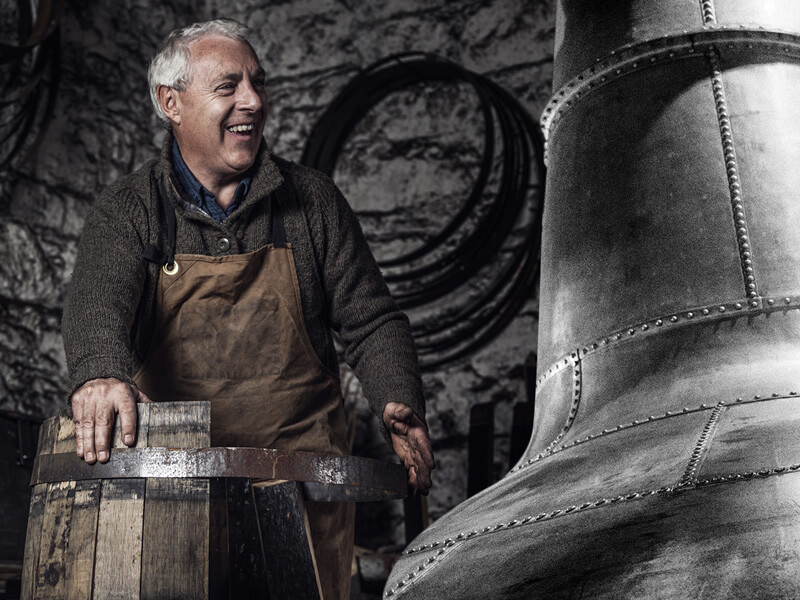 The Redbreast range is produced by Irish Distillers at Midleton in County Cork in the far south of Ireland. Perhaps best known as the home of Jameson Irish whiskey, the distillery is also home to Midleton's single pot still brands, including Green Spot, Yellow Spot, Powers John's Lane and, of course, Redbreast. A new micro-distillery opened in 2015, allowing the team to experiment with small batches, and the company has also used innovative wood types for its whiskey, including chestnut and Irish oak.
REDBREAST LUSTAU EDITION REVIEWS
35 Customer Reviews
At the price point this is simply outstanding. You could easily break the £100 mark and find far worse. More excellent stuff from Redbreast

I had bottle bought me for Birthday it's absolutely lovely only problem didn't last long enough lol . I Recommend to everyone one who loves whiskey.

Very smooth, sweet but not overpowering sweetness, nice cherry hint

Very smooth. No after bite. I can drink this product without any problems.

Remember the first time you sampled Redbreast (neat - obviously)? That first encounter with one of the finest expressions of the Irish pot still whiskey tradition lives long in the memory. There's the loving, silken mouthfeel as you roll it around as if your tongue, teeth and gums have encountered the rays of the evening sun somehow miraculously transmuted into a warming, golden liquid. Then comes the flavour which starts at the front of the mouth with hints of cinder toffee, candied peel and parma violets which segues as that first mouthful is slowly swallowed into walnuts and Dutch tobacco. Then the aftermath which is redolent of a walk through an orange grove just as the fruits are landing in the basket. And the sheer lusciousness of the experience as the sunshine slides into the soul and spreads out again, bringing joy and radiance to you and your companions. Remember what drinking Redbreast is like? Well, Redbreast Lustau edition is exactly like that. Only better.

Splendid flavours and beautifully balanced at a price that's hard to beat ....my go too "Tipple" after a hard days work!

Perfectly balance of wine and the best of Irish Pot Still. Great on the nose and the long finish. If you do not like the shyour sherry, not your spot of bother. Otherwise, one of the best irish whiskeys for the price.

Great whiskey. At first, I tasted it by adding a little water. Tasted good but nothing special. Then the second time I enjoyed it neat. What a difference. 46% ABV and it's smooth, sweet and full of wonderful flavors. This robin really goes high on my list.

I am a fan of the Redbreast 12 year old, and was intrigued by this. It is not quite as smooth, but has a more complex character, and is just as easy to drink. I would buy again.

An excellent Irish dram. The sherry finish is perfect, giving a smoothness to a complex taste.

Outstanding. Simply everything you ever want in a whiskey.

Amazing. Very smooth and tasty. Not too much bite. Just enough.

A Christmas present for a loved one. It was packed with care and attention. I'll always use The Whisky Exchange for interesting purchases.

The perfect cross-pollination between Moorish Andalucia and the Irish Celts. A match presided over and sanctioned by the Angels... all your Christmas flavours in a bottle, delicioso!

Out of this world experience! An amazing whiskey. Need more coming to Canada. Not available anymore in Canada and sad.

Great taste, great finish... longer than the 12. This has a permanent place on my shelf!! Only RB I haven't tried is the 21, but the others are all incredible.

unmatched flavor - awesome product - love it and you will too!

Rich, dark fruits comingling with milk chocolate, marshmallow and caramel notes. Sweet, smooth and silky to the finish.

Fantastic - so smooth it's goo for an all day tipple!

This is a great whisky with a truly endless finish. At this price you will not find anything close to it We love it.
Show 25 more reviews