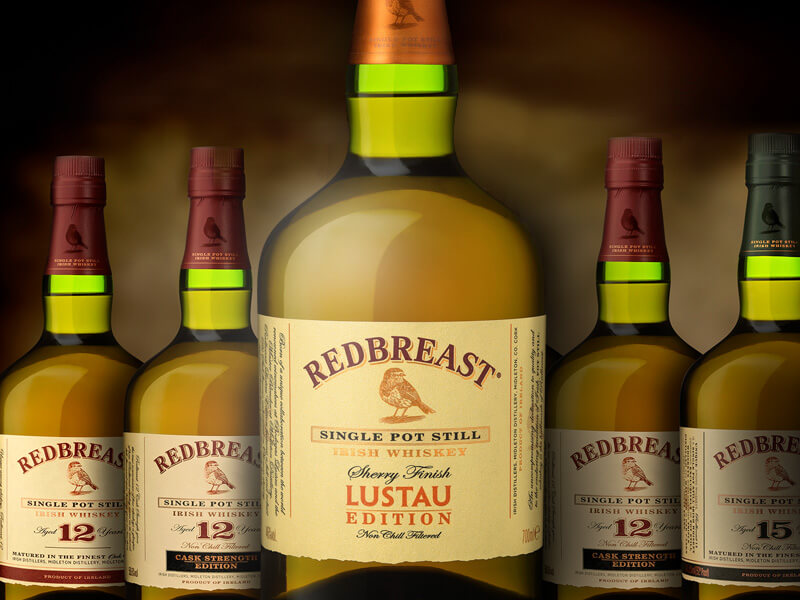 Lustau Edition
The magic of single pot still Irish whiskey
Redbreast is one of the finest Irish whiskeys, and its Lustau edition takes the flavours a step further, adding a layer of richness to Redbreast's classic notes of fruit and spice thanks to extra ageing in Lustau sherry casks.
The secret to Redbreast's complexity is the way it's made – it's a single pot still whiskey, made with both malted and unmalted barley, giving an extra dimension to the whiskey and unlocking more flavours. This style of whiskey is only found in Ireland – if you've never tried it, prepare to be won over...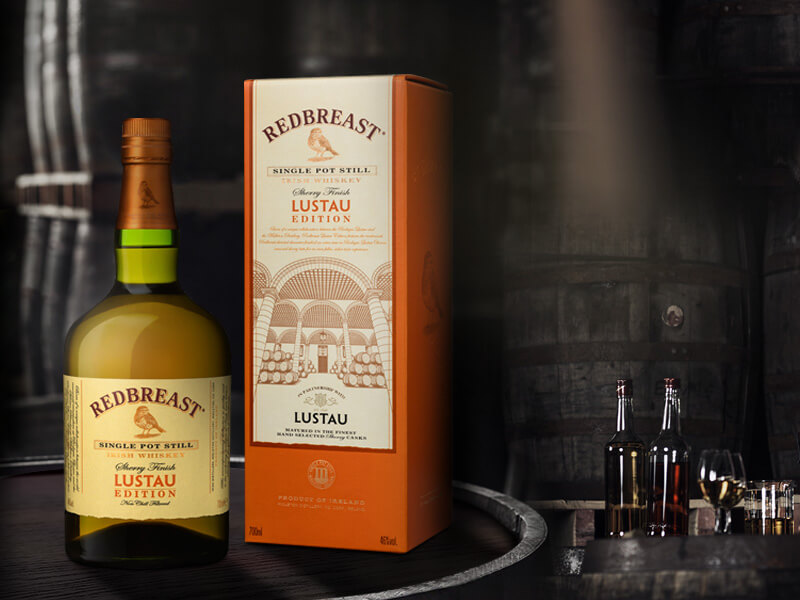 Fetching Price
Fetching Price
Redbreast's Lustau edition is the perfect marriage of single pot still whiskey and sherry casks. This was finished in oloroso sherry butts for one year, adding notes of dark fruits, nuts and spice.
Tasting Notes
Nose

Rich infusion of dark fruits, prunes, dates and figs with liquorice, marzipan, toasted oak and Redbreast spices.

Taste

Creamy pot still with Redbreast spices balanced with richness of sherry finish and contribution of fresh Spanish oak.

Finish

Endless. Sweetness and pot-still spices endure while oloroso sherry and Spanish oak have the last word.

Character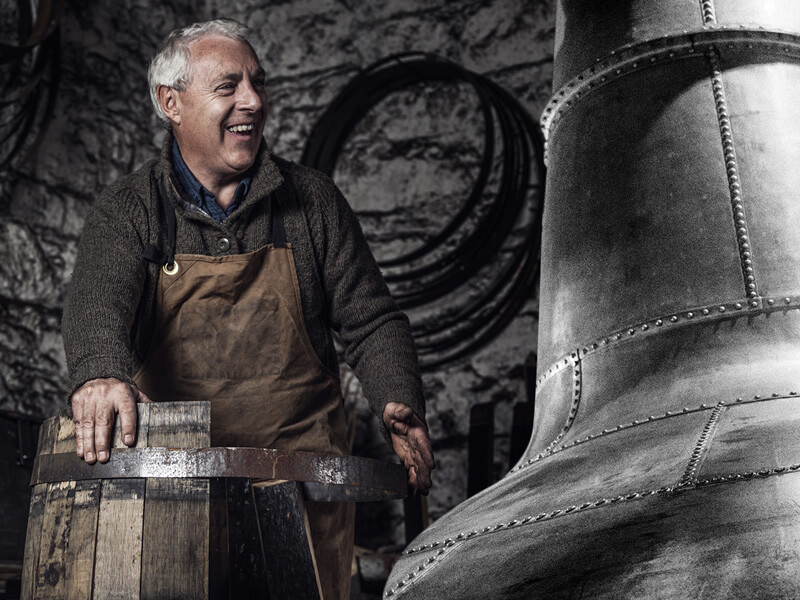 The Redbreast range is produced by Irish Distillers at Midleton in County Cork in the far south of Ireland. Perhaps best known as the home of Jameson Irish whiskey, the distillery is also home to Midleton's single pot still brands, including Green Spot, Yellow Spot, Powers John's Lane and, of course, Redbreast. A new micro-distillery opened in 2015, allowing the team to experiment with small batches, and the company has also used innovative wood types for its whiskey, including chestnut and Irish oak.
REDBREAST LUSTAU EDITION REVIEWS
20 Customer Reviews
Great taste, great finish... longer than the 12. This has a permanent place on my shelf!! Only RB I haven't tried is the 21, but the others are all incredible.

unmatched flavor - awesome product - love it and you will too!

Rich, dark fruits comingling with milk chocolate, marshmallow and caramel notes. Sweet, smooth and silky to the finish.

Fantastic - so smooth it's goo for an all day tipple!

This is a great whisky with a truly endless finish. At this price you will not find anything close to it We love it.

Haven't seen this whiskey in the U.S. Gave it a try. Very smooth, outstanding taste.

Smooth and delicious with a gorgeous finish.

The find of the year.

Wow! So glad I tried this after the 12, 15 and 21 year versions. In my opinion it surpasses the 12 and 15 and is so close to the 21 at a quarter of the cost it gives that a run for the money. Very rich creamy and smooth on the tongue. A lot of depth to the taste. A 5 star treat.

UP WITH THE BEST OF THEM VERY NICE WITH LOVELY LIQUORICE TINTING

Smooth, delicious, moorish.

Better than the 12 in my opinion.

Love it! Different than the previous releases of Redbreast with the nice sherry taste and a slightly stronger oak finish. Well done Redbreast!

Bought this in Dublin, mellow smooth delight

Bit of toffee on the finish too. Delightful

Incredible whiskey, really creamy.

Terrific mouthfeel and a mellow finish. Agree that this is better than the 12. Absolute favorite.

Luscious and smooth. An absolute delight...

Amazing whiskey smooth fantastic well done red breast

I loved the 12, think this one is even better. Incredibly smooth