Win
a set of all the Spot whiskies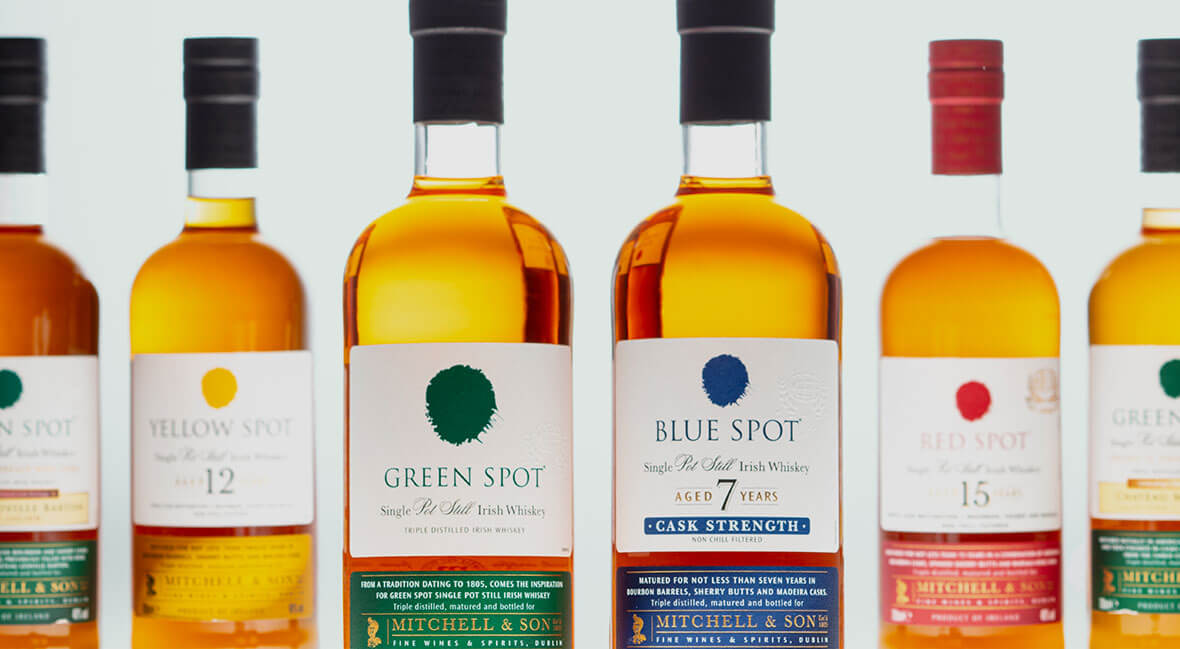 This March we're offering you the chance to win a full set of spot whiskies, from the classic Green Spot to the recently-released Blue Spot 7 Year Old featuring not only the core range but also two limited editions. Just buy any bottle of Green Spot during March 2021 to enter. and you'll be entered into the draw to win:
Green Spot
Yellow Spot
Red Spot
Blue Spot
Green Spot Leoville Barton Finish
Green Spot Chateau Montelena Finish
Green Spot is one of the oldest single pot still whiskey brands, having started off in the 1920s at Mitchell & Son whisky merchants in Dublin. The shop would set aside dozens of casks which would be filled at Jameson's nearby Bow Street distillery and marked with a coloured spot, the colour depending on how long the barrels would be matured for. A blue spot indicated seven years' ageing, a green spot 10, a yellow spot 12, and a red spot indicated 15 years.
Single pot still is Ireland's signature style of whisky. It's made by using both malted and unmalted barley and is noted for its rich fruit and tangy spice – a delightful combo that makes for delicious whiskey, and Green Spot is one of its finest examples. Nobody's Irish whiskey education is complete until they have tried it.
The Prize
Buy a bottle of Green Spot in March and you could win a set of the bottles below – worth more than £400!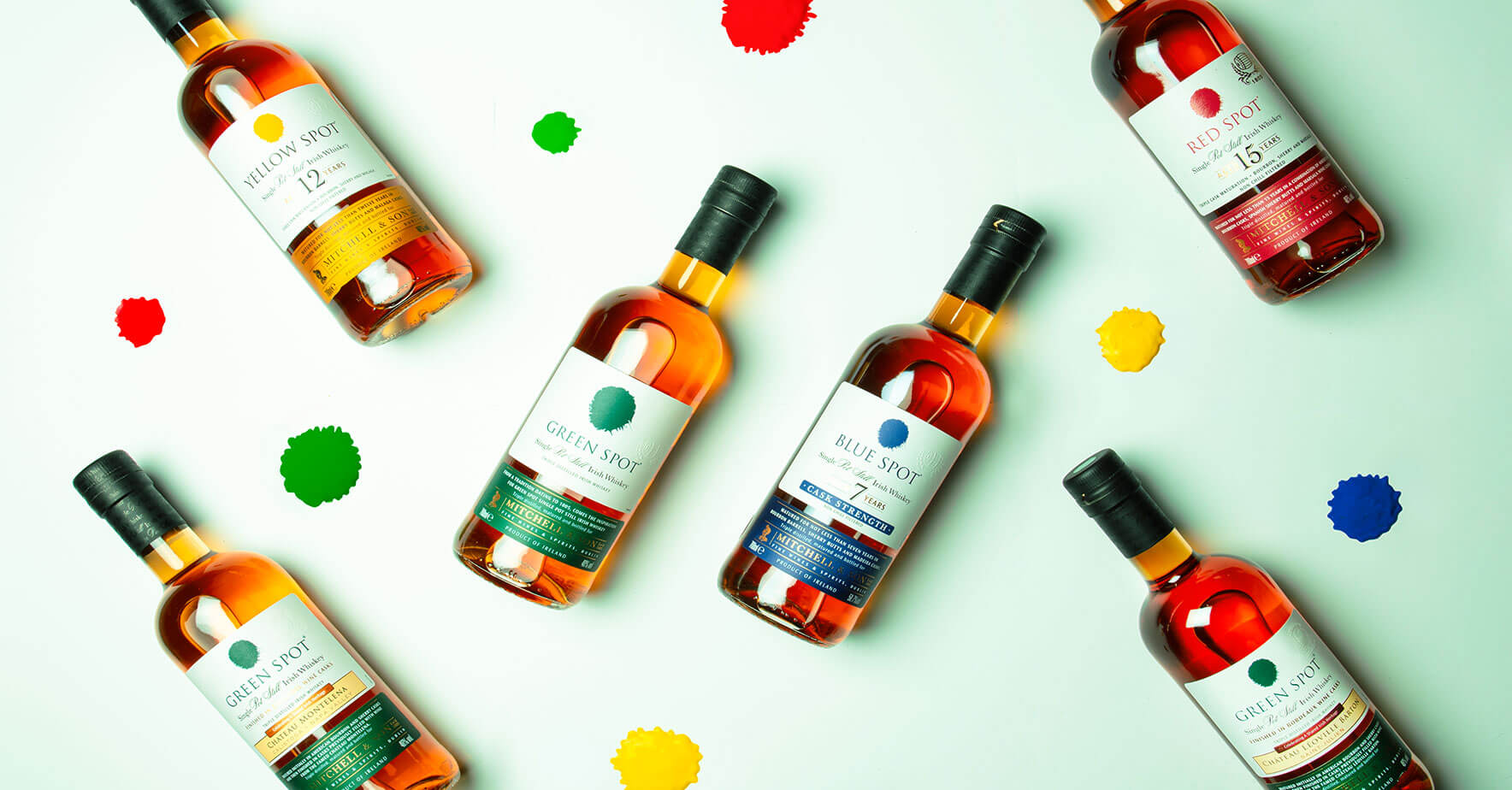 About
Midleton Distillery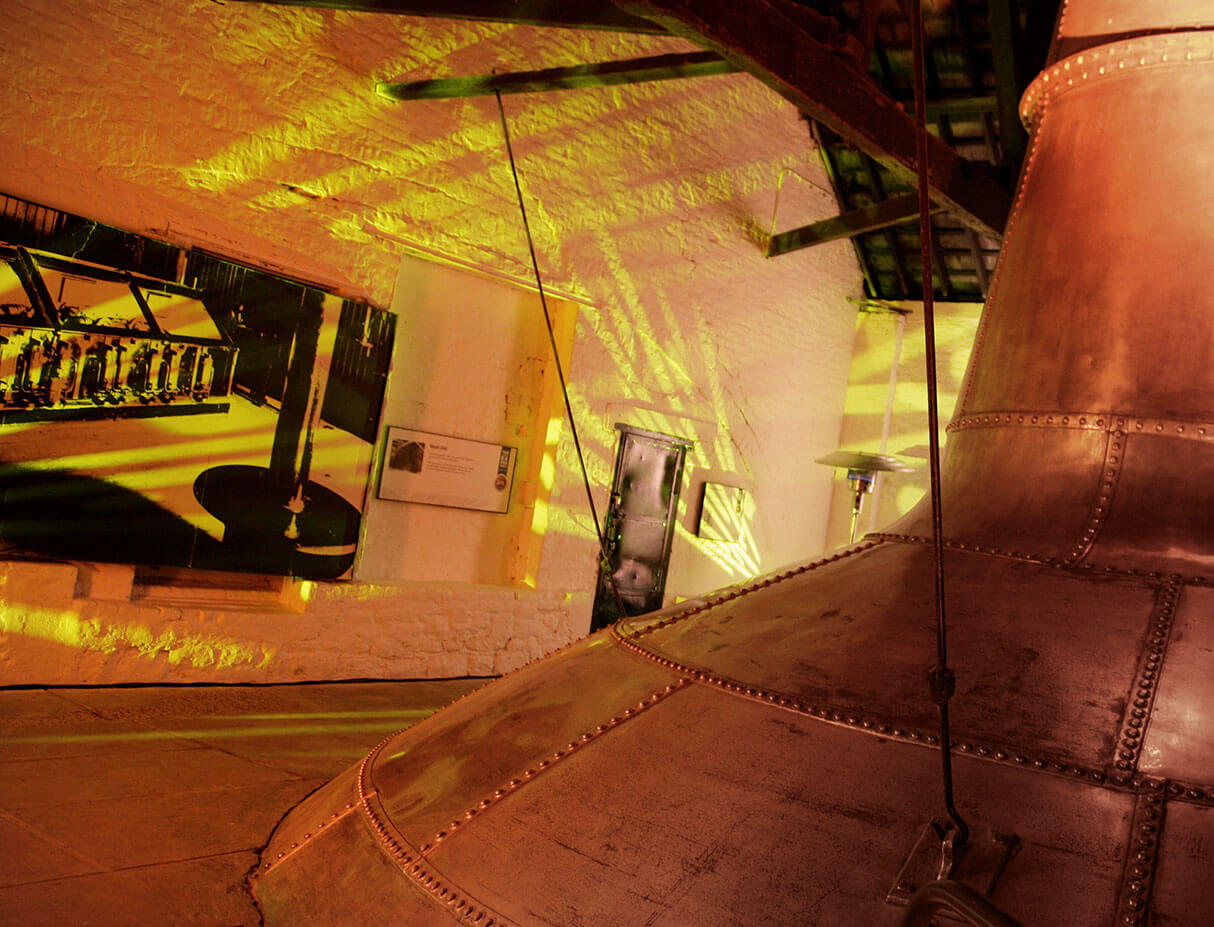 Midleton is the centre of Irish whiskey, producing a variety of brands such as Jameson, Powers, Redbreast and Green Spot. Founded in Cork as part of the Cork Distillery Company, it has merged with most of the most famous whiskey brands over time to become a powerhouse of distilling.
Midleton produces just one whiskey under its own name, Midleton Very Rare, but its team are responsible for many of the best-loved names in whiskey and its distillery and warehouses are a sight to behold.
TERMS AND CONDITIONS
This promotion is open only to United Kingdom (excluding Channel Islands) residents aged 18 or above, with the exception of employees of The Whisky Exchange or anyone else associated with the administration of this promotion.
By entering into the draw you expressly accept these terms and conditions of entry.
Purchases of the following products will be eligible for entry into the draw subject to these terms and conditions: Green Spot; Green Spot Leoville Barton; Green Spot Chateau Montelena Finish; and, Green Spot 1991 26 Year Old.
Eligible purchases must be made through The Whisky Exchange website between 1 March 2021 and 11.59pm BST on 31 March 2021. All valid entries received during this time will be entered into the draw.
Only one entry is permitted per person notwithstanding the number of eligible purchases made by any individual.
Please ensure that all details included in your entry are accurate, otherwise we may not be able to contact you if you are selected as the winner.
The winner will be notified on or after 1 April 2021 by email, text or phone call.
If you are selected as the winner, you must respond within seven days of notification confirming your acceptance of the prize. In the event a winner does not respond to communications within seven days of initial contact or if any prize is declined, the promoter reserves the right to disqualify that winner and not award the prize to a reserve.
The prize is a set of 'Spot' whiskies, comprised of: Green Spot, Yellow Spot, Blue Spot and Red Spot, plus Green Spot Chateau Montelena Finish and Green Spot Leoville Barton Finish.
The Promoter reserves the right to provide an alternative prize of equal or greater value in the event of unforeseen circumstances.
Proof of identity may be called for before the prize is awarded.
By entering the competition, you agree that any personal data supplied in connection with the competition (including your name, image and contact details) may be used by us, our agents, partners and/or any third-party suppliers (as applicable) in connection with the administration of the competition and for any other reasonable and related promotional purposes.
We may, in our sole discretion, disqualify entries deemed to be non-compliant with these terms and conditions and we reserve the right to disqualify any entrant whose conduct may be unlawful or otherwise bring the promotion into disrepute. In the event of such disqualification we may award the application prize or another entrant.
The decision of the Promoter regarding any aspect of the promotion is final and binding and no correspondence will be entered into.
The Promoter and its associated agencies and companies will not be liable for any loss (including, without limitation, indirect, special or consequential loss or loss of profits), expense or damage which is suffered or sustained (whether or not arising from any person's negligence) in connection with this promotion or accepting or using the prize, except for any liability which cannot be excluded by law (including personal injury, death and fraud) in which case that liability is limited to the minimum allowable by law.
We will not be responsible for the non-inclusion of entries as a result of technical failures or otherwise, including any such failure which is within our control. Proof of submission of entry is not proof of receipt of entry.
We reserve the right to suspend or withdraw the promotion or amend the competition or these terms and conditions without prior notice. Any changes will be posted either within the competition information or these terms and conditions.
This promotion and all issues arising out of it shall be governed in accordance with English Law and are subject to exclusive jurisdiction of the English courts.
For full TWE terms and conditions, please click here.

Other terms and conditions may apply.

Promoter: The Whisky Exchange, Elixir House, London NW10 7SF.