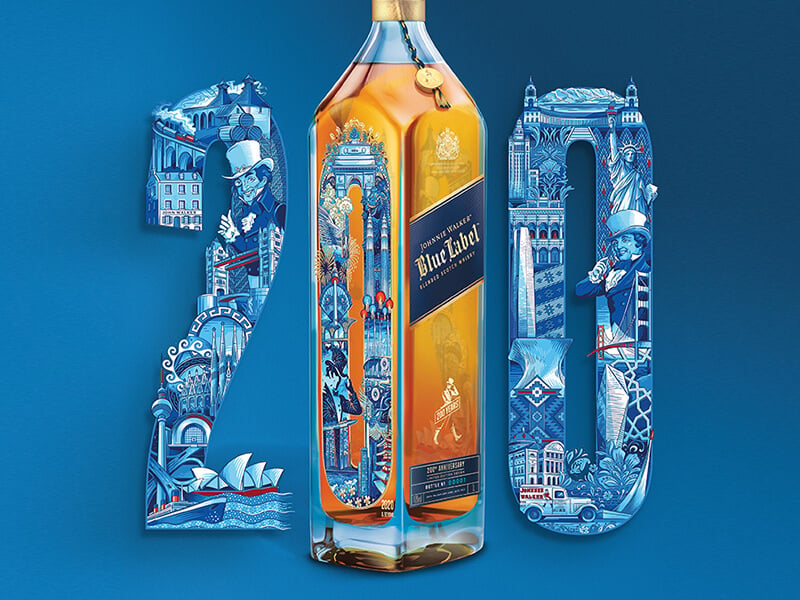 Of whisky's truly household names, Johnnie Walker is perhaps the biggest and best-known. What began as a green grocer and spirits shop run by John Walker himself in 1820, now sells more than 200 million litres of whisky worldwide, every year and has a logo and bottle shape recognised across the globe.
Now, at 200 years old, Johnnie Walker not only has the most successful range of blended Scotch whiskies in the world, but has released some special, limited editions to mark the occasion, and bid happy birthday to the man who started it all: John Walker.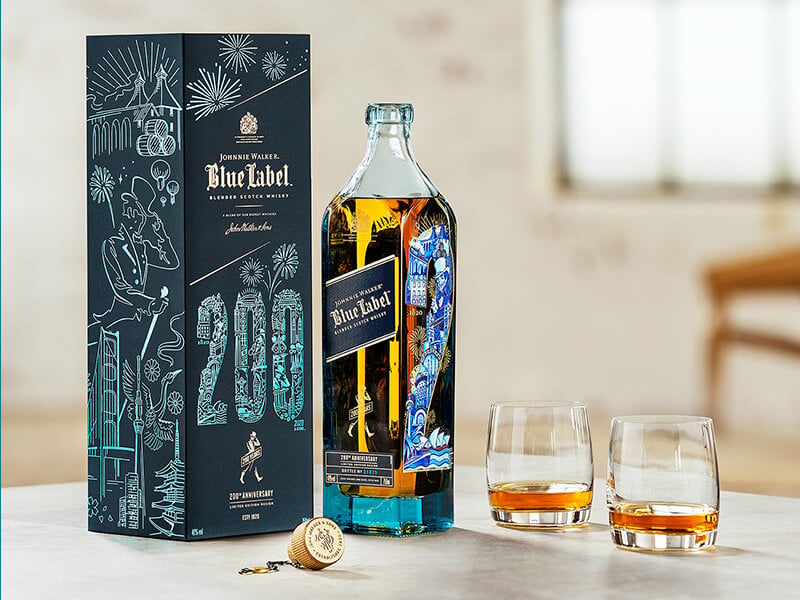 200th ANNIVERSARY LIMITED EDITION
£185
£264.29 per litre
The timeless pinnacle of the Johnnie Walker range, Blue Label encompasses the brand's blending art to the highest degree. Made with spirit from some of Scotland's best-known distilleries, including long-closed 'ghost distilleries', Blue Label is a soft and subtle, yet eminently drinkable whisky.
Here presented in a limited-edition box and bottle to commemorate the brand's 200th anniversary, it features artwork that takes us on a journey from John Walker's green grocers on Kilmarnock High Street in Ayrshire, Scotland, around the world, through some of the places and events that have brought Johnnie Walker to where it stands today – at the forefront of Scotch blended whisky.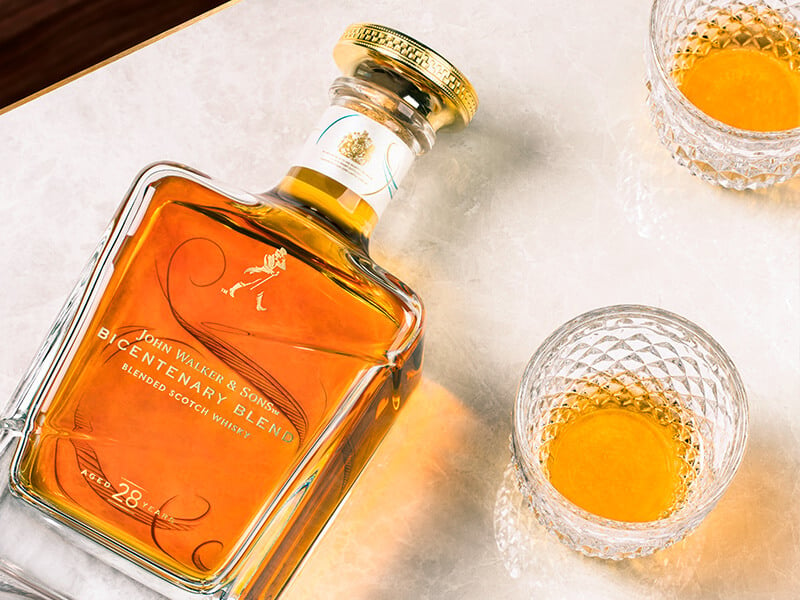 28 YEAR OLD
£725
£1,035.71 per litre
A whisky crafted to carry us back in time to the fragrant aisles of John Walker's Kilmarnock grocery store – pioneering purveyors of fine spirits, spices, sweets and other exotic goods – John Walker & Sons Bicentenary Blend has layered spirit from no fewer than three closed Scottish distilleries – Pittyvaich, Cambus and Port Ellen – with other fine whiskies, to create a dram of remarkable richness and depth.
Style
Body

Richness

Smoke

Sweetness
Character
Ginger

Clove

Figs

Pineapple

Smoke

Caramel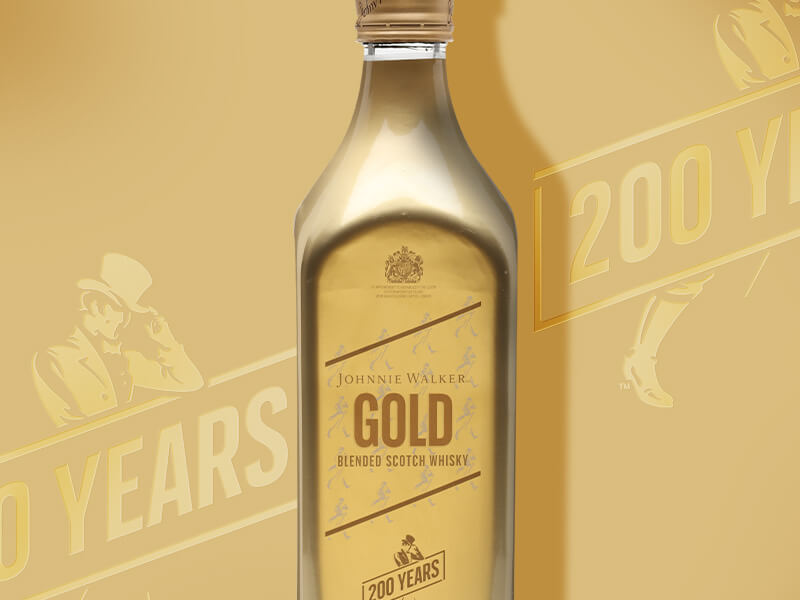 Gold Label Reserve
200th ANNIVERSARY LIMITED EDITION
£44.95
£64.21 per litre
Sitting front and centre of the Johnnie Walker range, Gold Label is a gold-standard whisky, here presented in a limited-edition golden wrap to celebrate the brand's 200th birthday.
A fresh whisky run through with butterscotch-sweetness, fruity notes and a light wisp of smoke, Gold Label uses whisky from Clynelish distillery as its core malt, and will appeal to fans of that distillery's trademark, slightly-waxy character.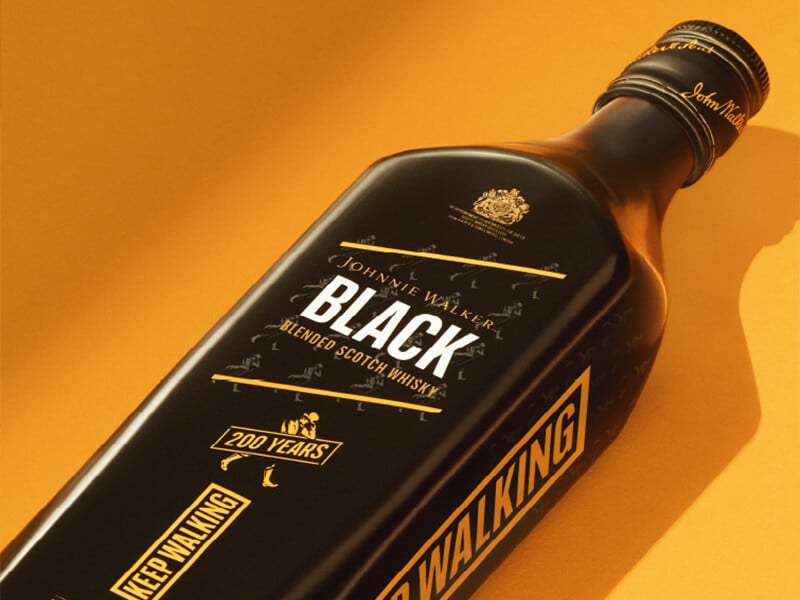 12 Year Old
200th ANNIVERSARY LIMITED EDITION
£29.95
£42.79 per litre
If Blue Label represents the pinnacle of Johnnie Walker's blending craft, then Black Label represents its most popular result. As good an all-round, easy-drinking whisky as you're likely to find, Black Label combines airy-vanilla and zesty-citrus notes with ripe, dark-fruit flavours and a hint of gentle peat smoke.
This quintessential blended Scotch whisky is here clad in a limited-edition new look to celebrate the brand's 200th anniversary, but remains as happy alone on the rocks or in your favourite highball as it would be in any other bottle.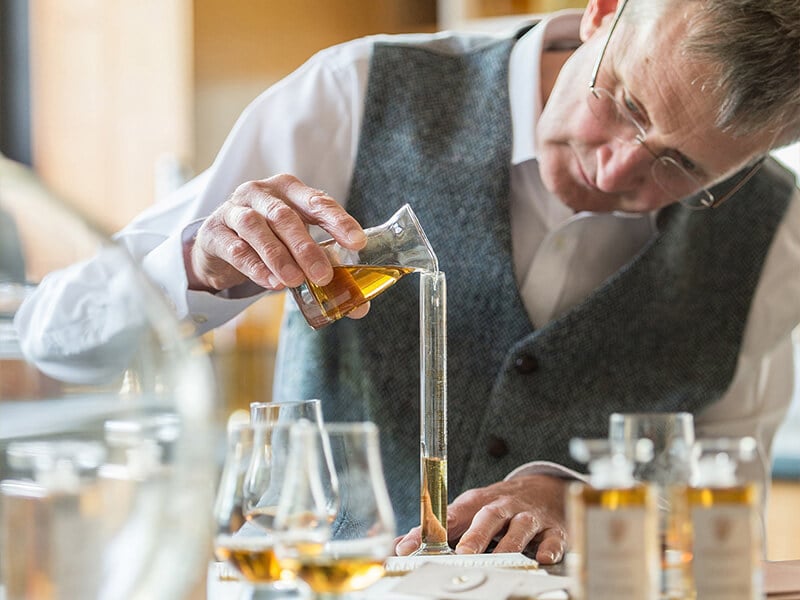 The Striding Man
Limited editions aside, Johnnie Walker's whiskies have truly shaped the market, the industry – the very foundations of whisky – over the course of the last two hundred years. The company's range of blends – which includes Red Label, Black Label, Double Black, Green Label (the only blended malt whisky in the range), Gold Label and Blue Label – has been a benchmark for quality to which many others have, and continue to, aspire to.
Johnnie Walker has brought whisky into the modern world in great leaps and bounds, and may he keep on striding for many more to come.
Shop the full range