ST GERMAIN
Elderflower Liqueur

St Germain is an award-winning elderflower liqueur and a mainstay of the world's finest cocktail bars. Try it chilled on ice as an aperitif, add a splash to your gin and tonic, or make one of the wide range of cocktails that bartenders around the world have created in its honour.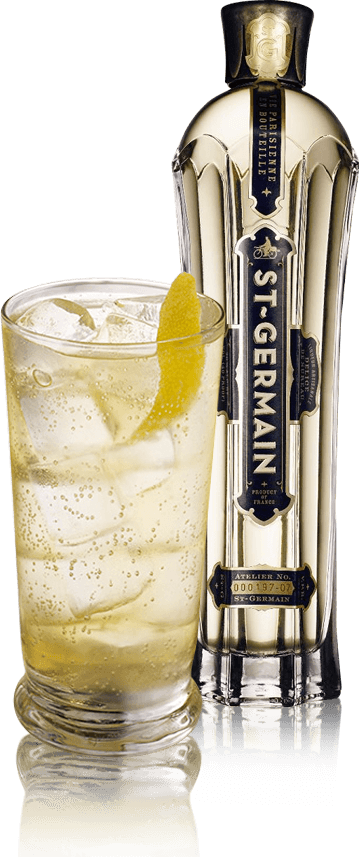 THE ST GERMAIN
COCKTAIL
Fill a tall glass with ice, add the Champagne, then the St Germain and then top up with the soda water. Stir carefully and garnish with a lemon twist.
St Germain Reviews
20 Customer Reviews
I had an elderflower lemonade on my Royal Caribbean cruise in August & enjoyed drinking St. Germain at least twice a day for the rest of the trip. Very light and refreshing.

My best mate bought me this as a gift and it is lush!

Perhaps my favorite liqueur? So nice, I drink it ice cold as it is

I bought this due to the flavour (elderflower which is a favourite of my mums) but also because it is such a lovely bottle to give as a gift. Highly recommended!

Wonderful, particularly with vodka and soda

This is super! A wonderful drink on its own, and also very good as a simple mix with sparkling white wine. I have it as per below; 50ml St Germain 100ml Sparkling White Wine

This a fantastic addition to any bar, both from an aesthetic stand point and as a great addition to summer cocktails. My favorite is very simple, equal measure Hendricks and St. Germain and a splash of apple juice. Shaken over ice.

fantastic liqueur - will order again. just be warned there are no preservatives in St Germain so it's best drunk within 6 months of opening.

Most beautifully elegant steam-punked 1920s bottle design crossed with a bit of Louis XVII decoration on closer inspection. Substitutes well for any lychee liquer. A little sweet for my taste, try it with equal part vodka, a tiny dash of angostura and fresh lime to taste. Soda rather than lemonade.

I first came across this Elderflower liqueur on board the Celebrity Silhouette where they use it in their "Blue Sea Breeze Cocktail" LOVELY 2 heindrick 1 blue curacao 1 St Germain elderflower 1/2 lemon 1/2 sugar syrup lots of ice well shaken. TRY!

Gin, sloe gin, St Germaine, pineapple, fresh lime, lemon and orange, perfection in a martini glass!!!!

Unleash the Simon Difford in you!Replace the sugar quotient of nearly any cocktail with St Germain and you've just created a new cocktail!This liqueur is sure to become a classic

We used this cocktail for wedding receptions instead of straight Champagne - it is proving to be hugely popular. We add a squeeze of fresh lemon juice to balance the flavours - Early summer in a glass. Well worth trying.

We have just tried this wonderful, sweet drink and highly recommend it for the summer.

We enjoyed this with Krug and fresh strawberries. Fantastic loved it

It's amazing to find this great product at this price. In France, liquor stores thinks it's a high class liquor so they think we can pay it 35 €/75cl just because it the bottle looks good and it's called "St Germain". About the taste, it's amazing. Very sweet, smooth, great with pear flavored grey goose and other cocktails.

I tried this in a Cocktail from the famous Berlin Viktoria Bar called "Lichtung", combined with das Korn (www.daskorn.com) . ABSOLUTELY fantastic and these two main components blend wonderfully!

This is a lovely, complex, wonderfully balanced and flavored liqueur without a hint of cloying sweetness. YUM! I drank it straight up.

this is to die for i love it

I sampled this at The Spirit of Christmas and was highly impressed. It was DELICIOUS!