Dalmore Cigar Malt Reserve
Highland Single Malt Scotch Whisky
Distillery Bottling
70cl / 44%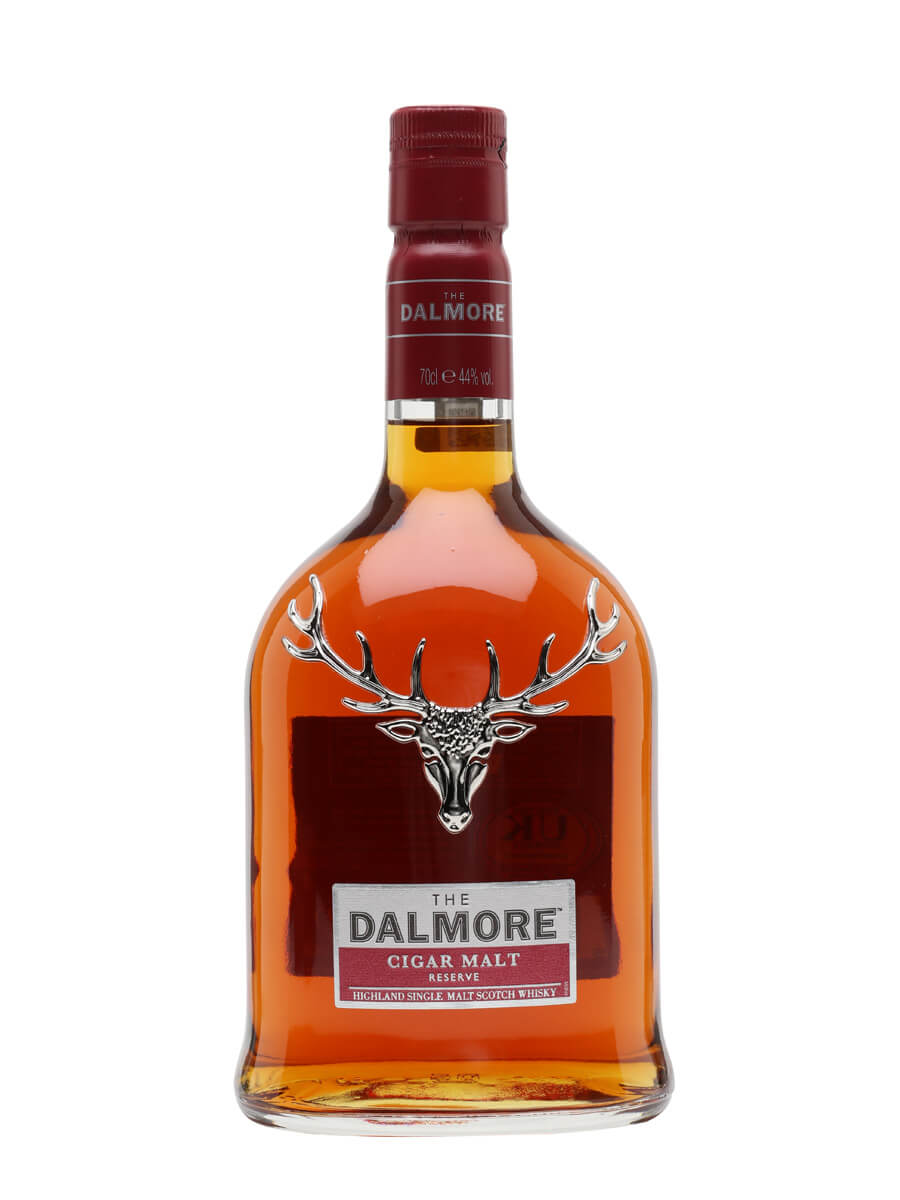 FREE UK Mainland standard delivery
In Stock
Web Exclusive Price
£108
£90 ex VAT
(£154.29 per litre)
You must be aged 18 or above to buy alcohol in the UK
Estimated Delivery
Express delivery

(Choose a day)

From £6.95

Standard delivery

(UK Mainland)

Free

Click & Collect

(Mon-Fri 10am - 5pm)

Free
The second coming of the Dalmore Cigar Malt, relaunched in an eye-catching red box. Fans of the previous edition will definitely want to get their hands on this.
Tasting Notes (1)
Flavour Profile
Style
Body

Richness

Smoke

Sweetness
Character
Liquorice root

Mint

Raisins

Dark Chocolate

Oak
Facts
Facts
Bottler

Distillery Bottling

Country

Scotland

Region

Highland

Colouring

Yes
Tasting Notes
Tasting Notes
Tasting Notes by Martine Nouet for Whisky Magazine

Nose

Malty. Rich and creamy. Lots of toffee. Mint chocolate. Fresh and lively. Cardamom. Quite complex.

Palate

Round and sweet. Good balance with the nose. The same rich mint chocolate note. A precise oak frame ties up the rich aromatic profile. Liquorice and raisins as well.

Finish

Lingering, fruity, sensuous.

Comments

A complex whisky, which needs time and attention to release its richness.

Rating

8.4/10
Customer Reviews
Reviews (25)
Reviews
5

This is an elegant whisky. I do not, and never have smoked; a fact which put me off buying this malt. A lover of Dalmore, I took the plunge after attending the Dalmore session at the Virtual Whisky Show, and discovered one of my favourite drams. Ready to drink without water a sweet spiced toffee caramel ends with a lovely waft of smoke. On the nose it is like smelling warm toffee in a wood shop. Add water and the smokiness intensifies and the toffee becomes richer. A beautiful dram

5

This is a smooth, rich and slightly sweet whisky. Very nice.

5

By far, my all-time favourite of all Dalmore creations - be it with or without a cigar! So glad that Dalmore is re-launching it.

5

We discovered this Malt many years ago. Difficult to find in our local stores. Highly recommend! Add nothing but a splash of water to open the bouquet. Sit back, sip and enjoy.

5

Great when paired with a Rocky Patel 15 yr smoke or with a RP Decade.
Disclaimer
Disclaimer
While we endeavour to provide full and accurate information on our website, there may be occasions where producers have updated their recipe or failed to provide full details of their ingredients and processes. This may affect factors including the product style and allergen information, and we would advise that you always check the label and not solely rely on the information presented here. If you are at all uncertain about a product then please contact our customer service team before purchase.
Good To Know
How we pack
Eco-friendly Packaging

Our boxes are made of 100% recyclable cardboard. Our special air-inflated packaging is both re-usable and recyclable, as well as efficient to both transport and dispose of.

Flexible Delivery Options

We deliver to countries all over the world! You can also select express delivery, or pick a specific delivery date, at checkout.

Packed With Care

Our experienced warehouse team take great care with every order. As specialists in glass packaging they ensure that your items stay safe and secure in transit.
14-Day returns policy
We want you to be 100% happy with your order and it is our aim to ensure that all products supplied to all customers arrive in perfect condition. You have the right to cancel your order at any time without being charged for the goods ordered within 14 days of purchasing (other than for perishable or personalised products or those products that have been specified as non-returnable).