Ardbeg 1972
Ping No.1 Cask #2780
Islay Single Malt Scotch Whisky
Distillery Bottling
70cl / 51.4%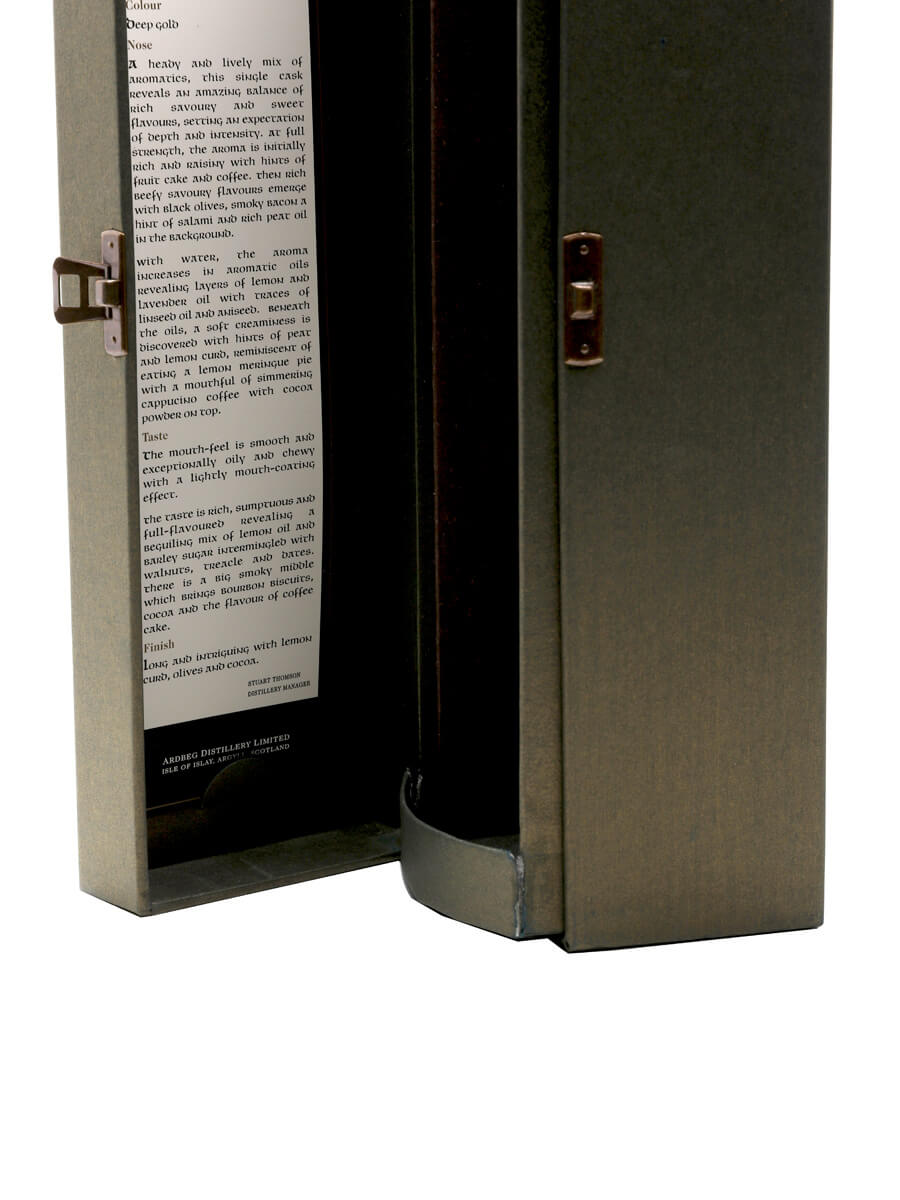 FREE UK Mainland standard delivery
In Stock
£9,000
£7,500 ex VAT
(£12,857.14 per litre)
You must be aged 18 or above to buy alcohol in the UK
Estimated Delivery
Express delivery

(Choose a day)

From £6.95

Standard delivery

(UK Mainland)

Free

Click & Collect

(Mon-Fri 10am - 5pm)

Free
A rare 1972 vintage Ardbeg produced for Juuls Vinhandel in Denmark. This release is referred to as 'Ping No.1' on the back and was produced for the 30th Business Anniversary of Michael Madsen (one of their workers). A real collector's item.
Tasting Notes (1)
Facts
Facts
Bottler

Distillery Bottling

Age

Vintage

Bottling Date

October 2004

No of Bottles

245

Country

Scotland

Region

Islay

Cask Type

Bourbon Hogshead

Cask Number

2780

Colouring

Yes
Tasting Notes
Tasting Notes
Producer's Notes

Colour

Deep Gold.

Nose

A heavy and lively mix of aromatics, this single cask reveals an amazing balance of rich savoury and sweet flavours, setting an expectation of depth and intensity. At full strength, the aroma is initially rich and raisiny with hints of fruit cake and coffee. Then rich beefy savoury flavours emerge with black olives, smoky bacon a hint of salami and rich peat oil in the background.

Taste

The mouth-feel is smooth and exceptionally oily and chewy with a lightly mouth-coating effect.

Finish

Long and intriguing with lemon curd, olives and cocoa.

Comment

With water, the aroma increases in aromatic oils revealing layers of lemon and lavender oil with traces of linseed oil and aniseed. Beneath the oils, a soft creaminess is discovered with hints of peat and lemon curd, reminiscent of eating a lemon meringue pie with a mouthful of simmering cappuccino coffee with cocoa powder on top.

The taste is rich, sumptuous and full-flavoured revealing a beguiling mix of lemon oil and barley sugar intermingled with walnuts, treacle and dates. There is a big smoky middle which brings bourbon biscuits, cocoa and the flavour of coffee cake.
Disclaimer
Disclaimer
While we endeavour to provide full and accurate information on our website, there may be occasions where producers have updated their recipe or failed to provide full details of their ingredients and processes. This may affect factors including the product style and allergen information, and we would advise that you always check the label and not solely rely on the information presented here. If you are at all uncertain about a product then please contact our customer service team before purchase.
Good To Know
How we pack
Eco-friendly Packaging

Our boxes are made of 100% recyclable cardboard. Our special air-inflated packaging is both re-usable and recyclable, as well as efficient to both transport and dispose of.

Flexible Delivery Options

We deliver to countries all over the world! You can also select express delivery, or pick a specific delivery date, at checkout.

Packed With Care

Our experienced warehouse team take great care with every order. As specialists in glass packaging they ensure that your items stay safe and secure in transit.
14-Day returns policy
We want you to be 100% happy with your order and it is our aim to ensure that all products supplied to all customers arrive in perfect condition. You have the right to cancel your order at any time without being charged for the goods ordered within 14 days of purchasing (other than for perishable or personalised products or those products that have been specified as non-returnable).