Jameson Gold Reserve
70cl / 40%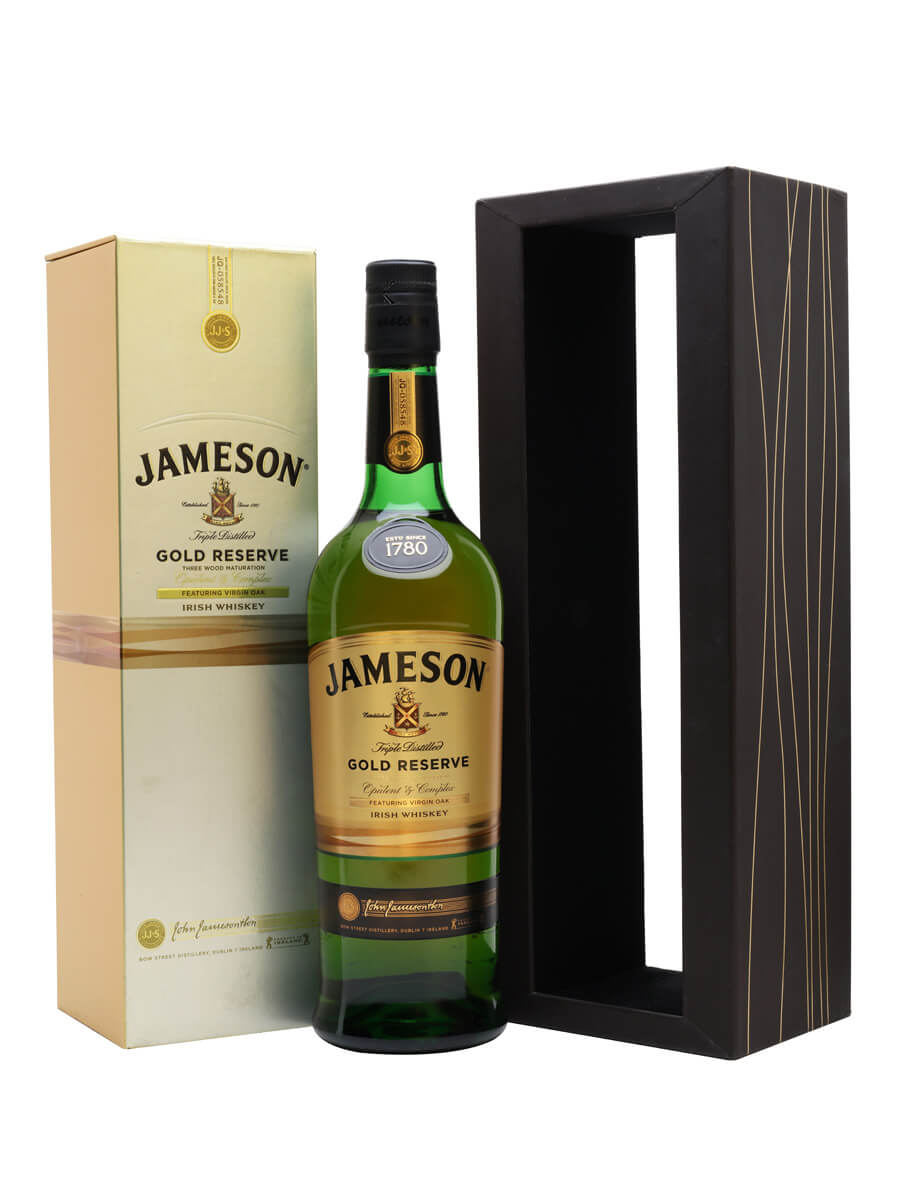 Not Available
This product is currently out of stock
Enter your email address below to be notified when this product is available.
A rich and chewy entry in the Jameson range, with three styles of pot still spirit carefully balanced to produce a complex whiskey with spice, fruit and elegant oak.
Tasting Notes (1)
Flavour Profile
Character
Nutmeg

Honey

Fruit Cake

Oak
Facts
Facts
Country

Ireland

Colouring

Yes
Tasting Notes
Tasting Notes
Tasting Notes by Stuart P

Nose

Very appealing aromas of sweet spice, toasty oak and dried fruit.

Palate

Lovely palate weight and mouthfeel. Subtle fruit-cake spices are joined by honeyed fruit and spicy oak. Very moreish.

Finish

Good balance, with the fruit, oak and spice intermingling beautifully.
Customer Reviews
Reviews (40)
Reviews
5

I bought a bottle in Argentina in 2017 and can't find it anymore. Had a few shots in ubs in Dublin in 2022 but couldn't buy any as none for sale even at the Jameson distillery on Bow street. Liquid gold as rare as a unicorn graising on four leaf clovers.

5

This is one of best tasting whiskies I have ever had. It set a standard. Anyday, anytime I am willing to share it for special moments.

5

Very happy with the shipping and the product. The inscription looked amazing!

5

Incredible, the longer it's in your mouth the smoother it is.

5

Undoubtedly the smoothest whiskey I have tried to date. No bite at all. Rich sweet caramel on the nose, hints of oak and spice undertones. To the taste is more spice, oak and hint of nutmeg backed up by caramel with a light creamy note. A very nice whiskey that I will certainly buy again in the future.
Disclaimer
Disclaimer
While we endeavour to provide full and accurate information on our website, there may be occasions where producers have updated their recipe or failed to provide full details of their ingredients and processes. This may affect factors including the product style and allergen information, and we would advise that you always check the label and not solely rely on the information presented here. If you are at all uncertain about a product then please contact our customer service team before purchase.
Good To Know
How we pack
Eco-friendly Packaging

Our boxes are made of 100% recyclable cardboard. Our special air-inflated packaging is both re-usable and recyclable, as well as efficient to both transport and dispose of.

Flexible Delivery Options

We deliver to countries all over the world! You can also select express delivery, or pick a specific delivery date, at checkout.

Packed With Care

Our experienced warehouse team take great care with every order. As specialists in glass packaging they ensure that your items stay safe and secure in transit.
14-Day returns policy
We want you to be 100% happy with your order and it is our aim to ensure that all products supplied to all customers arrive in perfect condition. You have the right to cancel your order at any time without being charged for the goods ordered within 14 days of purchasing (other than for perishable or personalised products or those products that have been specified as non-returnable).