Glengoyne 30 Year Old
2021 Release
Highland Single Malt Scotch Whisky
Distillery Bottling
70cl / 46.8%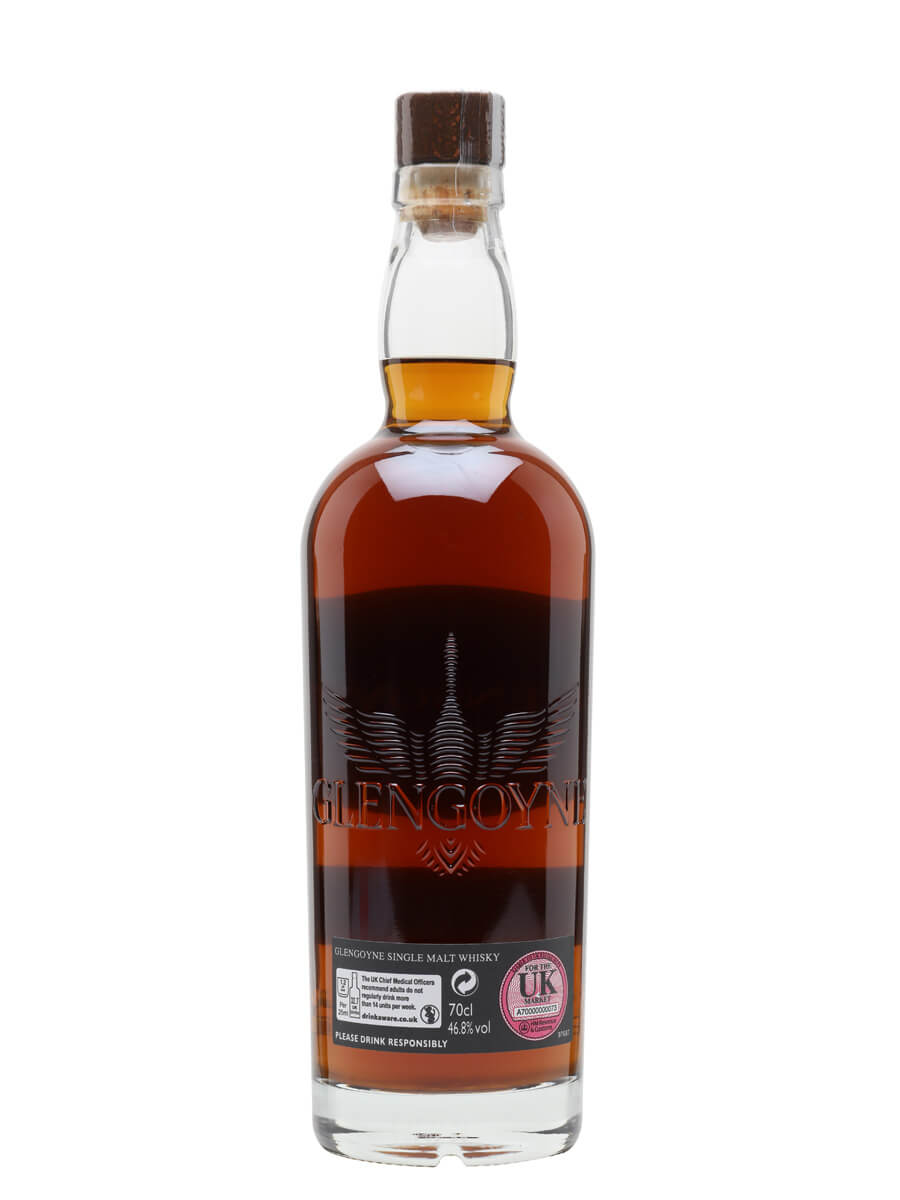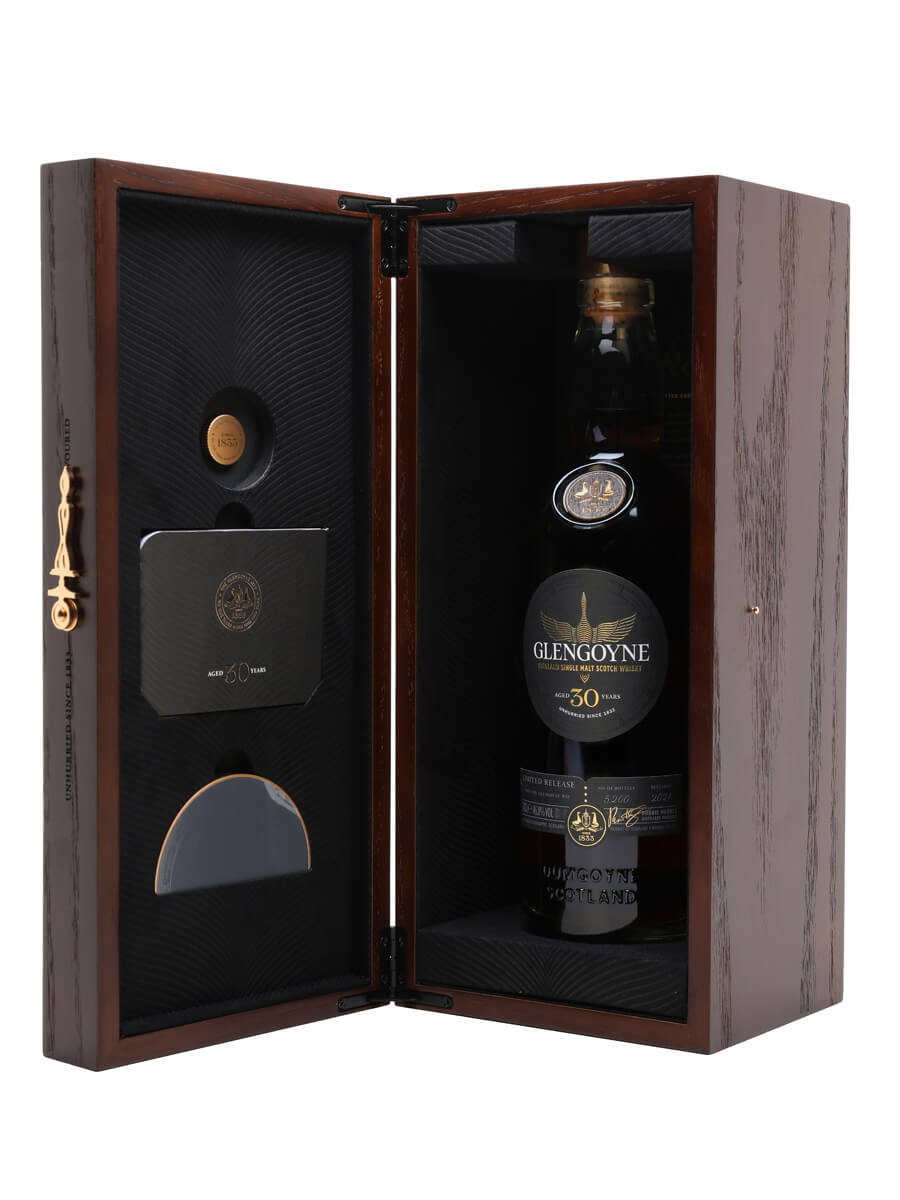 FREE UK Mainland standard delivery
In Stock
£925
£770.83 ex VAT
(£1,321.43 per litre)
You must be aged 18 or above to buy alcohol in the UK
Estimated Delivery
Express delivery

(Choose a day)

From £6.95

Standard delivery

(UK Mainland)

Free

Click & Collect

(Mon-Fri 10am - 5pm)

Free
Made from one third first-fill European oak sherry butts and two thirds refill sherry butts, Glengoyne 30 Year Old has rich notes of black cherry, marmalade, rum and raisin, cinnamon and plum compote.
Each yearly release of Glengoyne 30 Year Old is made from just 13 casks. Each bottle is presented in a solid oak box.
Facts
Facts
Bottler

Distillery Bottling

Age

Bottling Date

2021

No of Bottles

5200

Country

Scotland

Region

Highland

Cask Type

Sherry

Colouring

No

Certification

Vegan

Sustainability

Sustainably Sourced, Sustainably Produced
Customer Reviews
Reviews (1)
Reviews
5

First of all, I have to talk about the packaging, as it is quite frankly, absolutely incredible. I know you can't eat or drink it (unless you're on a strange fad diet), and it's reflected in the price - but it really is something else. It's beyond packaging and treading around in the realms of art. So whoever designed this and came up with the little things like a hessian-nested homage to a bung, magnets in the polished wooden panel that slides out, the velvet-lined oak stand, the polished solid oak box, and the weight & gauge of the actual glass bottle, should get some serious recognition. And that's just the packaging. If the packaging is any sort of reflection of the actual whisky inside the bottle then it will be a very happy experience... Appearance: Deep Mahogany. Very thick & lazy oily legs. Nose: Old & refined sherry is the first aroma to fill my nostrils. It's soon followed by warm and plump raisins that have been soaked in booze-laced prune juice. This, along with the sherry influence is enough to just hold the glass to your nose for an age and just breathe it all in. Now a secondary wave of aromas appear out of the mist - antique furniture wax, faint sourness, old and well used leather, moist dark cherries, freshly sanded wood, pear drops, milky coffee, Digestive biscuits, toffee, more sherry, and a whiff of strawberry ice cream. There are so many doors that open to reveal a multitude of aromas, it's just a hugely rewarding massage of the olfactory system. Palate: After the total delight on the nose, the first initial reaction is that the contact on the tongue is that it's lighter than expected. But then it becomes very clear that it is beautifully & elegantly layered. The welcomed sherry-sweetness starts off as quite restrained but kept on the tongue for just a few moments, it starts to expand and unravel itself – then whoosh! Now it really opens up and floods the taste buds with a beautiful tickling honey and sherried sweetness. All the while, a s
Disclaimer
Disclaimer
While we endeavour to provide full and accurate information on our website, there may be occasions where producers have updated their recipe or failed to provide full details of their ingredients and processes. This may affect factors including the product style and allergen information, and we would advise that you always check the label and not solely rely on the information presented here. If you are at all uncertain about a product then please contact our customer service team before purchase.
Good To Know
How we pack
Eco-friendly Packaging

Our boxes are made of 100% recyclable cardboard. Our special air-inflated packaging is both re-usable and recyclable, as well as efficient to both transport and dispose of.

Flexible Delivery Options

We deliver to countries all over the world! You can also select express delivery, or pick a specific delivery date, at checkout.

Packed With Care

Our experienced warehouse team take great care with every order. As specialists in glass packaging they ensure that your items stay safe and secure in transit.
14-Day returns policy
We want you to be 100% happy with your order and it is our aim to ensure that all products supplied to all customers arrive in perfect condition. You have the right to cancel your order at any time without being charged for the goods ordered within 14 days of purchasing (other than for perishable or personalised products or those products that have been specified as non-returnable).