Glen Scotia Victoriana
Campbeltown Single Malt Scotch Whisky
Distillery Bottling
70cl / 54.2%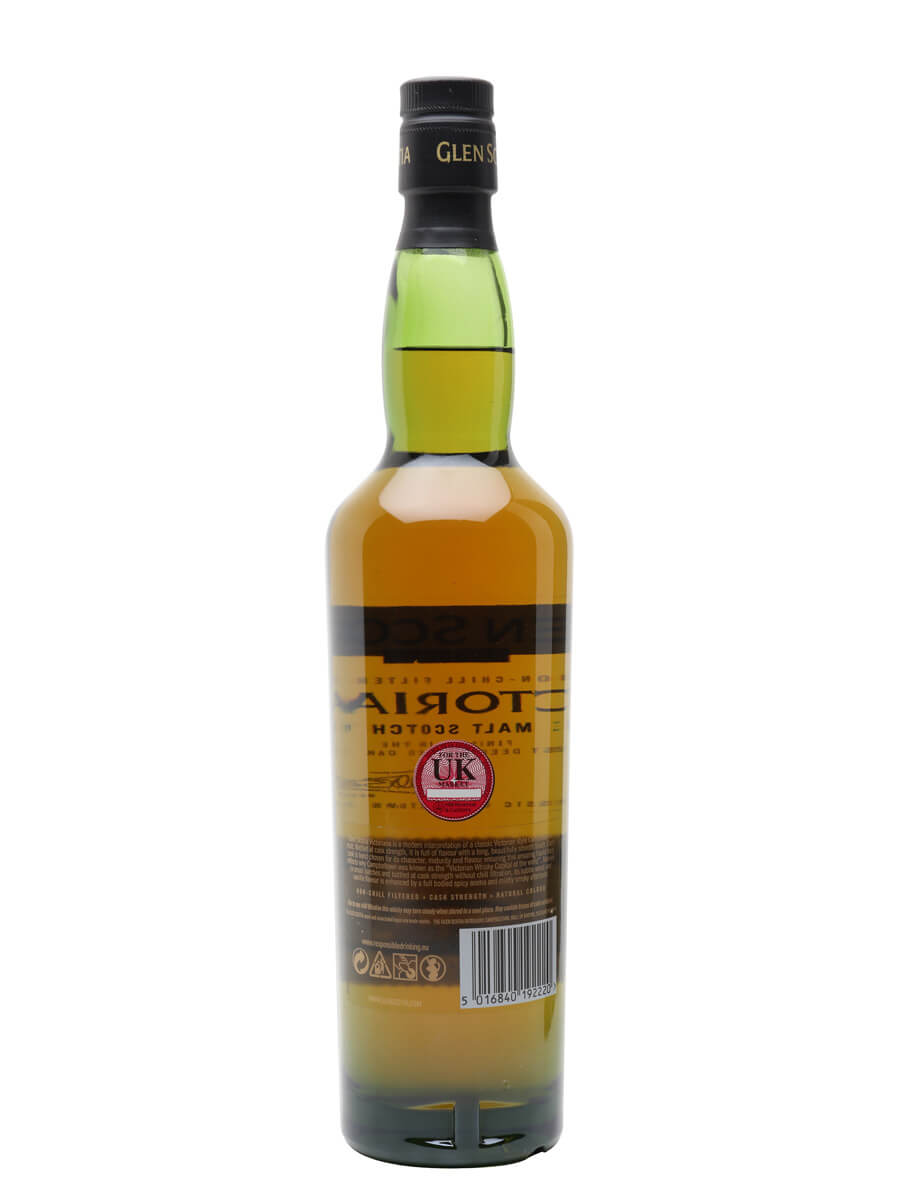 In Stock
Web Exclusive Price
£74.95
£62.46 ex VAT
(£107.07 per litre)
You must be aged 18 or above to buy alcohol in the UK
Estimated Delivery
Express delivery

(Choose a day)

From £6.95

Standard delivery

(4-7 Working Days)

From £4.95

Click & Collect

(Mon-Fri 10am - 5pm)

Free
Glen Scotia Victoriana has been bottled at cask strength and finished in heavily-charred oak casks. Victoriana has notes of richly-spiced fruit, vanilla and oak throughout the palate, followed by a gently smoky finish.
Tasting Notes (1)
Glen Scotia Victoriana won a gold medal in the prestigious 2020 World Spirits Competition in San Francisco. The competition is renowned for its high standards, and not only did Victoriana — and indeed several other of Glen Scotia's whiskies — scoop a gold, but Glen Scotia 25 Year Old was awarded the highly prestigious 'Best Whisky in the World 2021' title at the following year's competition.
The spirit of Campbeltown
Inspired by Victorian times, Glen Scotia Victoriana is matured in specially-selected casks and finished in heavily-charred oak and ex-sherry casks to emulate the character of the early Campbeltown whiskies. The region has a rich history of whisky production, at one point having 29 working distilleries in the town itself, and Glen Scotia carries on this tradition by producing the subtle maritime style for which the region is still renowned.
Flavour Profile
Style
Body

Richness

Smoke

Sweetness
Character
Vanilla

Black Pepper

Apple

Almond

Oak
Facts
Facts
Bottler

Distillery Bottling

Country

Scotland

Region

Campbeltown

Chill Filtered

No

Colouring

No
Tasting Notes
Tasting Notes
Tasting notes by the producer

Nose

An elegant nose with hints of oak driving the bouquet. Interesting creme brulee notes leading to generous caramelised fruits and finally polished oak.

Palate

Sweet and concentrated start with some jammy blackcurrant fruitiness. A big mid palate. Typical tightening towards the back palate. Becomes more austere with water.

Finish

Clean and initially sweet. The green bean, with cocoa characteristic.
Customer Reviews
Reviews (8)
Reviews
4

Purchased this based on a reliable review on Youtube. This is powerful as it's at cask strength and so will be good with a drop or two of water. Nose gave me a Christmas cake vibe. On tasting this it is really complex with loads of spice and sherry. Lingers in the mouth for ages. Very good indeed.

5

Utterly brilliant. This reminds me why I love whisky.

5

All I can say is get it while you can, I've just ordered another bottle. Neat you can smell it's 54.2% yet on the tongue it is smooth and sweet. I can drink this straight but a little water does open the dram up and takes you to another level.

5

It is superb. Best Scotch Whiskey I've tasted.

5

Had a small 50ml sampling bottle of this sitting in my shelf for ages that I just kept looking past. Finally opened up out of curiosity and WOW, why didn't I open this earlier. Your archetypal Campbeltown malt dialled up to eleven leaning more towards the sweeter/cereal grain flavour profile than Springbank. I will be ordering a 700ml bottle of this ASAP.
Disclaimer
Disclaimer
While we endeavour to provide full and accurate information on our website, there may be occasions where producers have updated their recipe or failed to provide full details of their ingredients and processes. This may affect factors including the product style and allergen information, and we would advise that you always check the label and not solely rely on the information presented here. If you are at all uncertain about a product then please contact our customer service team before purchase.
Good To Know
How we pack
Eco-friendly Packaging

Our boxes are made of 100% recyclable cardboard. Our special air-inflated packaging is both re-usable and recyclable, as well as efficient to both transport and dispose of.

Flexible Delivery Options

We deliver to countries all over the world! You can also select express delivery, or pick a specific delivery date, at checkout.

Packed With Care

Our experienced warehouse team take great care with every order. As specialists in glass packaging they ensure that your items stay safe and secure in transit.
14-Day returns policy
We want you to be 100% happy with your order and it is our aim to ensure that all products supplied to all customers arrive in perfect condition. You have the right to cancel your order at any time without being charged for the goods ordered within 14 days of purchasing (other than for perishable or personalised products or those products that have been specified as non-returnable).