Atopia Spiced Citrus
Ultra-Low Alcohol Spirit
70cl / 0.5%

In Stock
Web Exclusive Price
£24.95
£20.79 ex VAT
(£35.64 per litre)
Estimated Delivery
Express delivery

(Choose a day)

From £6.95

Standard delivery

(4-7 Working Days)

From £4.95

Click & Collect

(Mon-Fri 10am - 5pm)

Free
Atopia Spiced Citrus is an ultra-low alcohol spirit, using orange, juniper, coriander, angelica root and lemon amongst its botanicals. Fruity and aromatic, try mixing it with Indian tonic for a refreshing summer serve.
Allergens & Ingredients
About Atopia
Ultra Low Alcohol Spirits
Atopia was created by Leslie Gracie, Master Distiller at Hendrick's gin, as a range of spirits with very little alcohol but heaps of flavour. They can be used to replicate some of your favourite long drinks and cocktails whenever you're cutting back on alcohol.
Try Spiced Citrus & Tonic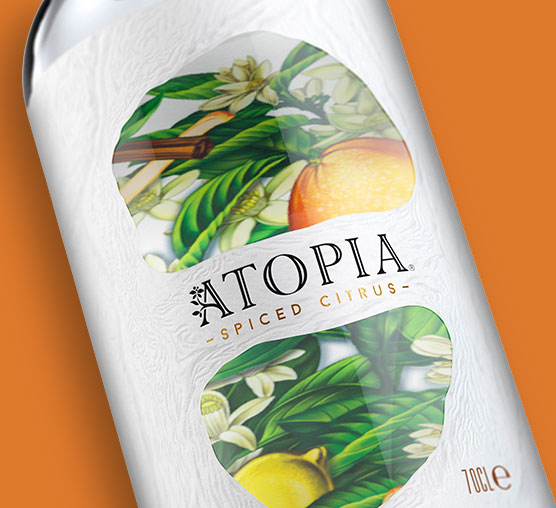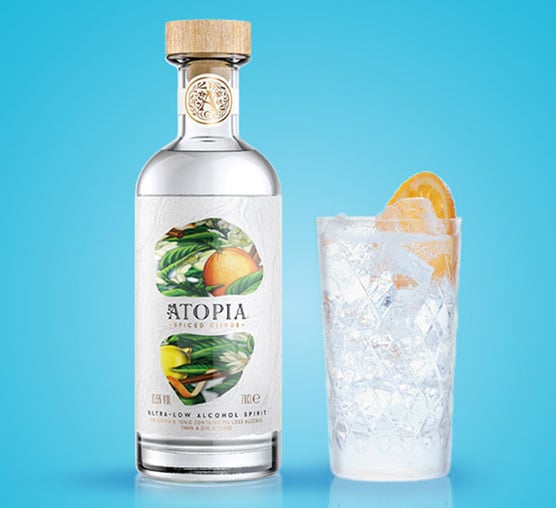 Pour 50ml Spiced Citrus and 150ml tonic water into a tall glass with ice. Garnish with a slice of orange.
Allergens & Ingredients
Allergens & Ingredients
Product Information
Ingredients

Distilled From:
Orange, Juniper, Coriander, Angelica root & Lemon Peel

Natural Flavours and Extracts of:
Orange blossom, lavender, apple, apple smoked water wormwood & citric acid

Preservatives:
Potassium, Sorbate & Sodium Benzoate

Nutritional Information

Per 100g:
Energy 23.2kcal / 97.06kJ
Fat 0g which Saturates 0g
Carbohydrate 5g of which Sugars 5g
Salt 0g

Per Portion / Unit 50ml:
Energy 11.6kcal / 48.53 kJ
Fat 0g of which Saturates 0g
Carbohydrate 2.5g of which Sugars 2.5g
Salt 0g

14 Servings of 50ml


Special Instructions

Store in a cool dry place.

Manufacturer Details

William Grant & Sons Limited
ML4 3AN
Disclaimer
Disclaimer
While we endeavour to provide full and accurate information on our website, there may be occasions where producers have updated their recipe or failed to provide full details of their ingredients and processes. This may affect factors including the product style and allergen information, and we would advise that you always check the label and not solely rely on the information presented here. If you are at all uncertain about a product then please contact our customer service team before purchase.
Good To Know
How we pack
Eco-friendly Packaging

Our boxes are made of 100% recyclable cardboard. Our special air-inflated packaging is both re-usable and recyclable, as well as efficient to both transport and dispose of.

Flexible Delivery Options

We deliver to countries all over the world! You can also select express delivery, or pick a specific delivery date, at checkout.

Packed With Care

Our experienced warehouse team take great care with every order. As specialists in glass packaging they ensure that your items stay safe and secure in transit.
14-Day returns policy
We want you to be 100% happy with your order and it is our aim to ensure that all products supplied to all customers arrive in perfect condition. You have the right to cancel your order at any time without being charged for the goods ordered within 14 days of purchasing (other than for perishable or personalised products or those products that have been specified as non-returnable).