Harvard Drop Out by Coupette Cocktail Collection
220cl / 24.7%
You must be aged 18 or above to buy alcohol in the UK
Not Available
This product is currently out of stock
Enter your email address below to be notified when this product is available.
The Whisky Exchange is supporting the UK's bars and their staff during this difficult time. We have created this cocktail pack in collaboration with Coupette and a portion of the proceeds from every sale goes directly to the bar.
Bring the bar home with this cocktail bundle inspired by Harvard Drop Out cocktail created by Coupette's Andrei Marcu. This bundle includes a bottle of Courvoisier VS Cognac, Croft Triple Crown Port and Tio Pepe Palamino Fino sherry.
To make a Harvard Drop Out, add 30ml of Courvoisier VS Cognac, 50ml of Croft Triple Crown Port and 10ml of Tio Pepe Palamino Fino sherry to a mixing glass, add ice and stir. Strain into a small coupette and garnish with orange peel to serve.
Please note
This product is a bundle offer. It will be displayed in the checkout with the special discounted price, and the components shown below without price. Please be aware that there are no extra free items with these bundles.
Harvard Drop Out
A rich mix of fortified wine with a kick of Courvoisier.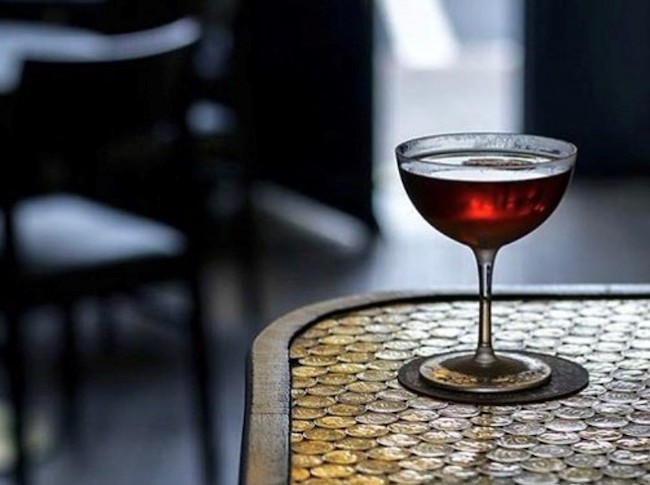 The Recipe
30ml Courvoisier VS
50ml Croft Triple Crown Port
10ml Tio Pepe
The Method
Stir the ingredients over ice, serve in a small coupette, garnish with orange wheel.
Coupette
Coupette has quickly made its way up the ranking of the World's Best Bars since its 2017 opening – up to 23 in 2019. Bringing a bit of French hospitality and flavour to London's Bethnal Green, the bar has been credited with helping reignite interest in Calvados and is already known for its exciting cocktails.
The Harvard Drop Out was created by head bartender Andrei Marcu.
Disclaimer
Disclaimer
While we endeavour to provide full and accurate information on our website, there may be occasions where producers have updated their recipe or failed to provide full details of their ingredients and processes. This may affect factors including the product style and allergen information, and we would advise that you always check the label and not solely rely on the information presented here. If you are at all uncertain about a product then please contact our customer service team before purchase.
Good To Know
How we pack
Eco-friendly Packaging

Our boxes are made of 100% recyclable cardboard. Our special air-inflated packaging is both re-usable and recyclable, as well as efficient to both transport and dispose of.

Flexible Delivery Options

We deliver to countries all over the world! You can also select express delivery, or pick a specific delivery date, at checkout.

Packed With Care

Our experienced warehouse team take great care with every order. As specialists in glass packaging they ensure that your items stay safe and secure in transit.
14-Day returns policy
We want you to be 100% happy with your order and it is our aim to ensure that all products supplied to all customers arrive in perfect condition. You have the right to cancel your order at any time without being charged for the goods ordered within 14 days of purchasing (other than for perishable or personalised products or those products that have been specified as non-returnable).