Norman Conquest by Kwant Cocktail Collection
235cl / 33.7%
Not Available
This product is currently out of stock
Enter your email address below to be notified when this product is available.
The Whisky Exchange is supporting the UK's bars and their staff during this difficult time. We have created this cocktail pack in collaboration with Kwant and a portion of the proceeds from every sale goes directly to the bar.
Bring the bar home with this cocktail bundle inspired by the Norman Conquest cocktail, created by Kwant's Erik Lorincz. This bundle includes a bottle of Avallen Calvados, Cocchi Vermouth di Torino, Angostura bitters and Woodford Reserve bourbon.
To make a Norman Conquest stir 25ml of Avallen Calvados, 25ml Cocchi Vermouth di Torino, 25ml Woodford Reserve bourbon and 3 drops of Angostura bitters over ice. Serve over ice in a tumbler, garnish with a slice of orange.
Please note
This product is a bundle offer. It will be displayed in the checkout with the special discounted price, and the components shown below as free. Please be aware that there are no extra free items with these bundles.
Norman Conquest
A celebration of Normandy's iconic spirit – Calvados.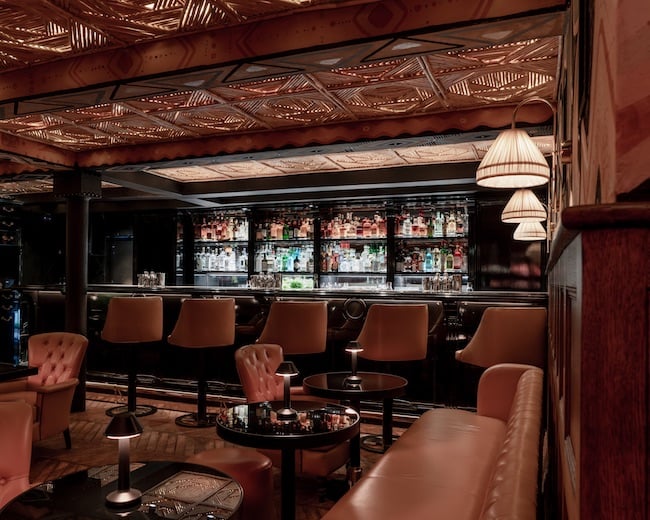 The Recipe
25ml Avallen Calvados
25ml Cocchi di Torino
25ml Woodford Reserve
3 drops of Angostura bitters
The Method
Stir all ingredients with ice. Serve over ice and garnish with an orange slice.
Kwānt
Pronounced 'quaint', Regent's Street's Kwānt is the first project from Eric Lorincz since he left his role as head bartender of the Savoy's American Bar. It's a bar packed with character, with a touch of Casablanca and Lorincz's trademark flair. Expect intriguing flavour combinations as well as hydroponically home-grown micro-herbs, one-of-a-kind cordials and oodles of class. A top 50 ranking in the World's Best Bar list in its first year was well deserved.
Good To Know
How we pack
Eco-friendly Packaging

Our boxes are made of 100% recyclable cardboard. Our special air-inflated packaging is both re-usable and recyclable, as well as efficient to both transport and dispose of.

Flexible Delivery Options

We deliver to countries all over the world! You can also select express delivery, or pick a specific delivery date, at checkout.

Packed With Care

Our experienced warehouse team take great care with every order. As specialists in glass packaging they ensure that your items stay safe and secure in transit.

14-Day returns policy
We want you to be 100% happy with your order and it is our aim to ensure that all products supplied to all customers arrive in perfect condition. You have the right to cancel your order at any time without being charged for the goods ordered within 14 days of purchasing (other than for perishable or personalised products or those products that have been specified as non-returnable).