Proper No. Twelve Blended Irish Whiskey
Bottle Hoodie Pack
70cl / 40%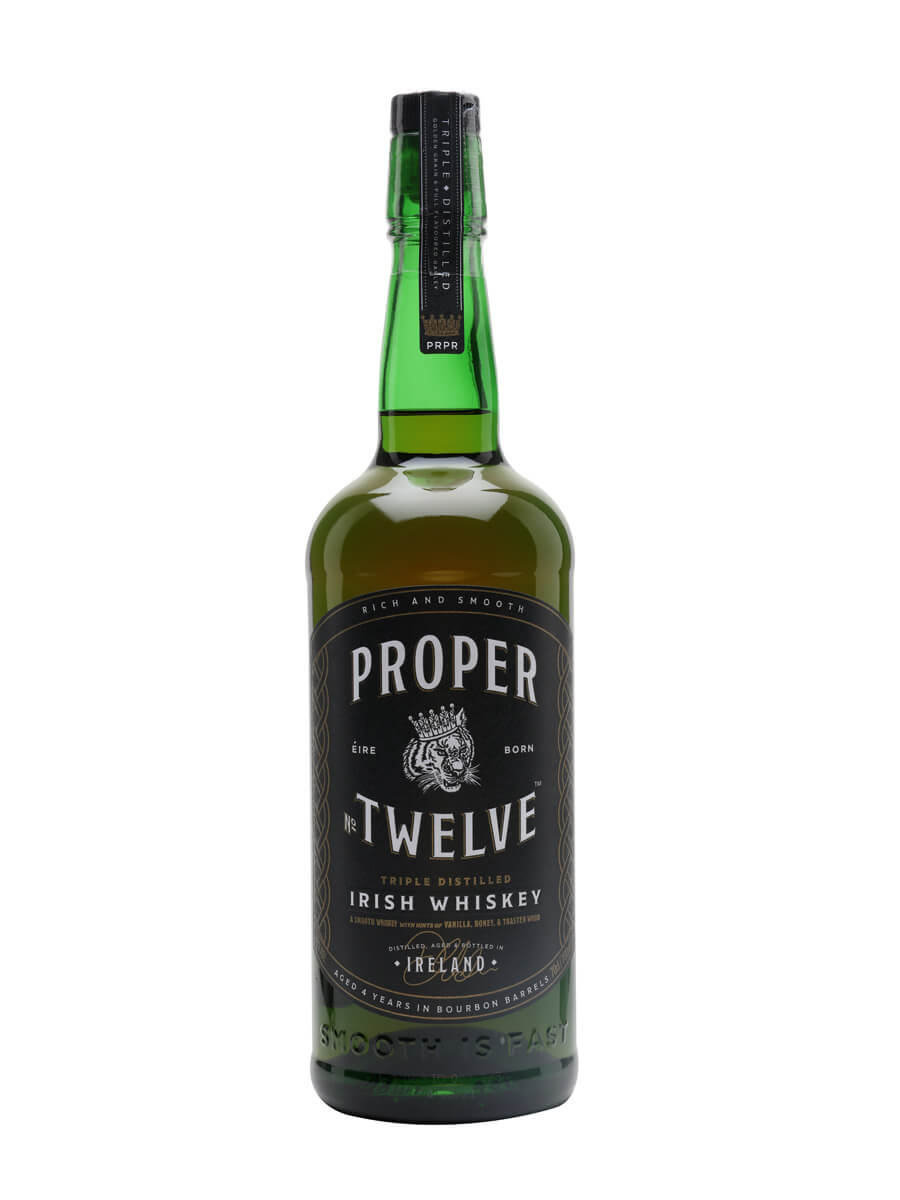 In Stock
Web Exclusive Price
£29.50
£24.58 ex VAT
(£42.14 per litre)
You must be aged 18 or above to buy alcohol in the UK
Estimated Delivery
Express delivery

(Choose a day)

From £6.95

Standard delivery

(2-4 Working Days)

From £4.95

Click & Collect

(Mon-Fri 10am - 5pm)

Free
A novelty bottle delicious blended Irish whiskey, with a stylish green bottle hoodie, that has been aged in ex-bourbon barrels, giving it smooth notes of vanilla, honey and toasted oak. Made at one of Ireland's oldest distilleries, this whiskey has a traditional Irish character.
Created by UFC star Conor McGregor, Proper No. Twelve aims to show the passion put into making Irish whiskey, and the passion of those that drink it. A special blend created by McGregor and Master Distiller David Elder, this triple-distilled blend is fruity and sweet, perfect for sipping.
Customer Reviews
Reviews (3)
Reviews
1

Might as well be water. No defining flavors at all. Nose is only alcohol. Taste is boring and nondescript. Don't waste your money.

1

Yes it was bought forme as a birthday present and as a whisky drinker I thought it smelt like candle wax and tasted the .very disappointed

1

Oh to win big on the lotto and buy this brand off Mr Mcgregor and flush it down the toilet. Truly truly boring Whiskey that only sells because of a bit of so called celebrity endorsement. Avoid and buy Jameson or Bushmills instead.
Disclaimer
Disclaimer
While we endeavour to provide full and accurate information on our website, there may be occasions where producers have updated their recipe or failed to provide full details of their ingredients and processes. This may affect factors including the product style and allergen information, and we would advise that you always check the label and not solely rely on the information presented here. If you are at all uncertain about a product then please contact our customer service team before purchase.
Good To Know
How we pack
Eco-friendly Packaging

Our boxes are made of 100% recyclable cardboard. Our special air-inflated packaging is both re-usable and recyclable, as well as efficient to both transport and dispose of.

Flexible Delivery Options

We deliver to countries all over the world! You can also select express delivery, or pick a specific delivery date, at checkout.

Packed With Care

Our experienced warehouse team take great care with every order. As specialists in glass packaging they ensure that your items stay safe and secure in transit.
14-Day returns policy
We want you to be 100% happy with your order and it is our aim to ensure that all products supplied to all customers arrive in perfect condition. You have the right to cancel your order at any time without being charged for the goods ordered within 14 days of purchasing (other than for perishable or personalised products or those products that have been specified as non-returnable).