Teeling 1991
29 Year Old Rum Cask Exclusive to The Whisky Exchange
Irish Single Malt Whiskey
Distillery Bottling
70cl / 52.4%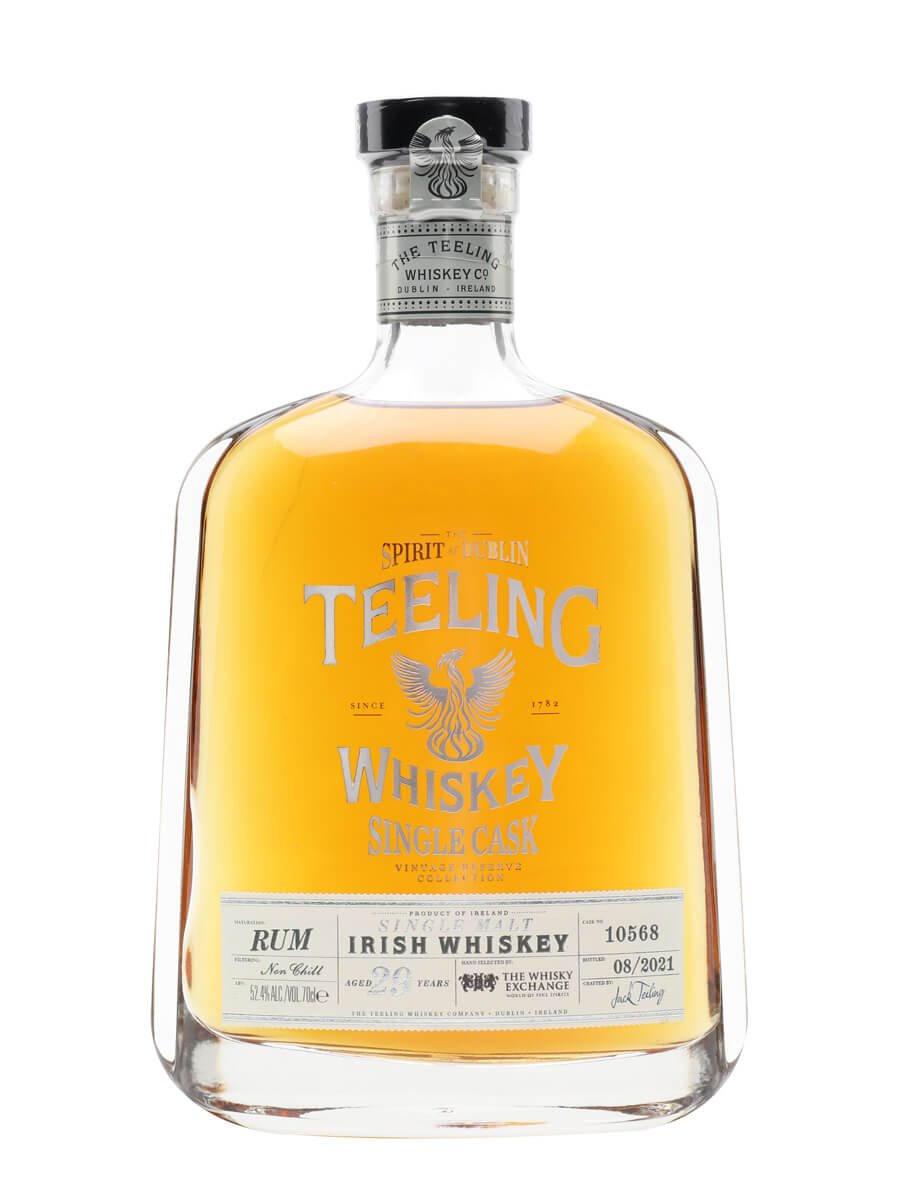 FREE UK Mainland standard delivery
In Stock
£595
£495.83 ex VAT
(£850 per litre)
You must be aged 18 or above to buy alcohol in the UK
Estimated Delivery
Express delivery

(Choose a day)

From £6.95

Standard delivery

(UK Mainland)

Free

Click & Collect

(Mon-Fri 10am - 5pm)

Free
A 1991 Teeling Irish single malt whiskey, matured in a single rum cask, before being bottled in August 2021 exclusively for The Whisky Exchange at 29-years-old.
Tasting Notes (1)
Teeling 1991
29 Years Old
Rum Cask #10568
The Teeling family have some of the best old casks of Irish whiskey in their warehouses, and occasionally they let us choose something special to bottle as an exclusive. This 29-year-old single malt has spent its life in a rum cask, adding layers of brown sugar sweetness and soft spice to the famously fruity 1990s spirit, creating a combination that was a hit with our tasting panel.
When Irish whiskey pioneer John Teeling sold Cooley – at the time of opening, the country's third distillery, and the beginning of the current whiskey revival in Ireland – we wondered what the family would do next. His sons and head distiller Alex Chasko moved to Dublin and opened Teeling – a distillery with the family name above the door.
Since 2015, they have been leading the new Irish distillers, pushing the boundaries with their own whiskies as well as curating a collection of some of Ireland's finest old casks, hidden away in the family's archives and nurtured since the 1990s.
Flavour Profile
Style
Body

Richness

Smoke

Sweetness
Character
Lime

Pineapple

Mango

Papaya

Honey

Oak
Facts
Facts
Bottler

Distillery Bottling

Age

Vintage

Bottling Date

August 2021

No of Bottles

176

Country

Ireland

Cask Type

Rum

Cask Number

10568

Chill Filtered

No
Tasting Notes
Tasting Notes
Billy Abbott, The Whisky Exchange

Nose

Gummi bears and golden syrup with a pile of peelable citrus: tangerines, clementines and satsumas. Mango and pineapple notes develop: both fresh and dried. A background of golden syrup and honey adds extra sweetness and complexity.

Palate

Fresh fruit leads: the mango and pineapple of the nose with extra guava and a touch of yuzu. Brown sugar sweetness hides underneath along with a touch of vanilla and soft spice.

Finish

A touch of heat fades to leave jelly baby fruitiness, damp oak and gentle spice.
Disclaimer
Disclaimer
While we endeavour to provide full and accurate information on our website, there may be occasions where producers have updated their recipe or failed to provide full details of their ingredients and processes. This may affect factors including the product style and allergen information, and we would advise that you always check the label and not solely rely on the information presented here. If you are at all uncertain about a product then please contact our customer service team before purchase.
Good To Know
How we pack
Eco-friendly Packaging

Our boxes are made of 100% recyclable cardboard. Our special air-inflated packaging is both re-usable and recyclable, as well as efficient to both transport and dispose of.

Flexible Delivery Options

We deliver to countries all over the world! You can also select express delivery, or pick a specific delivery date, at checkout.

Packed With Care

Our experienced warehouse team take great care with every order. As specialists in glass packaging they ensure that your items stay safe and secure in transit.
14-Day returns policy
We want you to be 100% happy with your order and it is our aim to ensure that all products supplied to all customers arrive in perfect condition. You have the right to cancel your order at any time without being charged for the goods ordered within 14 days of purchasing (other than for perishable or personalised products or those products that have been specified as non-returnable).