The Spiced Rum Advent Calendar
2023 Edition
72cl / 40.6%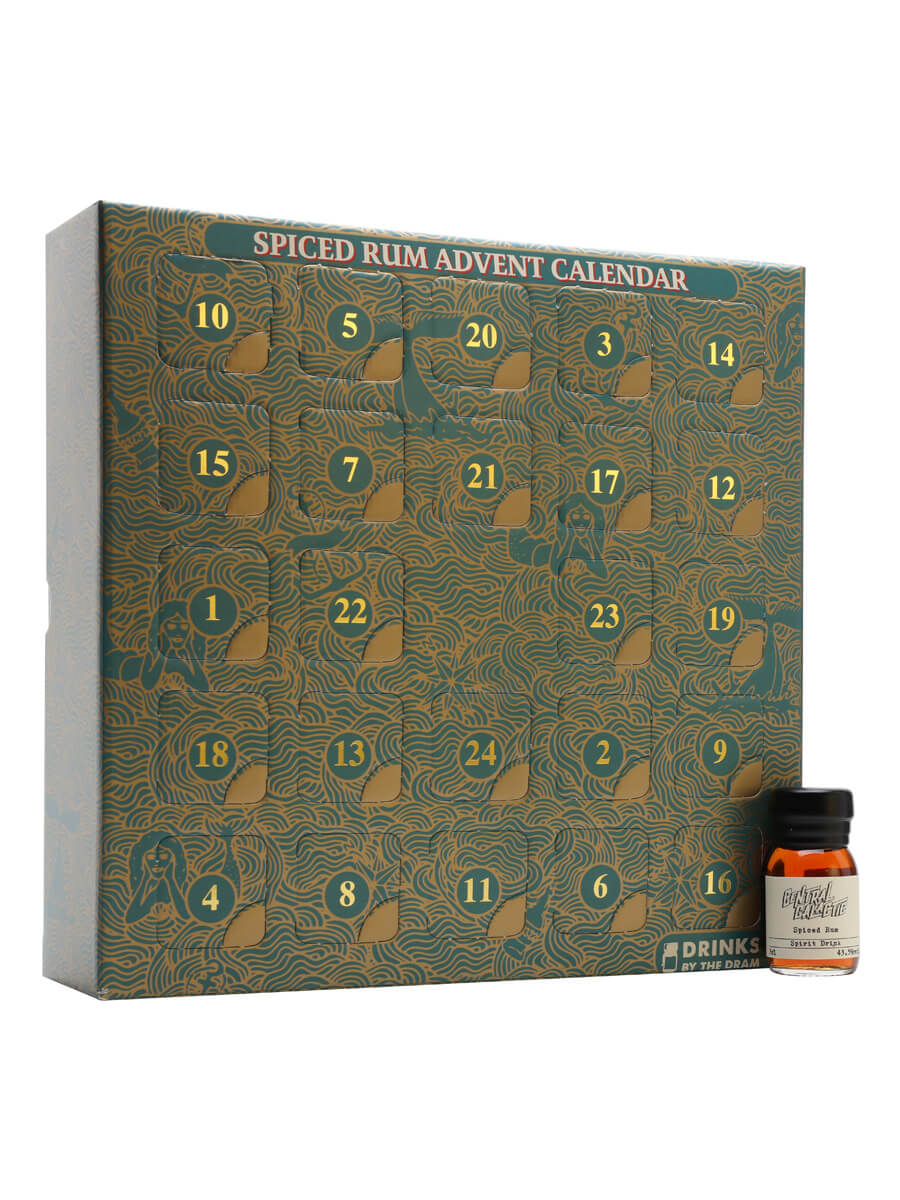 You must be aged 18 or above to buy alcohol in the UK
Not Available
This product is currently out of stock
Enter your email address below to be notified when this product is available.
Elevate the holiday season with this Spiced Rum Advent Calendar from Drinks by the Dram, which offers 24 spiced and flavoured rum samples in 30ml bottles. The variety of producers on display will help you round out your December evenings with a touch of festive sweetness.
Please note
Please head to the bottom of the page for the list of contents. Please note, that due to the popularity of these calendars, contents are occasionally subject to change.
The box has some damages to the corners, but the contents are unaffected, and has been reduced in price accordingly.
Allergens & Ingredients
More from Drinks by the Dram
Allergens & Ingredients
Allergens & Ingredients
Product Information
Special Instructions

Central Galactic Spiced Rum
Tanduay Especia Spiced Filipino Rum
Depth Charge Black Cherry Spiced Rum
Don Q Oak Barrel Spiced
The Salford Dark Spiced Rum
Cargo Cult Banana Spiced Rum
Libations Spiced Rum
Project #173 Pumpkin Spice Rum
Rumbullion!
One-Eyed Rebel Spiced Rum
Depth Charge Spiced Rum
Norfolk Dark Spiced Rum
Jaffa Cake Rum
Chairman's Reserve Spiced Rum
Twin Fin Spiced Golden Rum
Spice Hunter
Horizon Black [Hole] Spiced Rum
Hawksbill Spiced Rum
Diablesse Clementine Spiced Rum
Bacardi Caribbean Spiced Rum
Mapmakers Coastal Spiced Rum
Project #173 Gingerbread Rum
Arcanist Pineapple Rum
Canerock
Disclaimer
Disclaimer
While we endeavour to provide full and accurate information on our website, there may be occasions where producers have updated their recipe or failed to provide full details of their ingredients and processes. This may affect factors including the product style and allergen information, and we would advise that you always check the label and not solely rely on the information presented here. If you are at all uncertain about a product then please contact our customer service team before purchase.
Good To Know
How we pack
Eco-friendly Packaging

Our boxes are made of 100% recyclable cardboard and our protective honeycomb paper wrap keeps your package safe and significantly reduces our need for plastic.

Flexible Delivery Options

We deliver to countries all over the world! You can also select express delivery, or pick a specific delivery date, at checkout.

Packed With Care

Our experienced warehouse team take great care with every order. As specialists in glass packaging they ensure that your items stay safe and secure in transit.
14-Day returns policy
We want you to be 100% happy with your order and it is our aim to ensure that all products supplied to all customers arrive in perfect condition. You have the right to cancel your order at any time without being charged for the goods ordered within 14 days of purchasing (other than for perishable or personalised products or those products that have been specified as non-returnable).