Royal Salute 50 Year Old
Coronation Cask
70cl / 40%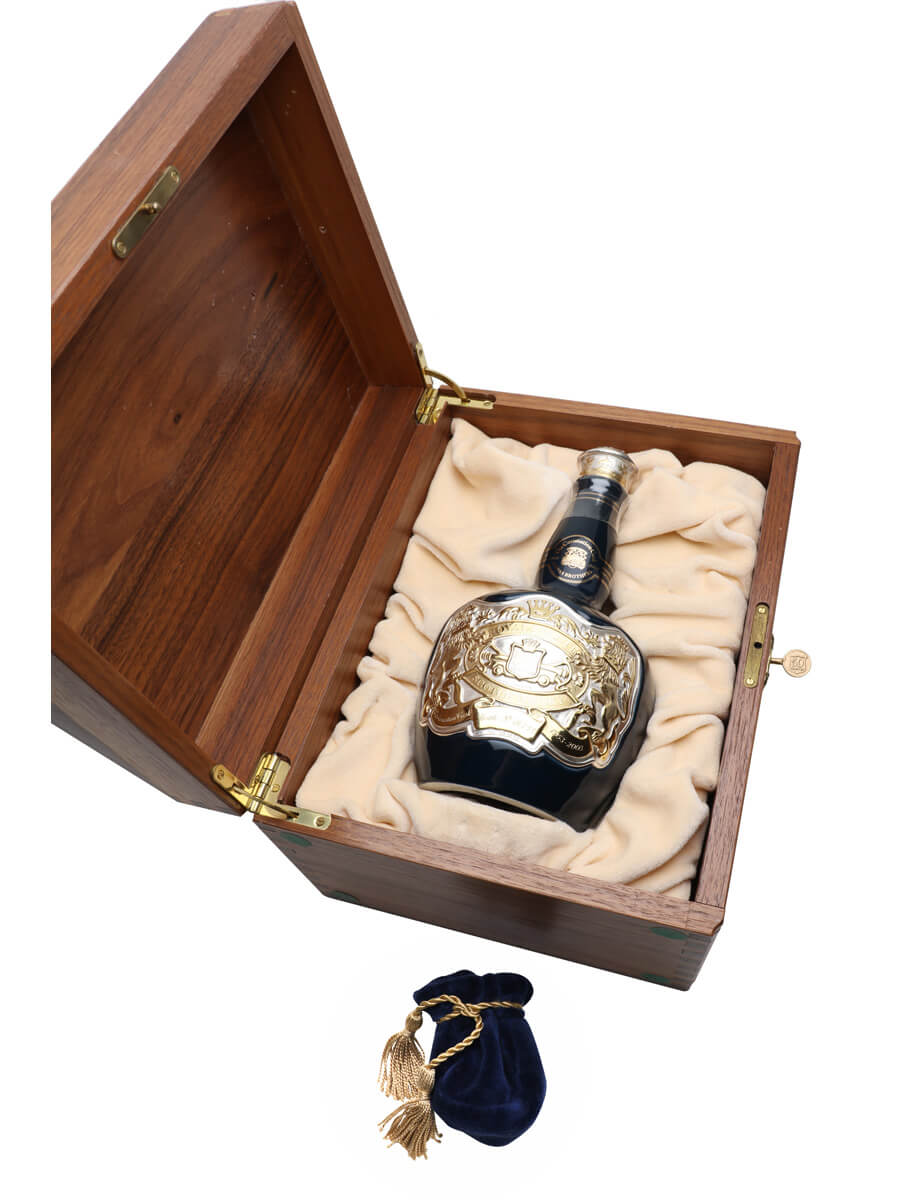 FREE UK Mainland standard delivery
In Stock
£25,000
£20,833.33 ex VAT
(£35,714.29 per litre)
You must be aged 18 or above to buy alcohol in the UK
Estimated Delivery
Express delivery

(Choose a day)

From £6.95

Standard delivery

(UK Mainland)

Free

Click & Collect

(Mon-Fri 10am - 5pm)

Free
Royal Salute 50 year old is a blend of robust and powerful whiskies each matured in oak casks for a minimum of 50 years, resulting in a deep and sumptuous whisky.
Tasting Notes (2)
Please note
Scratches to the presentation box.
Facts
Facts
Age

50 Year Old

Vintage

1953

Bottling Date

2003

No of Bottles

255

Country

Scotland

Colouring

Yes
Tasting Notes
Tasting Notes
Tasting Notes from Jim Murray's Whisky Bible

n24 Extremely fine strands of bourbon with suet pudding and diced apples making way for more intense raisins as the whisky warms and oxidises; just a shading of something peaty plus some earthy farmyardy-zooey aromas. But it's all rather fantastic and supremely balanced.

t24 Surprisingly peppery attack from the off with some very early smoke. But it's the mouthfeel that shines - no, glows! - enveloping and swamping every crevice with spiced fruit demonstrating exemplary composure. This is rich yet has enough bite and thrust to show shape and character. Astonishing for its age. Where the hell is the oak? Where are the cracks? Nature-defying stuff.

f22 Only short to medium length but sweet and genuinely barley rich with perhaps a hint of silky grain. Crisp and almost too clean to be true.

b25 A decade ago I tasted the Royal Salute 40 Years Old. It was probably the finest blend I had ever tasted. Now they have the 50 year-old. And it has ripped up and laughed at every rule in the book: finish apart, it has just got better and better. The most extraordinary thing here is the oak involvement. At 50 years you should be picking it out of your teeth. Not here. Instead, after its appearance on the wonderful nose, it all but vanished. Instead we are left to deal with an essay in balance...a blended whisky showing this degree of balance and elan is truly priceless.

Overall: 95 points

Producer's Tasting Notes

Nose

Rich sweet fruity aromas are balanced with a deep floral oakiness and a soft smoky nuttiness.

Taste

Full sweet floral and fruity raisin flavours enhanced with a smoky sweetness and nutty oakiness.

Finish

Deep and sumptuous with a warm sweet fruitiness and dry smokiness. Unrivalled Excellence.
Customer Reviews
Reviews (4)
Reviews
5

It's costly but the taste is so extravagent.

5

10/10 Best whiskey I ever tasted.

5

Exceptional whiskey

Very Nice! :-o
Disclaimer
Disclaimer
While we endeavour to provide full and accurate information on our website, there may be occasions where producers have updated their recipe or failed to provide full details of their ingredients and processes. This may affect factors including the product style and allergen information, and we would advise that you always check the label and not solely rely on the information presented here. If you are at all uncertain about a product then please contact our customer service team before purchase.
Good To Know
How we pack
Eco-friendly Packaging

Our boxes are made of 100% recyclable cardboard. Our special air-inflated packaging is both re-usable and recyclable, as well as efficient to both transport and dispose of.

Flexible Delivery Options

We deliver to countries all over the world! You can also select express delivery, or pick a specific delivery date, at checkout.

Packed With Care

Our experienced warehouse team take great care with every order. As specialists in glass packaging they ensure that your items stay safe and secure in transit.
14-Day returns policy
We want you to be 100% happy with your order and it is our aim to ensure that all products supplied to all customers arrive in perfect condition. You have the right to cancel your order at any time without being charged for the goods ordered within 14 days of purchasing (other than for perishable or personalised products or those products that have been specified as non-returnable).