Rum
If rum's most obvious manifestation is a clear spirit diluted with Coke or submerged in a Mojito, its true identity is harder to pin down. From fiery overproof to complex, sipping-only pot still, each country and every distillery has its own inimitable take on this most versatile of spirits.
Rum is an incredibly versatile spirit, from clean and fruity styles to dark, heavy versions
Sugar rush
The rise of rum is inexorably linked to the boom in sugar production during colonial times: the inkily rich molasses left over were, if distilled into spirit, a nice little sideline to make some extra cash.
On the surface, rum production is simple. Take your molasses, add water, add yeast, ferment, then distil. The devil, as ever, is in the detail: what yeast? Fermented for how long? Column or pot still? Matured for how long and in what kind of barrel? And, as the permutations build, regional styles begin to emerge.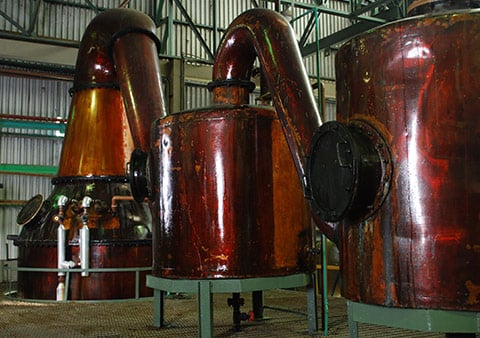 Rums distilled in pot stills are typically fuller and richer than those distilled in column stills
Language barrier
It may be a slightly clumsy generalisation, but rum styles tend to have some affinity with the history of the place they call home. Thus English-speaking Caribbean islands tend towards the rich and dark, including the heavy Navy rums; 'Spanish' rums have a traditionally smooth palate, whatever their age; and then there is the anomaly: French rhum agricole.
French accent
A very different style of rum developed in the French Caribbean and Indian Ocean colonies: Martinique, Guadeloupe, Haiti and Réunion. Made from sugar-cane juice rather than molasses, these rhums agricoles are punchy and pungent when young, elegant and immensely characterful when aged. In particular, watch out for Barbancourt, Clément, Damoiseau and Trois Rivières.
Styles within styles
These linguistically based distinctions offer a broad-brush division of rum styles, but to zero in on the essence of the category, you need to know the regional variations offered by individual locations – and their distilleries.
You want fragrant complexity and a velvety texture? Try Barbados and Mount Gay or Doorly's. More intensity and spice? Go to Jamaica and work your way through the impressive Appleton Estate range. Lighter, smoother, richer might mean the mainland and serious sipping rums from Flor de Caña, Zacapa and Brugal. Or Cuba, the cradle of modern rum, and the unmatched subtlety offered by Havana Club.
Did you know?
Cuba's Havana Club is produced only about

100 miles

from US territory but – thanks to the trade embargo – you can't buy it there
Made using the first pressing of sugar cane juice, Zacapa is matured at an altitude of

2,300m

above sea level in Guatemala
Bacardi was produced in

Cuba

from its inception in 1862 until Fidel Castro seized power in 1959. Most of its rum is now made in Puerto Rico, but the Bacardi Building – topped by its distinctive 'bat' sculpture – remains one of the finest art deco structures in Havana
Close