Strong and simple
Bourbon or rye
Made for slow sipping, this vintage cocktail serves to enhance a whiskey's flavour by adding sweetness, bitters and dilution
How To Make It
Prep time:

5 minutes

Serves:

1

Skill:

Easy
Place the rocks glass and stirring glass in the freezer beforehand to chill.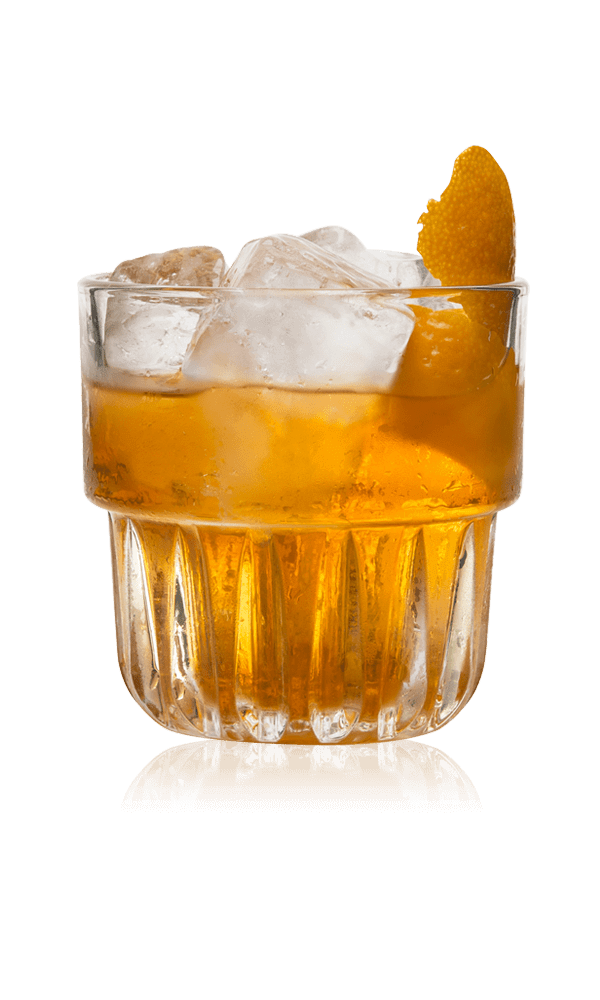 Ingredients
10ml sugar syrup
3 dashes Angostura bitters
cubed ice
orange twist
60ml Bourbon or rye
Equipment
chilled rocks glass
chilled mixing glass
shot measure
bar spoon
hawthorne strainer
Method
Pour the bourbon, syrup and bitters into the chilled stirring glass.
Fill the stirring glass half with ice.
Stir the liquid for at least 3 minutes. This doesn't have to be constant stirring but the liquid needs enough time with the ice to reduce the temperature.
Fill a rocks glass with ice.
Strain the liquid into the ice-filled glass.
Garnish with an orange twist.
Did you know?
The Old Fashioned dates to 1800 and hasn't changed much over the intervening 200 years. In its infancy, the drink went by the name 'Whiskey Cocktail' and by 1840 had gained cult status. Thirty years later, the bartending scene had moved on and bartenders started adding in dashes of this and that to the Whiskey Cocktail. If you wanted the classic drink, you'd ask for an Old-Fashioned Whiskey Cocktail, creating the modern name for the drink.
Make this Cocktail
Choose your products
Bitters
Angostura Bitters

Essential kit for bartenders and amateur mixing enthusiasts alike, and a vital ingredient in a string of classic cocktails including Mai Tai, Singapore Sling, Old Fashioned etc

£11.50
Drinks
Buffalo Trace Bourbon

Buffalo Trace is a really classy bourbon from the eponymous distillery that has been responsible for some truly outstanding products in recent years. A must-stock for any bar worthy of the name and probably the best all-rounder at the price

£28.25
Equipment
Cocktail Elephant Aegean / Large Mixing Glass

A large-sized mixing glass from multi-award-winning German glass producer Eisch. This is the version with swirly lines.

£44.95

Bonzer Bar Spoon 10"

A solid Bonzer spoon with disc on the end and a spiral shaft - perfect for layering cocktails.

£12.25

4 Prong Hawthorne Strainer

For use with the Boston shaker.

£4.95

Japanese-Style Jigger 20, 25, 40 & 50ml

A Japanese-style jigger, perfect for measuring out shots when adding to cocktails, with 20 and 25ml measures in one side, and 40 and 50ml on the other.

£15.95
Glasses
Everest Rocks Glass 7oz (21cl) / Duratuff

Named after the biggest rock of them all, this Rocks glass from Duratuff is beautifully shaped and will hold 21cl.

£3.50