WIN

A BOTTLE OF

BALBLAIR
1969

BALBLAIR PRIZE DRAW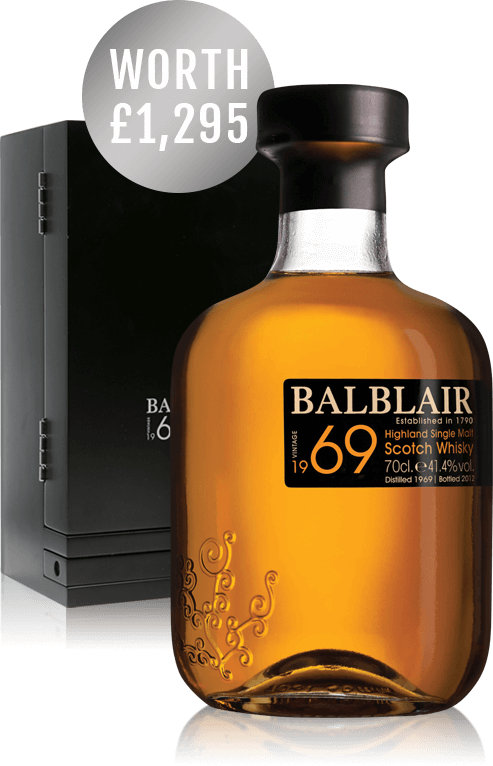 TO ENTER
BUY A BOTTLE OF
BALBLAIR 1999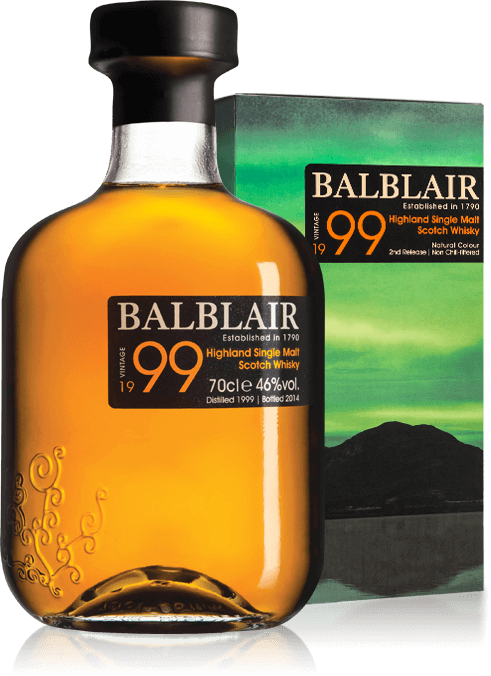 Buy Now

►
The core of Balblair's range of whiskies, this 1999 vintage dram was bottled in 2015. It was matured in a combination of bourbon and sherry casks, giving it a rich backbone that showcases the distillery's fruity style.
TASTING NOTES
BALBLAIR 1999
Nose: Cherry cola, chocolate-covered caramel, raisins, bread pudding and garibaldi biscuits. There are darker leathery touches behind that as well as more green, herbal notes around the edges. Water brings out zesty lemon and sherbet notes.
Palate: Soft, fruity and spicy, combining hints of tropical fruit with milk chocolate and black pepper. At first it seems light and sweet, but weightier notes appear at the back of the palate, with layers of spice and elegant fruit.
Finish: Sharp apples, spicy cinnamon and more garibaldi biscuits.
Comment: A game of two halves, with elegant and fruity Balblair backed up rich, dark and spicy notes thanks to a two-year finish in sherry casks.
Appearance: Copper with flecks of sparkling bronze.
Aroma: The American oak ex-bourbon barrels and Spanish oak ex-sherry butts used for maturation impart the signature Balblair aromas of honey and green apples, as well as notes of rich, fruity Christmas cake with a hint of spice, citrus fruits and vanilla.
Palate: Full bodied, sweet and spicy in character, with hints of honey, vanilla and leather.
Finish: Warm, smooth and long lasting.
Comment: A game of two halves, with elegant and fruity Balblair backed up rich, dark and spicy notes thanks to a two year finish in sherry casks.
Balblair 1969
70cl | 41.4%
The pinnacle of Balblair's range, distilled in 1969 and bottled in 2012. Back when the whisky was made, the distillery malted its own barley and used coal fires to heat the stills. However, despite the changes since then and the 40 years of maturation in American oak ex-bourbon casks, it's still definitely Balblair – floral and softly fruity, with long-aged depth and complexity.
TASTING NOTES
BALBLAIR 1969
Nose: Floral and waxy with a hint of green leaf bitterness. Sweeter notes develop, with lemon drizzle and Victoria sponge cakes, flaked almonds and a touch of Battenberg. Right at the back, there's a wisp of coal smoke.
Palate: Elegant and obviously very old, with lots of classic aged flavour – soft spice, worn leather and polished oak tables, with damp forest floors, sandalwood and a hint of barrel-char smokiness. However, there are surprisingly youthful notes mixed in, with sweet spiced shortbread and cream sitting alongside the floral character of the nose – honeysuckle and spring meadows.
Finish: Damp oak, leaves and rich earthiness, fading through soft smoke to brown sugar.
Comment: An obviously well-aged whisky, carefully selected to combine the fresh complexity of old spirit with cask character. An excellent dram.
Appearance Balblair 1969 is a rich golden colour with amber highlights.
Aroma It has an aromatic and spicy aroma. Fragrant and floral with hints of lemons, apples, bananas, pear drops and toffee. On the nose there are also slight vanilla, leather and smoky notes.
Palate On the palate, the many layers of taste come through, well into the long finish. Honey sweet with hints of green apples, bananas pears and oranges. The full-bodied flavour also offers a hint of smokiness, together with a suggestion of toffee and vanilla.
Finish Smooth, full bodied and long lasting.
TERMS & CONDITIONS
entrants must be legally allowed to purchase alcohol in their country of residence to enter
one entry per person
only purchases from The Whisky Exchange website are eligible
purchases of the following product will be eligible for entry into the draw:
eligible purchases made between between 16 May 2016 and 11.59pm BST on 27 June 2016 will be entered into the draw
one entrant will win a bottle of Balblair 1969
the winner will be notified after 27 June 2016
no alternative prizes are available
for full TWE terms and conditions, please click here
Other terms and conditions may apply.
Promoter: The Whisky Exchange, Elixir House, London NW10 7SF.