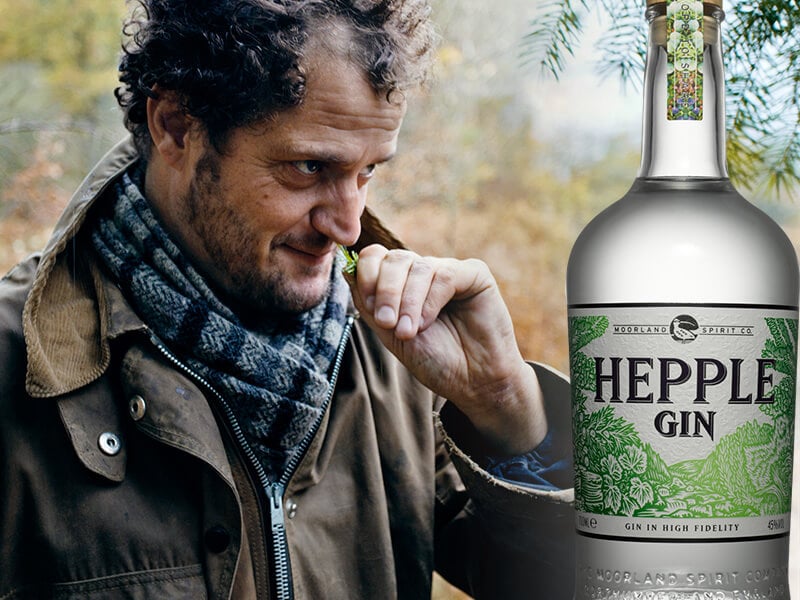 With
Valentine Warner
Fetching Price
Fetching Price
Description
Hepple is a delicious gin made with hand-foraged ingredients from the north-east of England. One of its co-creators, TV chef Valentine Warner, helped to create the mix of botanicals used in every batch of Hepple, including Douglas fir, green juniper and blackcurrant leaves picked at the Hepple estate. Valentine has also created two exclusive recipes that are the perfect accompaniment to this food-friendly gin – scroll down to see them.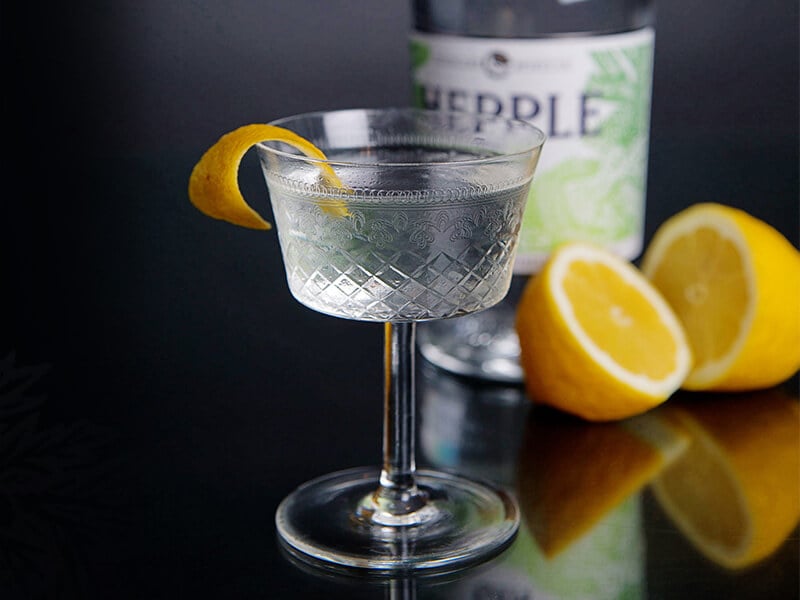 Tasting Notes
From The Producer
Nose

An immediate fresh scent of green apple, bright grapefruit and spicy juniper. This then opens up to reveal underlying notes of Douglas fir and fragrant blackcurrant.

Palate

The initial fresh citrus flavours evolve into unexpected ripe Cantaloupe melon, the spicy, fragrant juniper continues to coat the palate. There is a luscious sweet mouthfeel, which is both juicy and quenching.

Finish

Extremely long, and this is where the juniper reveals itself further with flavours alternating between sandalwood and cedar with a notable savoury presence that complements the sweet blackcurrant and liquorice. The sweet juiciness is maintained throughout the finish.

Character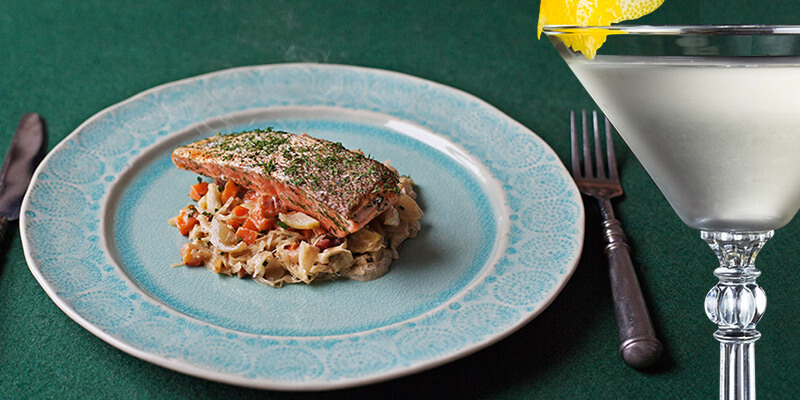 Creamy Smoky Sauerkraut with Salmon Fillets
By Valentine Warner
Serves 2
Ingredients
200g sauerkraut, weight after juice squeezed out
25g butter
50g smoked bacon lardons
1 large onion, halved and very thinly sliced
1 large carrot, peeled and finely diced
1 apple, peeled and coarsely grated
2 small bay leaves
4 cloves, rubbed between fingers
5 juniper berries, rubbed between fingers
good grind of black pepper
50ml white wine
75ml double cream
1 generous teaspoon Dijon mustard
chives
2tsp sunflower oil
2 salmon fillets (choose thick mid-pieces not tail ends)
flaked sea salt
25g bunch dill, very finely chopped
Method
In order to be ready to cook this delicious dish, make a Hepple Martini: 10 parts Hepple Gin to 1 part dry vermouth. Stir 40 times over plenty of ice and strain into a glass. Take a twist of lemon peel and squeeze the zest over the surface of the Martini glass. Wipe the twist around the rim of the glass and then plop it in.
Rinse and drain the sauerkraut under cold water, then wring it out and put to one side. Melt the butter in a medium frying pan and then gently sauté the lardons until faintly golden. Add the onion and carrot, bay leaves and spices and cook with the lardons for 10-12 minutes until totally tender. Coarsely grate in the apple and cook for a further 5 minutes or so. Pour in the wine and simmer until all but nearly evaporated. Stir in the sauerkraut and cook for a further 8-10 minutes, stirring regularly.
While the sauerkraut cooks, heat a separate frying pan and add a little sunflower oil or butter. Pat the skin side of the salmon dry and season generously with flaked sea salt. Fry skin-side down on a medium-low heat. Cook until the paler pink of the cooked flesh is a third of the way up the darker raw flesh (approx 5-6 minutes).
Turn the fish over and cook for a further 1-2 minutes (as you prefer). This skin should be deep golden and crispy. Remove to a board and sprinkle the skin all over with chopped dill. Stir the mustard and cream into the sauerkraut and bring to heat again before stirring in the chopped chives. Season with salt to taste. Divide the sauerkraut between two plates and put salmon, skin-side up, on top. Enjoy with a delicious Hepple G&T and a slice of lime.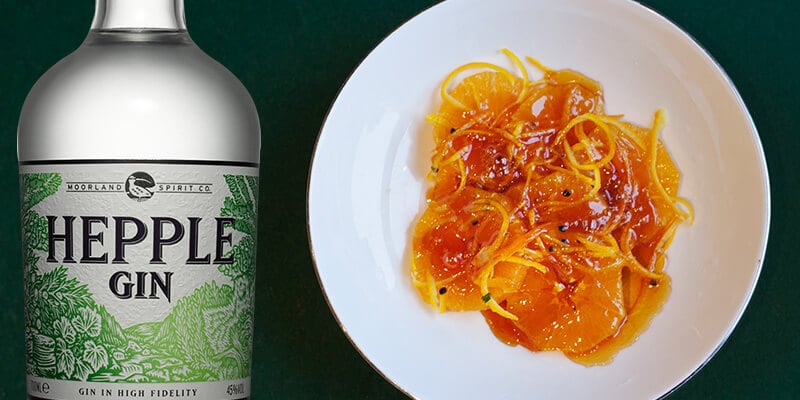 Oranges, Cardamom and Caramel
By Valentine Warner
Serves 2
Ingredients
4 tart sweet juicy oranges
seeds from 6 cardamom pods, husks discarded
150g white caster sugar. Do not use brown sugar as it will not set!
water
crème fraiche
Method
Take an orange and cut off a slice from the bottom and top so that it stands flat on a chopping board. Cut the rind and pith in vertical slices all the way round, leaving the bare flesh exposed. Turn the oranges onto their curved side and slice in rounds. Put in a bowl.
Take the peel of two oranges and flatten against the board, pith side up. Slice off the pith, leaving no white on the rind. Very thinly slice the rind into lengths and put in a small pot. Cover with water and bring to the boil. Discard water and bring to boil again with fresh water and the cardamom seeds. This process will tenderise the peel and remove wax and bitterness. Use a fine sieve when draining so that you do not lose the cardamom seeds. Drain and scatter the rind and seeds over the oranges.
Pour the sugar in a very clean pan and add enough water to soak it rather than totally submerge it. Put over a high heat and bring to a rapid boil. DO NOT STIR IT. After about 7 or 8 minutes the sugar will start to brown – swirl it to ensure it browns evenly. Return to the heat to continue the browning, but swirl regularly. You want to achieve a hazelnut-brown colour throughout the caramel. If it starts to smoke, chances are it will be too dark and bitter to use, so be very attentive.
Drizzle the caramel over the oranges in a thin layer. It will set and crisp almost immediately. You may not need all the caramel, in which case it can be poured onto greaseproof paper and eaten later. Put a dollop of crème fraiche with the oranges and maybe some ginger biscuits.