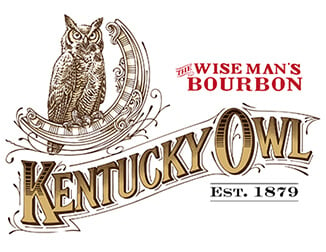 Wiseman Bourbon
Veteran master blender John Rhea presents a finely crafted whiskey packed with character and nuance. A core of soft, sweet wheated bourbon is balanced with spicier rye-forward whiskies from some of Kentucky's finest distilleries. The result is an aromatic bourbon with a pronounced fruitiness that develops as it opens up in the glass.
While The Wiseman shines when served neat or with a little water, its complex profile makes it a gift to classic cocktails. Keep scrolling for tasting notes, recipes, and the story of the Kentucky Owl.
Kentucky Owl Wiseman Bourbon
£57.25
Joe Rogers – The Whisky Exchange

Nose

Peanut butter, caramel popcorn, halva and toasted coconut.

Palate

French toast with vanilla sugar and cinnamon, then almonds, new oak, pepper and dark chocolate. Water brings out a fruity side showing red berries, cloudy lemonade apple crumble and cornbread with honey.

Finish

Medium-length with cocoa power and Christmassy spices.
Style
Body

Richness

Smoke

Sweetness
Character
Vanilla

Black Pepper

Orange

Apple

Oak

Caramel
This riff on the eternally popular Espresso Martini subs the traditional vodka for a large measure of fruity, spicy Wiseman Bourbon.
Ingredients:
50ml Wiseman Bourbon
25ml Fresh espresso
15ml Coffee liqueur
2 dashes chocolate bitters
Coffee beans for garnish
Method:
Put your preferred cocktail glass in the freezer to chill it down. Combine all the ingredients in a shaker with plenty of ice – and a dash of sugar syrup if you have a sweet tooth – and shake until its good and frosty. Double strain into your frozen cocktail glass and garnish with coffee beans.
A refreshing Collins that amplifies the Wiseman's fruity side with fresh lemon and blackberries.
Ingredients:
50ml Wiseman Bourbon
25ml Fresh lemon juice
15ml 1:1 sugar syrup
Blackberries
Rosemary
Soda water
Method:
Muddle three raspberries in a cocktail shaker and then add your bourbon, lemon juice and sugar syrup. Shake with ice to chill and combine and strain into a tall glass filled with ice. Top with soda water and garnish with fresh berries and rosemary.
One of the great old names in bourbon, Kentucky Owl distillery was closed – like so many others – by the advent of prohibition. For almost 100 years the owl was absent from the world of whiskey, but in 2014 it was revived by Dixon Dedman, the great-grandson of the original distillery's founder C.M. Dedman.
In its current incarnation, Kentucky Owl has earned renown for its sourced straight bourbons. But plans are in place to break ground on a new distillery in Bardstown where this storied brand can cement its place in the 21st century.