Something wicked this way comes...
We are honoured to present the first nine bottlings in an ongoing series inspired by William Shakespeare's The Tragedy of Macbeth. This landmark release is the culmination of a multi-year collaboration between Lexi Burgess, whisky writer Dave Broom and independent bottler Elixir Distillers.
Each limited-edition whisky in the collection has been selected to evoke one of the Scottish play's immortal characters. The full cast of lead characters, thanes, witches, ghosts and members of Macbeth's household have been brought to life with specially commissioned artwork from one of our greatest living illustrators, Sir Quentin Blake.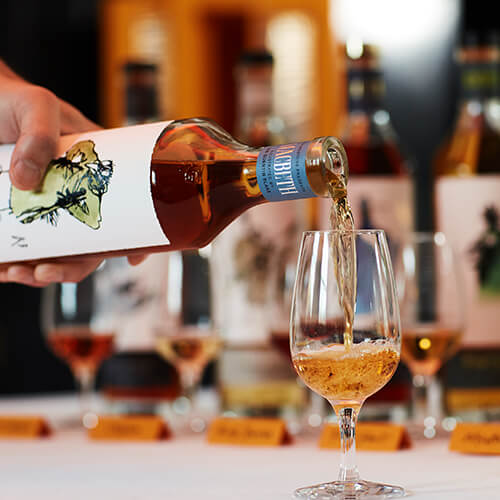 "Flavours true to lead characters were most obviously divided into light and darkness."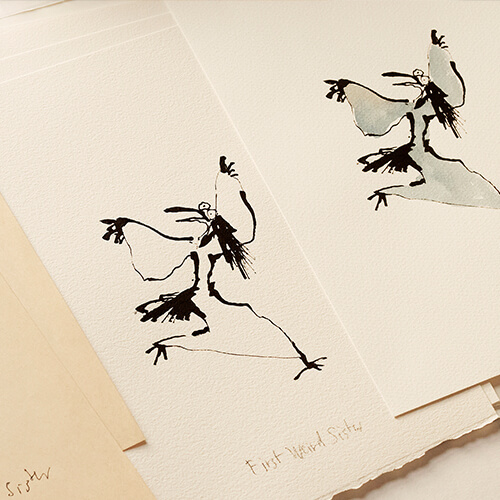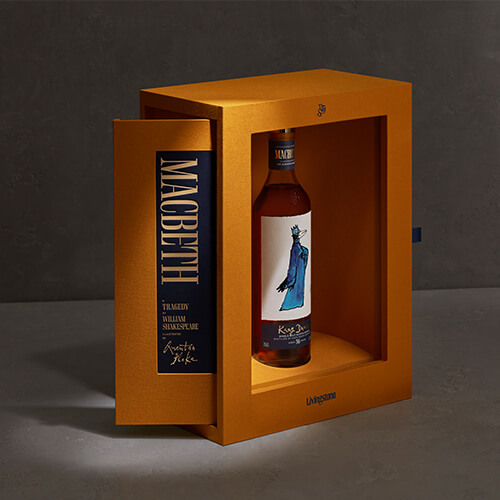 Casting the good King Duncan required Elixir Distillers to select a whisky of marked nobility and grace. After extensive consideration, company co-founder Sukhinder Singh and head blender Oliver Chilton settled on an exceptional single malt aged in oak for more than 50 years. 'This Glen Grant, distilled on Speyside in 1965, fits the bill perfectly,' says Oliver. 'The beautiful light fruit of the spirit, the suggestion of forest floor, dusty books… an abundance of sophisticated flavours that are created only after decades in the finest wood.'
'The Household – a porter, doctors, messengers – are ideal for characterful whiskies available in greater numbers and at a more accessible price,' Lexi explains. The first of these to reach us are the Bloody Sergeant who announces Macbeth's victory over the rebellious Macdonwald, and the Thane of Cawdor's loyal armourer, Seyton. The former is portrayed by sweet yet earthy Blair Athol aged in bourbon hogsheads and red wine casks, while the latter appears as a herbaceous Ardmore full of smoke and minerality.
The weird sisters who prophesy Macbeth's rise, and fall, called for serious malt whiskies shrouded in mystery. 'The speeches and potions of the witches, the most famous blenders, were almost written in language we would use for whisky already,' says Dave Broom. 'In her first speech, the First Witch speaks of her cursing a sailor, a clue to the style of whisky being Maritime.' While the identity of this sherried malt whisky has not been revealed, Elixir Distillers has hinted that it's origins lie on Islay's Kildalton coast.
Four murderers who carry out Macbeth's bidding will be realised as rugged drams from Scotland's outer reaches. Like the witches, Shakespeare leaves the murderers unnamed, so the exact origins of these four whiskies will be left obscure. For the First Murderer, our bottlers have chosen a whisky distilled on the Isle of Mull and aged for 18 years. This is a powerful Island malt filled with maritime notes of iodine and rockpools.
Scotland's landscape is littered with ghost distilleries, once proud places left silent after times of hardship. When casting the First Ghost to torment Macbeth, there was no doubt that a lost distillery would play the part. 'The selection of grain whisky offers a delicacy that reinforces the ethereal qualities of these apparitions,' head blender Oliver Chilton explains. 'This is shown in the First Ghost to be revealed, a single grain Scotch whisky aged 31 years, distilled at Cambus distillery.'
The first of 12 noble thanes in the series are Angus and Menteith, who march to confront Macbeth in the play's final act: portrayed respectively by a rich, complex Glen Garioch and a superbly fruity Benriach. Then we have the tragically fated Lady Macduff, who necessitated a particularly special whisky. 'Linkwood is an all-time favourite distillery and it was a thrill to find a 31-year-old expression distilled in 1991 that worked so perfectly,' Oliver explains. 'Although I would probably have had to rewrite Macbeth if there wasn't a place for this amazing whisky.'
In the coming years, further releases will complete the cast of characters, bringing Macbeth to life as never before. Click below to learn more about how this one-of-a-kind collaboration came to be.