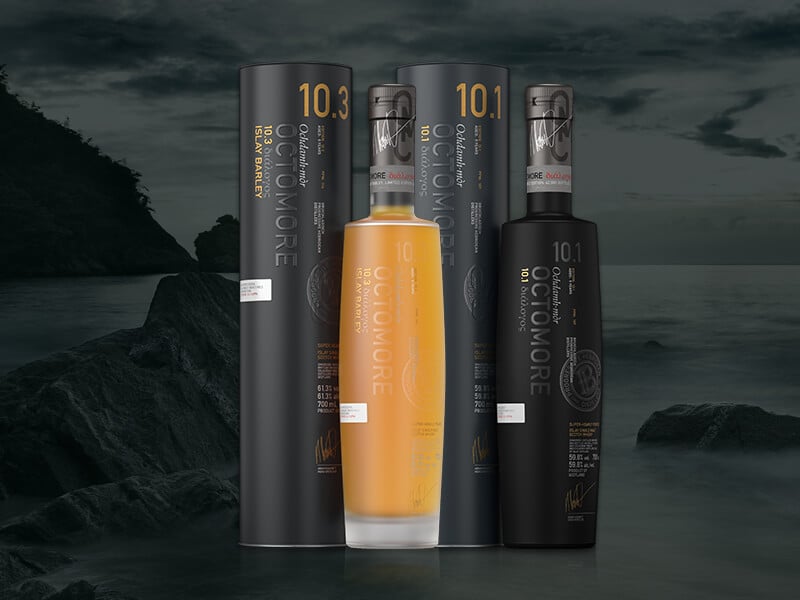 10 Series
Islay Single Malt Whiskies
More than a decade since its inception, Octomore's 10th core release breaks its own conventions. Gone is the minimum phenolic ppm; gone the consistency of its five-year age statement – 'The 10s' put their faith in the quality of Octomore's spirit and shrewd maturation to create a range of bottlings which transcends the single-minded pursuit of smoke. While remaining outrageously peated, this is, nonetheless, Octomore opening new doors, exploring its softer side and reassessing its outlook. Octomore, but not as you know it.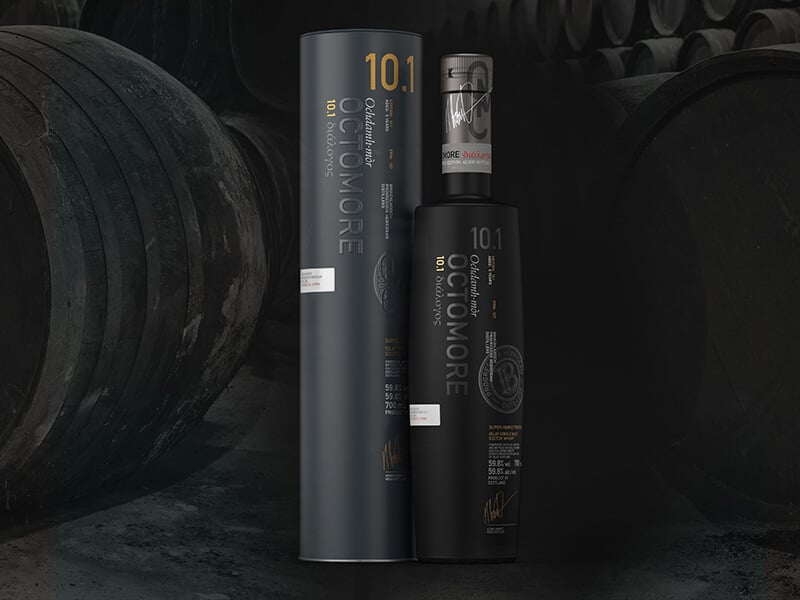 Octomore 10.1 5 Year Old
Islay Single Malt Whisky
Fetching Price
Fetching...
10.1 has been distilled from a single harvest of 100% Scottish barley, peated to a phenol level of 107ppm, and has been matured exclusively in ex-bourbon casks for five years. This whisky's purpose is to showcase the character of Octomore spirit and the precision of its distillation – and boy, does it.
Tasting Notes
From

the producer
Character Lithe, supple, powerfully confident and a dram more than the sum of its parts. Slow trickle distillation is the hallmark of this muscular, oily spirit.
Nose Vanilla led, caramel, hints of smoke but tamed back. Candied apple, gooseberry and marzipan.
Palate Soft yet powerful and warming on the palate, peppery, barley sugar, smoky – dried earth and hints of rubber. Warm sand, sweetness of charred oak and pineapple.
Finish Sweetness from tablet/fudge and a strong peat smoke and cold marine air combination.
Style
Body

Richness

Smoke

Sweetness
Character
Black Pepper

Apple

Pineapple

Marzipan

Smoke

Caramel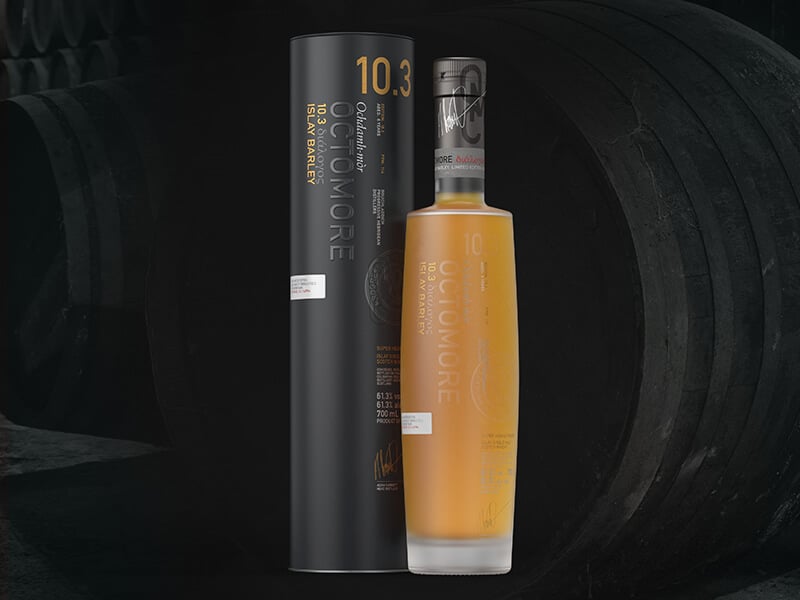 Octomore 10.3 6 Year Old
Single malt Scotch whisky
Fetching Price
Fetching...
Distilled from barley grown less than a mile from Bruichladdich in a single field at Octomore Farm in a single year, matured entirely on Islay and bottled on the island, 10.3 supports the weight of its 114ppm phenol count atop a profile rooted firmly in terroir. Matured for six years exclusively in ex-bourbon casks, it's hard to imagine a purer expression of Octomore spirit, the parts from which it is made, and the land from which it comes.
Tasting Notes
From

the producer
Character Marine freshness, Islay air and a deep rooted level of fruitiness from the distillation characterise this release.
Nose Earthy peat smoke, dry and a little medicinal, lemon drops, and thyme come through and then marine, sea shell notes along with some vanilla and fudge from the oak.
Palate Salt on the lips and more honey and lemon on the palate, then the peat sweeps in with the oak and heat from the high strength. Deeper flavours from the spirit, pear and gooseberry are more defined and richer.
Finish Sweet on the finish initially with pastry and chocolate but then bitter notes of rubbery smoke and spice towards the end.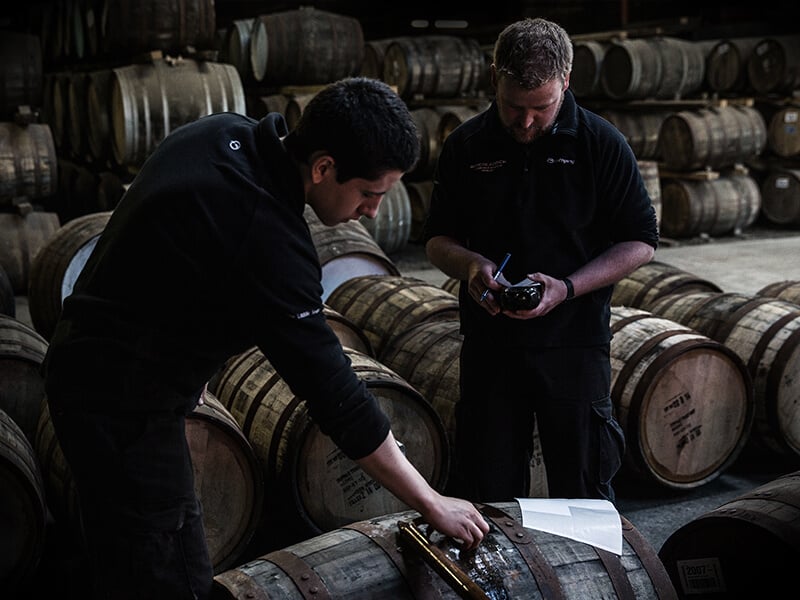 Pushing
boundaries
The wild-child sibling of already-considered-slightly-mad distillery Bruichladdich, Octomore started life in 2008 as a lab test to see how peaty you could make whisky. According to the Eights series, released in 2017, the answer is 'very,' to a value of 309.1ppm. For context, the most heavily-peated whiskies produced elsewhere on Islay rarely go higher than 55ppm.
Since reaching this milestone, Octomore has continued to create peated whisky in a class of its own, widely regarded as the smokiest single malt in the world, without compromising on character, flavour, quality, or provenance: much of the barley and water is sourced from nearby Octomore farm, from which the spirit takes its name. With more than a decade's experience and ten releases under its belt, Octomore shows no signs of slowing – or, indeed, mellowing – its quest for powerfully tasty whisky.