Single pot still is Ireland's signature style of whiskey. Unlike single malt, this unique spirit is made with both malted barley and un-malted grains – a combination that makes for delicious whiskies filled with rich fruit and tangy spice. The Spot series, from Midleton distillery in county Cork, offers some of the finest examples of pot still whiskey available today. From the iconic Green Spot with its fresh fruit and delicate spices to the rich, intense Blue Spot, each one is a fascinating dram with its own story to tell.
The original Spot. A delicious blend of spicy single pot still whiskies aged between seven and 10 years, aged in both bourbon and sherry casks for notes of vanilla, toffee, and dried fruit.
Tasting Notes by Stuart P

Nose

Toffee and malt dominate, but still rather lean and clean, with a smattering of apple and pear.

Palate

Soft on the palate, with chewy maltiness, and gentle fruit.

Finish

Quite short, but lovely balance between the fruit and malt.
A rich, luxurious dram that combines whiskies matured in American oak bourbon barrels, sherry butts and Spanish Malaga wine casks. This is a complex whiskey, one to sip and savour.
Tasting notes by Billy A

Nose

Lemon cheesecake, (yellow) Jelly Babies, butterscotch, barley, butter and cinnamon.

Palate

Lots of grain, starting sweet and slowly turning spicy and gently sour. With that comes buttered toast, layered with grape jam, nutmeg, clove, lemon zest and fruit gums, with spicy liquorice root sat at the back.

Finish

Apple skin turning sweeter, through fresh apple to stewed and spicy compote. It ends at Jolly Ranchers, with a touch of spicy rye bread.

Comment

Classically fruity pot-still whiskey, with some grape-sweetness behind the more tropical and orchard fruits. Well-balanced spice and citrus notes.
A cask strength addition to the line-up, Blue Spot has spent no less that seven years in a combination of bourbon barrels, sherry butts and Portuguese Madeira casks. The result is a powerful whiskey with notes of banana bread, tropical fruit and toasted nuts.
From The Producer

Nose

A light mix of pineapple, kiwi, green banana and lime zest followed by Pot Still spices, baked apple, hazelnut and toasted wood

Palate

A smooth mouthfeel with a subtle mix of fruit, a hint of clove oil and cracked black pepper corns. Sweet spices, vanilla and cinnamon add to the wood's nutty contribution
Green Spot Quails Gate Finish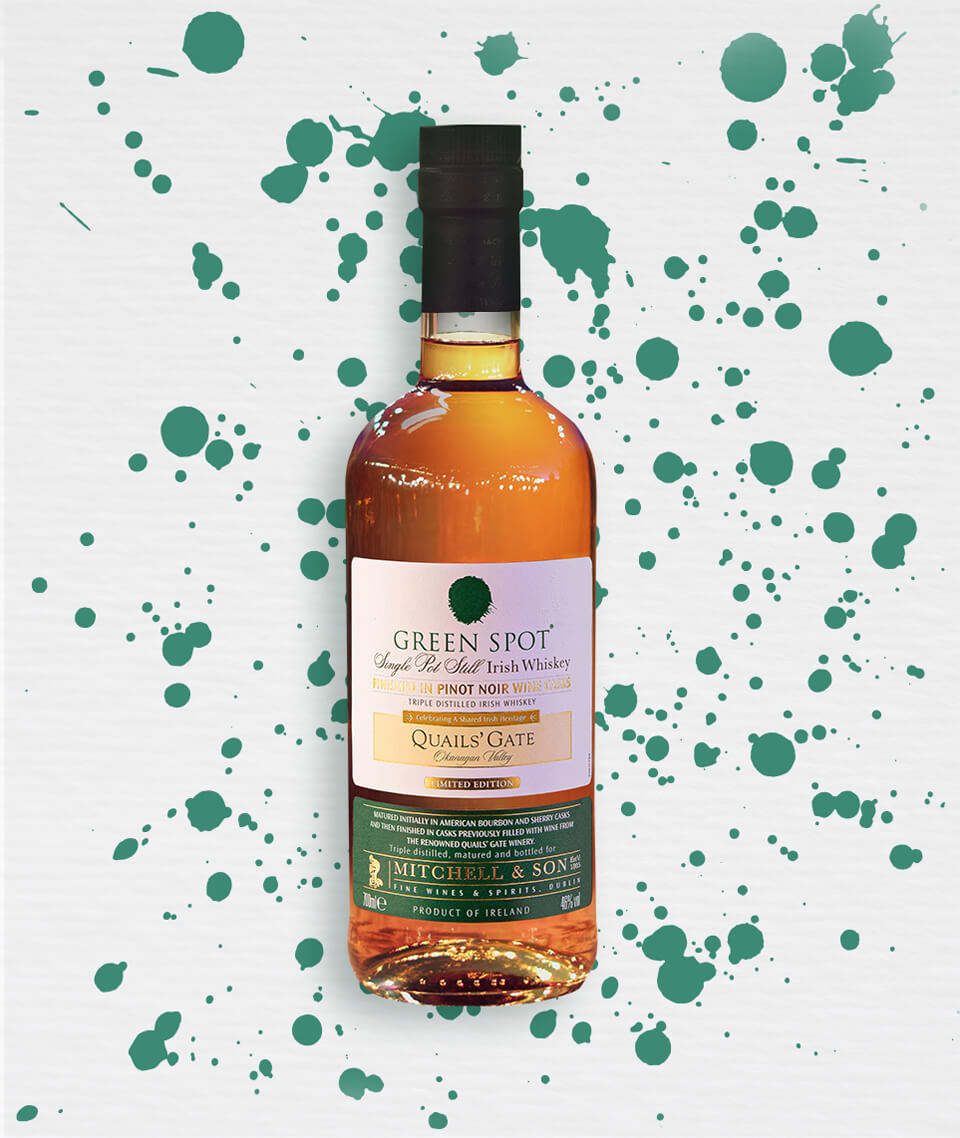 This limited-edition release of Green Spot was initially matured in bourbon and sherry casks, before finishing in Pinot Noir casks from Canada's Quails' Gate winery. An exciting release for any Irish whiskey collector.
From The Producer

Nose

Vibrant oak fused with notes of ripe cherry and fresh, juicy raspberry, elevated by the wine seasoning. These aromas are in balance with Green Spot's signature orchard fruits of apple and sweet pear. The earthy, woodland spices lend themselves to the deep and complex characteristics found interwoven amongst the sweet vanilla and red wine bouquet.

Palate

It begins with a silky and sweet mouth-coating texture, with the wine's soft tannins gradually showing their presence. Notes of dried cranberries and red apple follow, adding to the ever expanding array of fruits in this wonderfully complex whiskey. Clove spice and grated nutmeg work in balance with the succulent fruits, seasoned oak and crisp barley.

Finish

The toasted wood and pot still spices gently fade, with the fruits and red wine seasoning taking the final bow.
Green Spot Leoville Barton Bordeaux Finish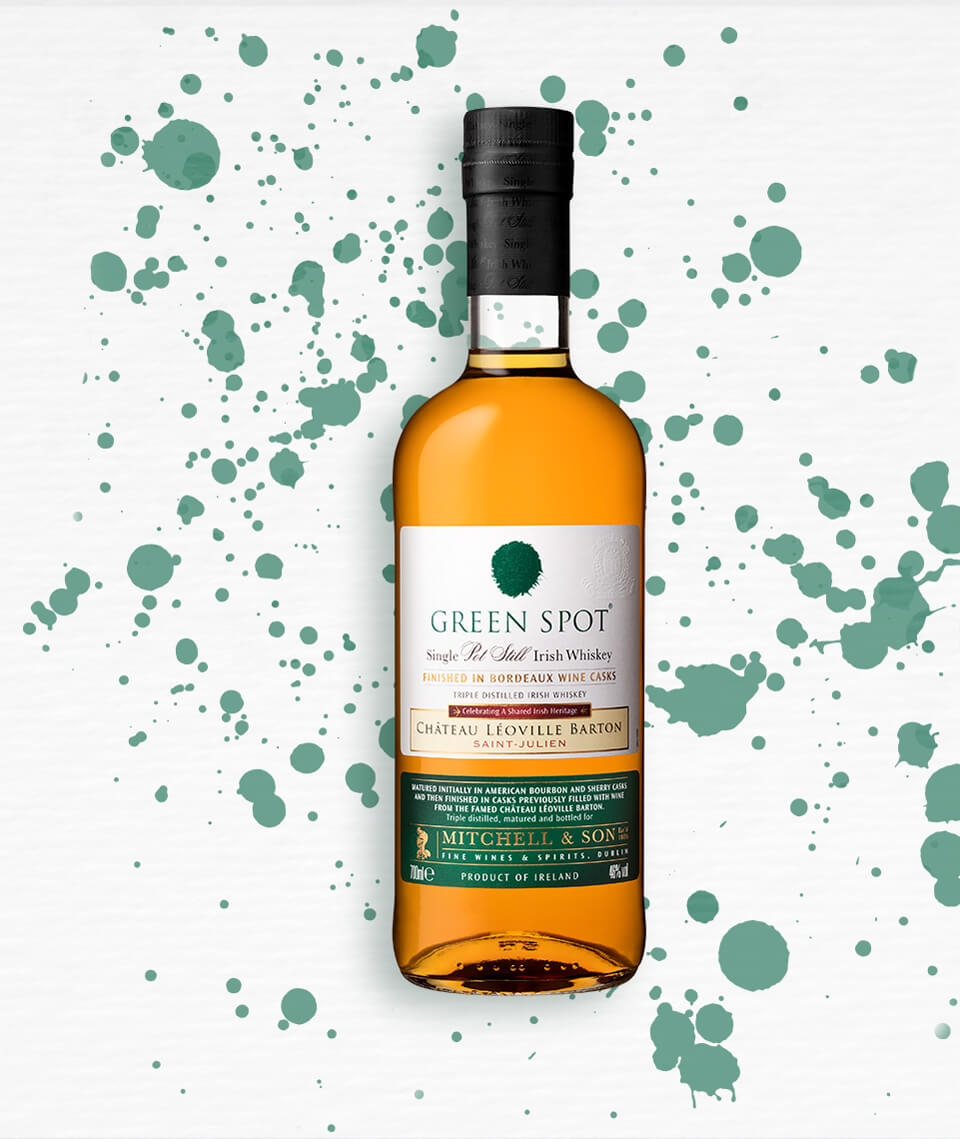 This special-edition Green Spot spent time in red-wine barriques from famed Bordeaux producer Château Léoville Barton, adding sweet berry notes to Green Spot's classic spices and orchard fruits. As Thomas Barton was a native of county Fermanagh, this unique whiskey tells the story of Irish endeavour around the world.
From The Producer

Nose

It is the contribution of the French oak which drives the initial aroma adding some crisp woodland notes to the spicy Single Pot Still character. The wine seasoning brings a delicate touch of floral perfume and a hint of ripe berries such as raspberries and strawberries, these are in addition to the orchard fruits typical of Green Spot.

Taste

The familiar mouth coating effect is a very satisfying balance of oak and spices. Some vanilla sweetness works in harmony with the dry wine influence, while the fresh orchard fruits and French oak combine effortlessly with barley grains to complete the complexity.

Finish

The rich French oak character is slow to fade leaving the wine and spices of France and Ireland with the last word.
Green Spot Chateau Montelena Finish
A limited-edition collaboration between Midleton distillery and the famed Chateau Montelena winery in California's Napa Valley. Initially matured in a combination of bourbon barrels and sherry casks, this whiskey was then finished in French oak ex-Zinfandel casks, adding further dimensions to the lively pot still character.
From The Producer

Nose

Crisp oak combines with the soft sweetness of vanilla, white chocolate and marshmallow, balanced with signature Green Spot red apples and ripe pears, along with pomegranate, cranberries and maraschino cherries, the contribution of the wine cask

Palate

Sweet mouth coating takes on a dry note thanks to the effect of the wine cask. Pot still spices subside with zesty citrus leading to ripe orchard fruit and red berries. A touch of marzipan and toasted oak add to the complexity
One of the oldest brands of pot still whiskey, the Spot was born in the 1920s at Mitchell & Son wine merchants in Dublin. The Mitchells would lay down casks from Jameson's nearby Bow Street distillery and mark them with a spot of coloured paint to indicate how long the were to age. A blue spot indicated seven years' maturation, a green spot 10, a yellow spot 12, and a red spot 15 years. Distilling has long-since ceased at Bow Street, but the Spot whiskies live on as testament to the enduring appeal of Irish pot still whiskey.