The Stories
This collection of single malts was created to celebrate the generations of craftspeople that have contributed to the Balvenie. It explores their expertise, their innovations and their stories. While they all show the distillery's hallmark honeyed sweetness, each one offers a distinctive take on the Balvenie style.
Balvenie 12 Year Old
Sweet Toast Of American Oak
£49.95
(£71.36 per litre)
Tradition plays an important part in Scotch whisky, but experimentation often reaps rewards. This was the case when The Balvenie became the first distillery to introduce a cask finished whisky to its core range – the now famous 12-year-old DoubleWood. It also proved true when apprentice malt master Kelsey McKechnie was inspired to create an intense expression of Balvenie's sweet and fruity character.
Supported by malt master David C Stewart, she sourced new American oak barrels from Kelvin Cooperage in Louisville Kentucky. These casks would ultimately travel more than 6,000 kilometres to Speyside, where they were given an extra deep toast at Balvenie under the watchful eye of head cooper Ian McDonald. This collaborative process culminated in a rich, buttery dram with intense aromas of vanilla and spice. A fitting contribution to a history of innovation.
Balvenie 14 Year Old
Week of Peat Story No.2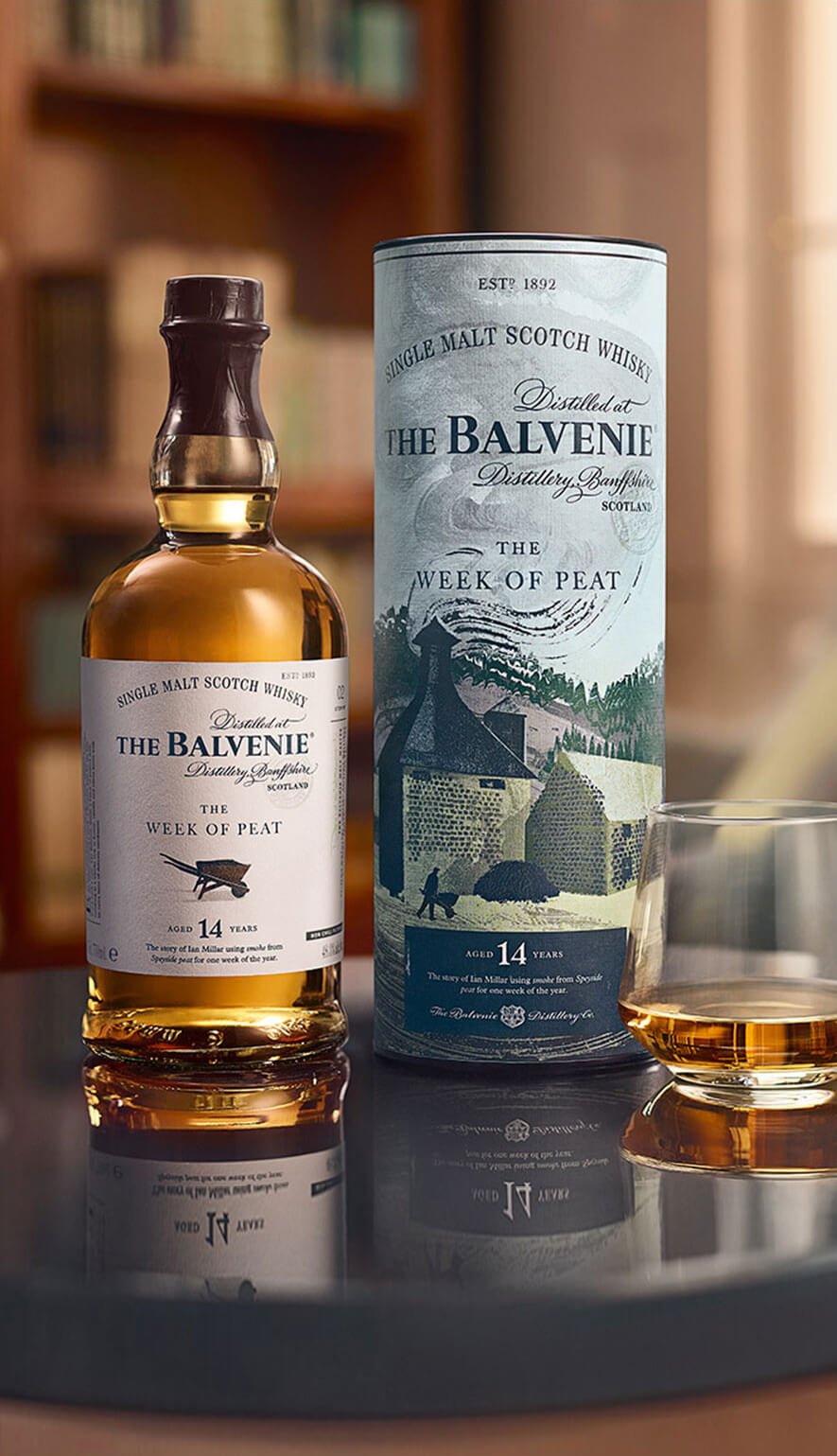 £78.25
(£111.79 per litre)
Speyside isn't usually associated with peated whiskies these days. But a trip to the island of Islay inspired Balvenie distillery manager Ian Miller to reappraise the region's relationship with smoke. He sourced peat from the village of New Pitsligo, an hour east of Dufftown and began experimenting with it in the Balvenie maltings. Through careful trials, he and the rest of the team were able to produce whisky that wrapped the classic distillery character in a blanket of smoke. As a result, the kilns at Balvenie now burn peat for one week a year at the end of the distilling season – hence, the week of peat.
For David C Stewart, these expressions recall vintages from the days when local peat was more commonly used that it is today. 'With the Weak of Peat we're going back to the way we used to make The Balvenie,' he says. 'I've been here a long time, so I sampled the original peated Balvenie we made in the late 1940s, 1950s and early 1960s.' To say he's been with the firm a long time is modest, as David holds the honour of being Scotland's longest serving malt master.
Balvenie A Day Of Dark Barley 26 Year Old
Story No.3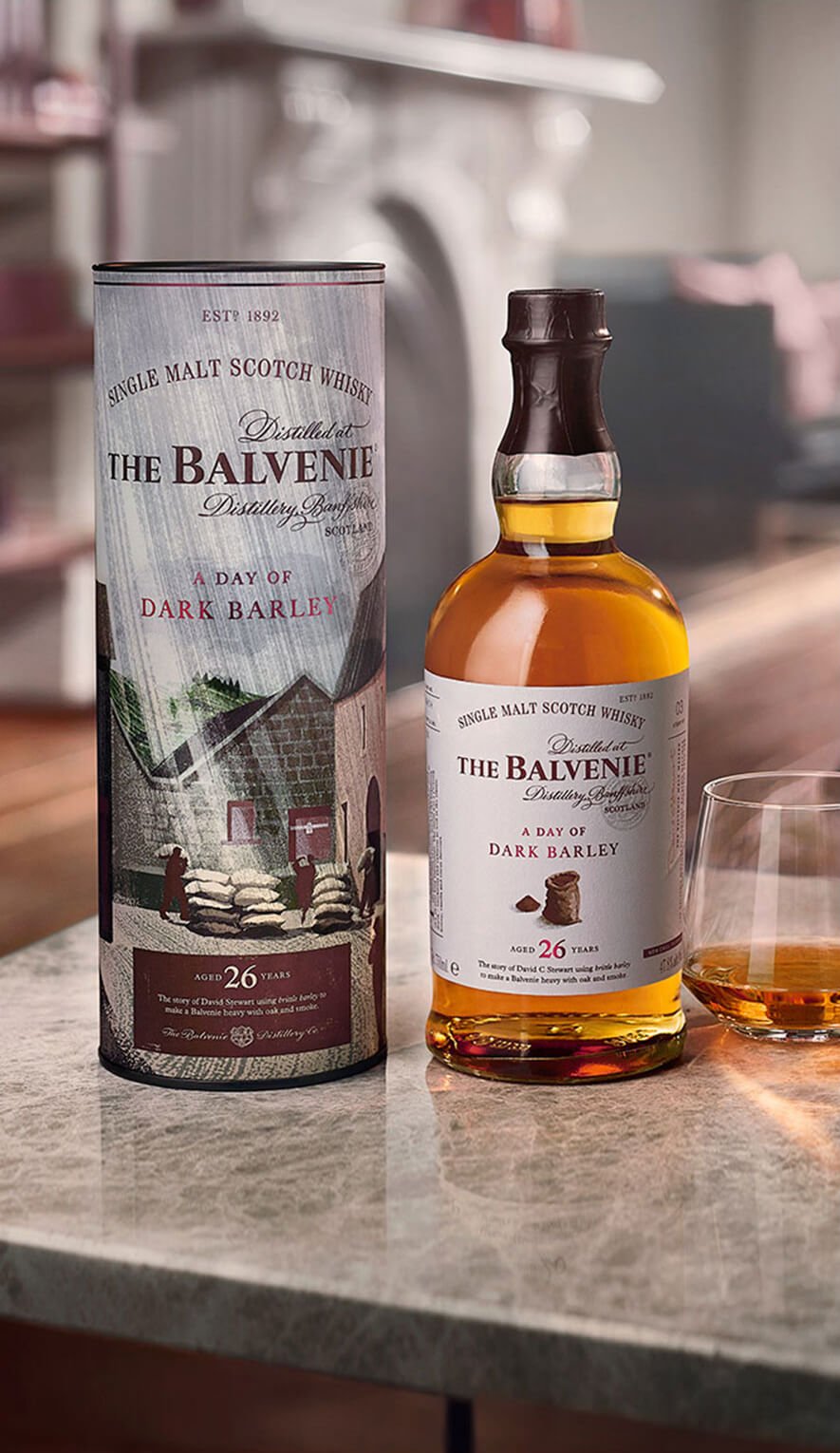 Out Of Stock
Heavily roasted malt is usually produced for breweries making stout and porter, not distilleries making whisky. But for a short time in 1992, the mash tuns and washbacks at Balvenie were black with dark barley. Even then, the distillery staff knew they were working on something quite different. 'We did the roasted malt trials to see if we could change something at the point of distillation rather than in the cask. These things do take time – you need patience,' said David C Stewart of the decades long experiment.
When Balvenie Roasted Malt was released in 2006, it was the first whisky of its kind. 'After we released it first in 2006, the question became – how would the whisky mature? What would it become?' In the ensuing years, the spirit produced during this experimental run matured into a complex expression of the distillery character. 'It still has that honey, vanilla, citrus flavour from the first fill Bourbon casks,' David tells us. 'But you're also getting something a little bit different, too. There's a smokiness and an oakiness. It's a heavier note, with more wood influence. Extra depth.'
Balvenie The Edge of Burnhead Wood
19 Year Old Stories
Out Of Stock
The inspiration for what would become known as 'the heather trials' came to distillery manager Ian Miller when he cracked open a lump of ancient peat and saw evidence of heather inside – 1,000s of years old and still a part of the Scottish landscape. One morning in early-2000, Dave Stewart set out for the edge of Burnhead Wood, just west of Balvenie to gather fresh spring heather, which Ian intended to burn in the malt kilns.
Though it took some experimentation, he was able to produce batches of estate-grown malt that were lightly smoked with heather, each grain infused with new flavours and a unique sense of place. In time, this experimental malt would become part of the first ever expression of The Balvenie made solely with ingredients from the Dufftown estate – local barley, spring water from the Conval Hills, and heather from the edge of Burnhead Wood.
Balvenie 21 Year Old
Second Red Rose Stories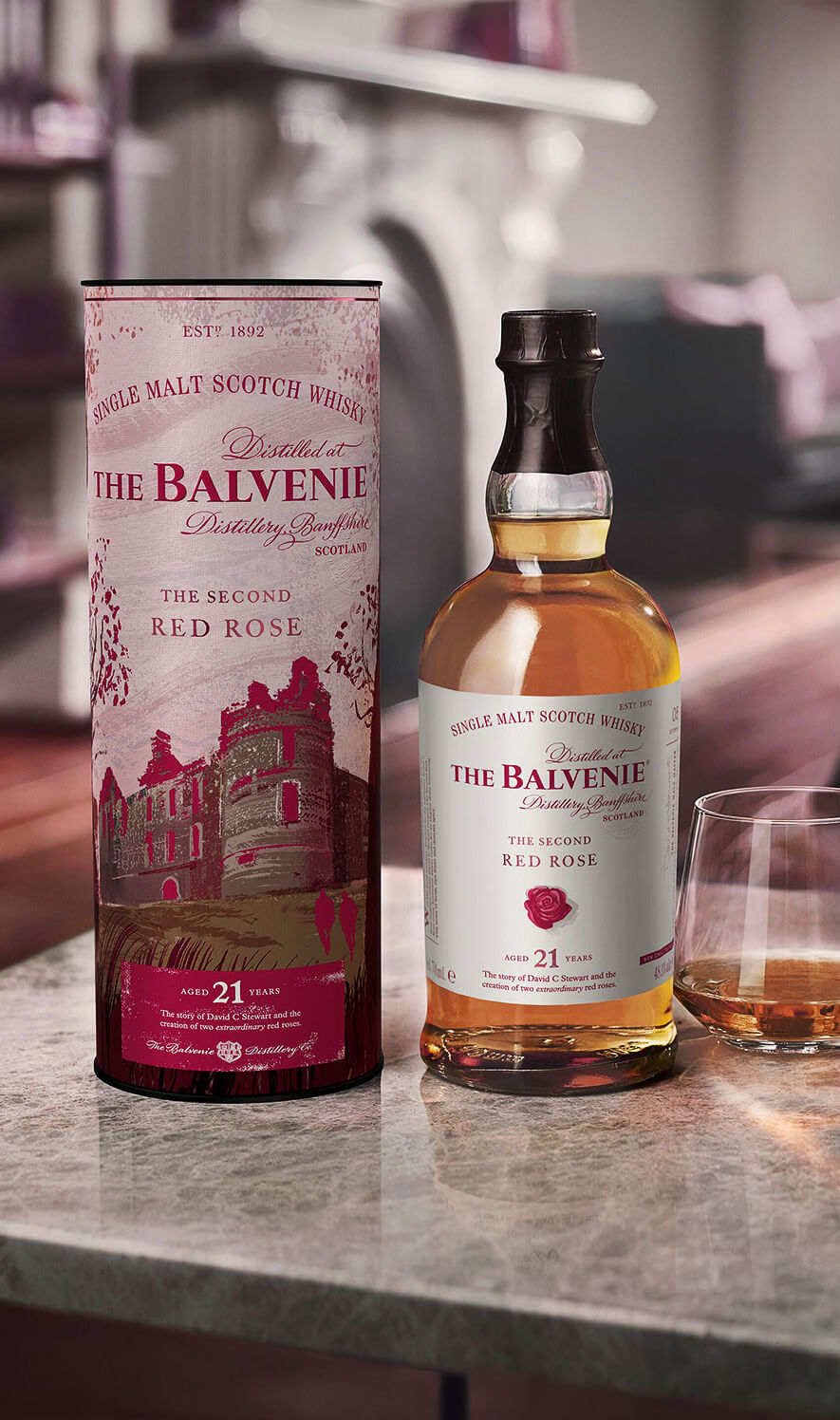 £350
(£500 per litre)
The red rose is named in honour of Lady Margret Douglas, a late resident of Balvenie castle. After the death of her husband, the 8th Earl of Douglas, ownership of the grounds went to King James II, who it's said took pity on her plight. In exchange for her continued residence at Balvenie, Margret Douglas was asked to pay an annual rent of one perfect red rose. Though the castle eventually fell to ruin, its name lives on and the red rose remains an important symbol in Dufftown.
In the early-2000s, malt master David C Stewart sought to tell this local tale with a very special single malt. The first Balvenie rose was bottled exclusively for visitors to the distillery. To achieve the hue appropriate to its namesake, he finished the expression in Port pipes. When the time came to produce a second Red Rose years later, he sourced Australian Shiraz barriques for the purpose, creating a richly fruity dram with summery notes of red berry and spice. A real taste of Dufftown's history.
One of the original seven stills of Dufftown, Balvenie has been in business since 1892. It's storied history is full of experimentation, a spirit of curiosity that has been passed down through the generations. Though the distillery boasts an open-minded approach to distilling and maturation, it also maintains a connection with tradition. Today it is one of only seven distilleries in Scotland to operate a floor maltings on-site. It's not the easiest way to get malted barley, or the cheapest, but having direct control over the raw materials has allowed Balvenie to remain creative. The experiments taking place there today are sure to become the Balvenie stories of tomorrow.