Benromach 15 Year Old
Speyside Single Malt Scotch Whisky
Benromach 15 Year Old has been named Whisky of the Year 2020 by Whisky Exchange customers, who voted both online and at our tasting event in London.
This means that it's been chosen as the best whisky that's:
below £65
not cask strength
an ongoing release
For this year's competition customers and staff voted for their favourite whiskies, and the top six made it into a shortlist.
The whiskies were then all tasted by customers who either bought our Whisky of the Year 2020 blind tasting pack and cast their vote online, or who attended our annual judging event in London on 18 November.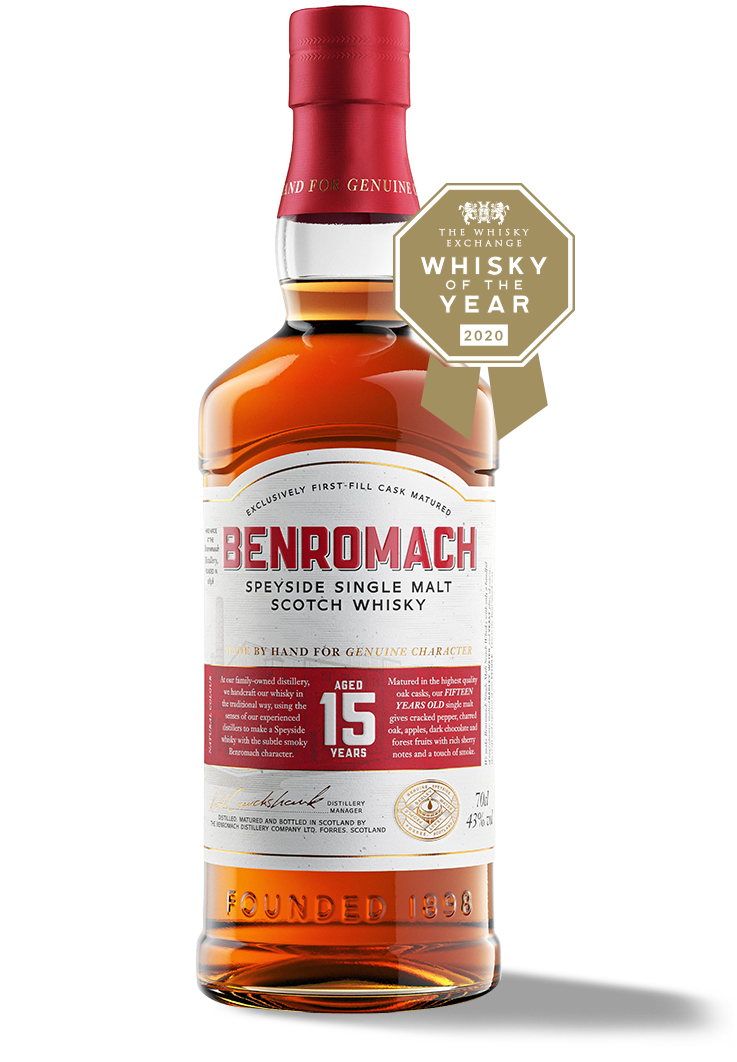 Benromach 15 Year Old
Speyside Single Malt Scotch Whisky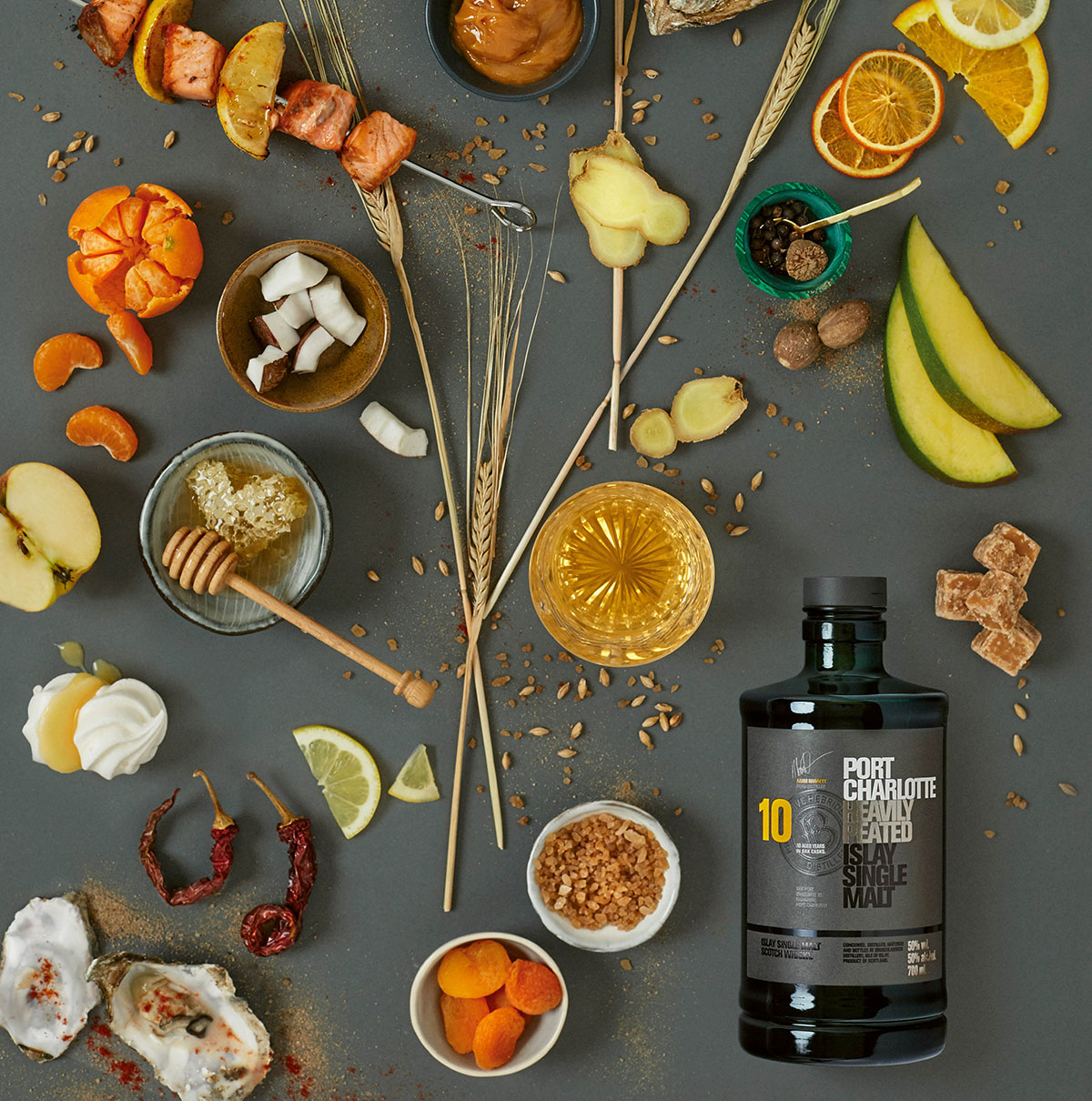 £54.95
£78.50 per litre
Introduced to the Benromach line-up in 2015, this lusciously rich Speyside single malt is a fruity, chocolatey and lightly smoky dram that will delight fans of traditional styles. Matured in a mixture of ex-sherry casks and ex-bourbon casks, with a greater emphasis on sherry than the Benromach 10 Year Old, this is a charming reflection of Speyside both past and present.
Tasting Notes
By Billy Abbott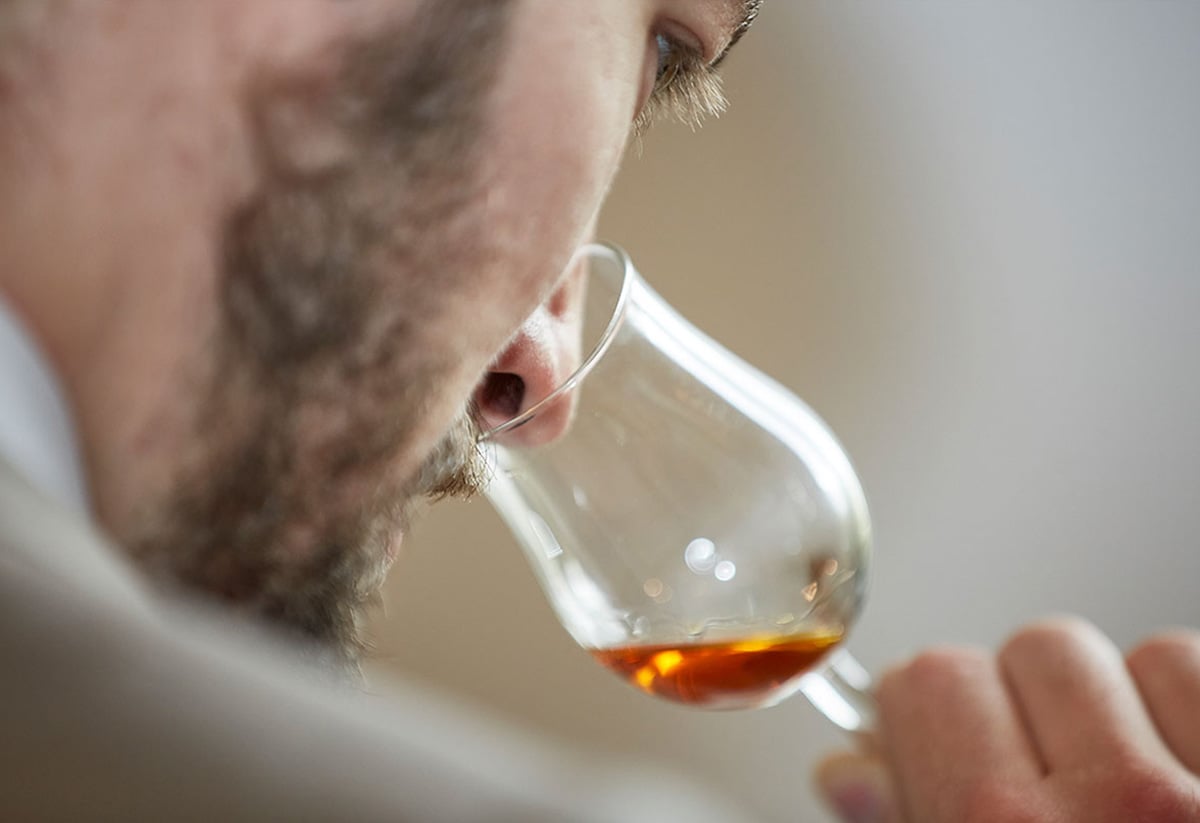 Nose

Chocolate, caramel and wood smoke lead to a hint of new-trainer-sole rubber and rich maltiness – Shreddies cereal and malt extract. The smokiness winds its way through the gaps, becoming wispy coal smoke trickling out of a stove filled with baking sultana-studded apples.

Palate

Rich, thick and rounded, with sultanas and raisins quickly overwhelmed by spicy peat smoke. The baked apples from the nose are revealed as the smoke blows away, sprinkled with spicy cinnamon and mint leaves. Chocolate-covered liquorice and Hob Nob biscuits appear, along with a touch of charcoal.

Finish

Singed fruit cake and sultana-heavy fruit loaf fade slowly away to leave tingling menthol, leafy mint and cocoa.

Comment

Peatier than expected, but with all smoke wrapped up in fruit and chocolate. Supremely well-balanced, with a long and leafy finish.
About

Benromach Distillery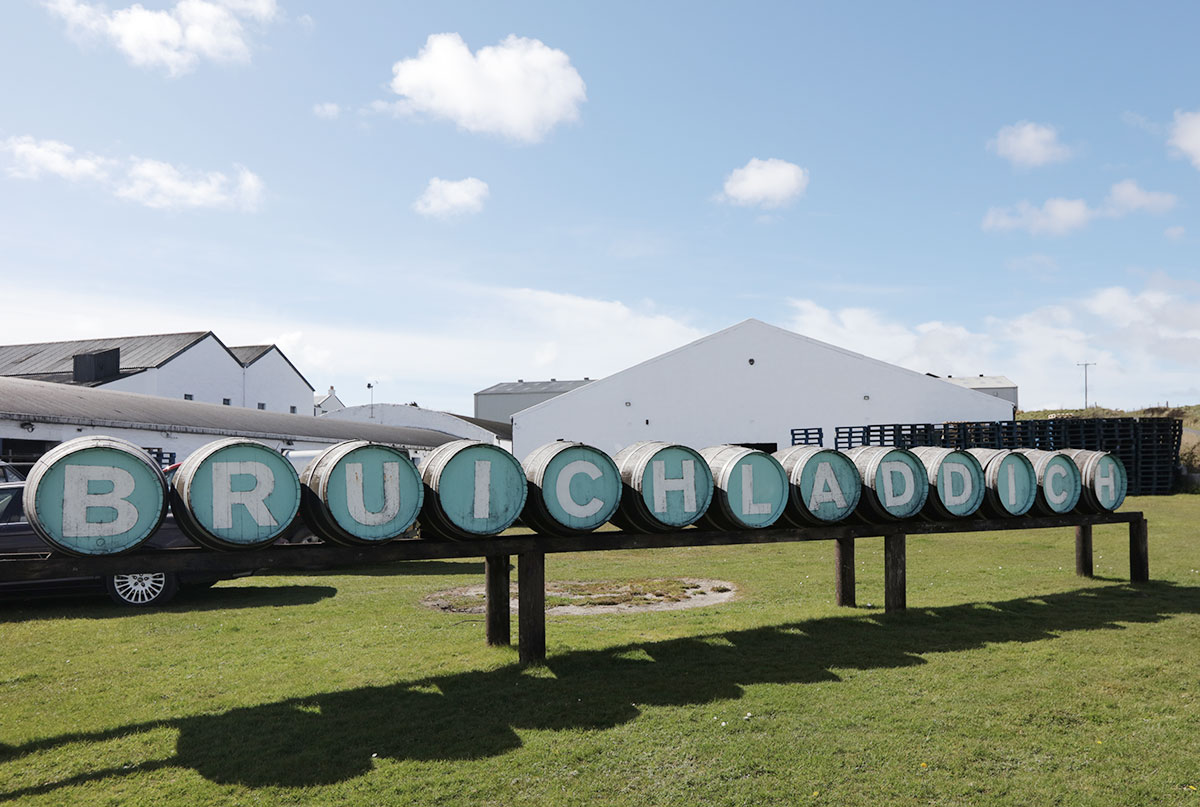 Founded just before the turn of the 20th century, Benromach made whisky intermittently for the next 85 years, changing hands frequently during that time.
It was closed in 1983, one of the many victims of a glut of Scotch whisky on the market, and lay silent for 11 years. Gordon & MacPhail, well known to whisky fans for their independent bottlings, then bought Benromach and set about creating a new distillery within the shell of the old.
It took the company several years to create the distillery and the spirit they wanted, and in consequence it wasn't until the late 1990s before their first spirit was made. Since then Benromach's philosophy has remained the same: to recreate a traditional style of Speyside whisky that's elegant, nuanced and offers just a wisp of smoke, something which would have been created by the occasional use of peat in barley malting in decades gone by.
Buy All Three!

Of The Year 2020 Winners Collection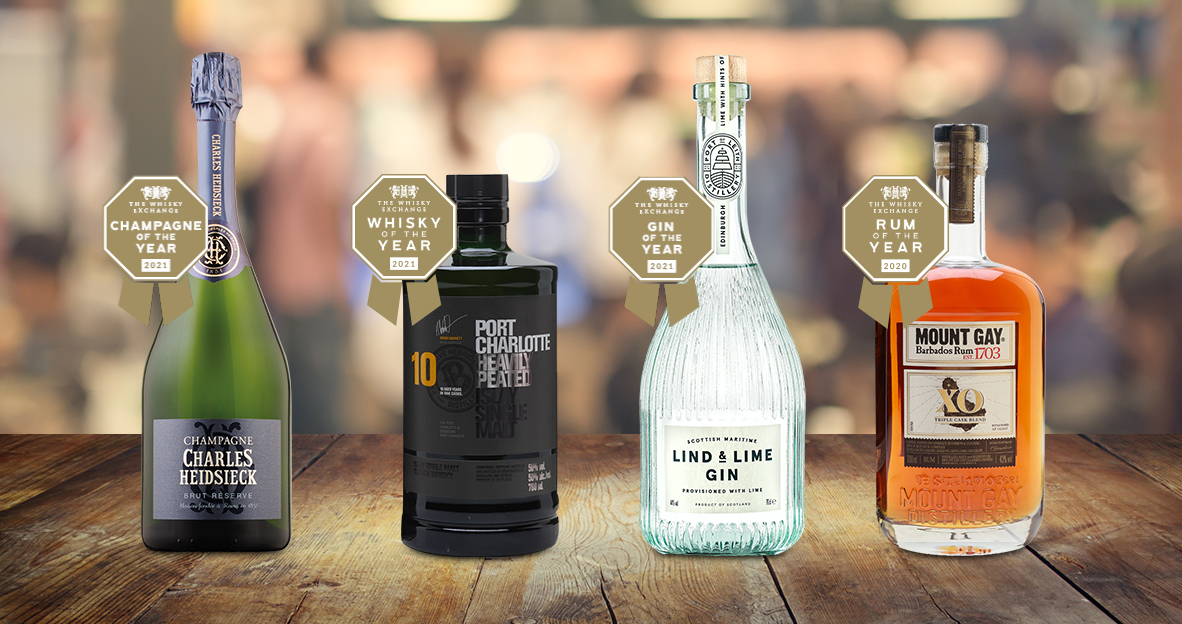 Try all three winners and see why they are our favourites of the year. Whisky from a traditional Speyside distillery, rum from a producer that's just now stepping into the limelight, and Champagne from the 'king of Pinot Noir' – three very different and exciting bottles.
The Whisky Exchange

Is grateful to all of this year's judges
Abbigale Wallis
ADC
Alistair Brooks
Allan
Andrej Paholík
Andrew
Andrew Adamson
Andy Morley
Andy Myerson
Andy Walmsley
AndyH
Arhur Garrard
Ben
Bertram
Bill
Bob
Bob Miller
Brian
Buster Biggles
Carl Hamill
Carlson Lewis
Charlotte Parhius
Chris B
Chris Calitz
Chris Chalk
Christophe Torres
Christopher J Watson
Christopher Wragg
CJ
Corky501
Craig
Daan Celis
dadsweetdram
Damian
Damien/Mike
Dan W
Dani
Daniel
Daniel Leigh
Danielle de Wolfe
Darren Cudlipp
Dave & Anna
Dave Barber
David Bain
David Devine
David K
David Keane
David P
David Raspin
David S
Debbie Hutchings
Derek
Dom Hume
Dr James Tanner
Dr Ralph Wigleg
Ed G
Ed Newman
Eddy Renner
Emma Raspin
Fiona Magor
Flo
Gareth Ottaway
Geoff
George Gordon
GeorgeC
Graham
Graham Keddie
Graham Raine
Graham Turner
Greg Dillon
Gregg Rodgers
Hoppla
Hugh
Ian Considine
Ingvar
Izzi
James and Karina
James Sampford
James Taylor
Jamie Andreson
Jeff Brown
Jeremy Banana
Jimmy
JimW
Jocke
Joel
John Robinson
Jon K
Jonathan D
Joseph
Josh McConkey
Karli
Karsten Behr
Kevin Leap
Kevin Murphy
Knighton
Leigh Merry
Lenka Salenka
Leon van Niekert
Leticia Espinosa
LordSteeb
LUC
Lucy Spain
Maciek
Madeleine Schmoll
Mariusz
Mark
Mark B
Mark Watt
Martin
Martin Smith
Matt
Matt Baggot
Matthew Muzerie
Max
Max Walker
Maxine Kelly
Michael Panes
Michael S.
Mick
Mordon SpierMoraes
Nathan McDonald
Neil Rapley
Nick Bearman
Owen Hutchings
Pal
Pete
Peter
Peter Arnott
Peter Ocenas
Peter Spooner
Peter Willison
Phil Schajer
Philipp Zumbrunnen
Privat Yohann
Rachel & Steve
René Blanchard
Richard
Richard Nicholl
Rob Prior
Robert
Robert Nel
Ruaridh Davidson
Ryan Pearce
Scott D
Scotty No
Seth and Chris
Shane White
Simon Woolerton
Stefan and Monika
Steve Sayer
Stewart Muir
Stuart Jeffrey
Stuart Watson
thewhiskysleuth
Tim
TK
Tomáš
Vynie Dymond
washhousewhisky
whizzle1
Wiktor
Will
William Turner