The Lost Distilleries of Scotland
We often get asked 'what should we collect?' and we often answer 'how about the lost distilleries of Scotland?'
In the 1800s, there were more than 200 distilleries in Scotland, but by 1945 the poor economic and political circumstances of the previous three decades had taken their toll, and around 70 of these had closed. After the war, sales of whisky increased virtually every year until 1980, but for the next few years, sales dropped dramatically, leaving a whisky surplus and, inevitably, this led to the closure of many more distilleries by 1984.
When we look at the distilleries which closed during the 1980s, the question always arises as to why these particular distilleries were chosen for closure? The answer is a combination of economics and politics.
Until the late 1980s, most of the whisky sold around the world was blended Scotch. Single malts were not really important and were very small in terms of volume sales. Hence, when cuts needed to be made during the slump, distilleries producing whisky which had little flavour impact in blended Scotches were shut down, especially in cases where the size of the distillery was small or where the distillery was located in a remote part of Scotland. In turn, the capacity at the larger, more economical distilleries, was increased.
Little did anyone know that single malts would become a phenomenon and that a new style of consumer looking for a diversity of tastes and flavours would seek out the different single malts from around Scotland in the hope of finding whisky nirvana.
There is currently stock available from around 30 lost distilleries, with prices for most of these increasing with every new release. The question to ask is which will disappear first. It is very difficult to know how much stock from each of these distilleries is still out there, and sometimes we only find out when it's too late. We remember selling Kinclaith about 20 years ago for £30 a bottle, but next thing we knew, Gordon & MacPhail had no stock left. The price for this product increased to £500 very quickly; a few years down the line, Kinclaith is still available, but rarely below £800.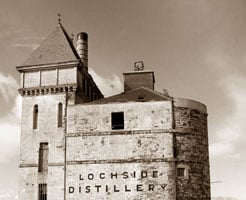 Currently, our biggest sellers in this category are Brora, Lochside, Port Ellen, Rosebank and St Magdalene (Linlithgow). With the huge rate of sales of these whiskies, we expect some of them to disappear over the next few years.

Other distilleries worth keeping an eye on are Glenury Royal, Glenlochy and Glenugie. These are all great drinking malts, usually with very few disappointments. They are mostly released from independent bottlers and are always a pleasure to try.
Lost distilleries may have done little for the flavour in blended whiskies, but demand today for these unforgotten heroes is high – and increasing every day. Consumers are discovering the elegant, sweet, floral Lowlanders including St Magdalene (also known as Linlithgow) and Rosebank, the easy-drinking, fruity Highland malts like Glen Albyn and Glen Mhor, and the more powerful, peaty, smoky Port Ellen from Islay.
Naturally, not every bottling from these lost distilleries will be good and as drinkable as some of the others. We feel that any product released by the distiller or brand owner is always respectable, but the bottlings from some independent bottlers can vary dramatically.
Even though we try to choose the whiskies we offer for sale carefully, it is sometimes not possible to taste every bottling; we must also rely on the reputation of the bottler. It should be their responsibility to select casks for bottling with care, however this is not always the case nowadays. As casks from lost distilleries are getting more and more difficult to find, some bottlers feel they do not have a choice but to bottle what they find while they still can.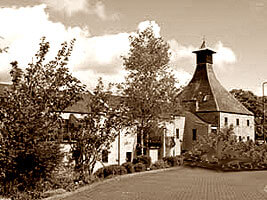 In 1993, United Distillers (now Diageo) closed four more distilleries, including Rosebank, which, as a Lowland distillery, was of a style that was of little importance for blended whiskies; another factor was that it was not part of the Classic Malts range. Many questioned this, given that Rosebank offered a truer style of Lowland whisky. The answer, however, was down to appearance: Rosebank was located on the banks of the Forth-Clyde Canal at Camelon, on the outskirts of industrial Falkirk, whereas picturesque Glenkinchie is near the pretty village of Pencaitland.
Diageo, the owners of Rosebank, bottled the last of the Rosebank 12 Year Old under the Flora & Fauna series some years ago. We know they still have some aged stock, and older distillery-label expressions at 20 and 25 have since been released.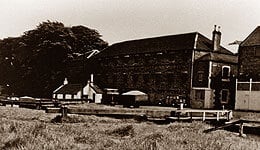 A distillery that many of us have only discovered in the past 20 years (but many have yet still to discover) is Brora. Located in the north-east of Scotland opposite Clynelish, this is one of the most interesting distilleries, yet very little is known about it. This site was originally called Clynelish, but in around 1967, a new distillery was built across the road, also called Clynelish. We believe that casks from both were marked as Clynelish for a year or so until the Scotch Whisky Association asked for the name of one of these distilleries to be changed – the old distillery was then renamed as Brora.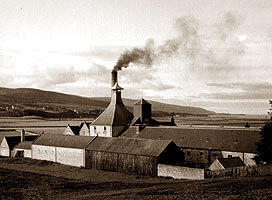 We find many different styles of Brora, and we believe the company records are not clear as to why this is – or maybe the information is there, but now that Brora has a cult following, they feel it should remain a secret.

There are both heavily peated and lightly peated styles, sometimes both from the same vintage. We also find heavily sherried versions, which again give a different whisky. The older vintages from the early 1970s are the ones which have challenged even the peatiest Islays, but sadly these are now more difficult to find.
We still have stocks of the official bottling of Brora 30 Year Old from Diageo; there has been an annual release since 2002. It is rumoured that Diageo's stock of Brora is nearly finished, but we are still waiting for clarification. We believe that the earlier official releases include a high proportion of vintages from the early 1970s; if you know these vintages, you can certainly taste them in the 30 year olds.
Demand for Islay malts is very high and has been for the past few years, and we feel this is something which is set to last. Demand for Port Ellen has also been high, but we know that Diageo still has some stock and will release another two or three bottlings over the next few years. Most of the previous releases have been excellent, with last year's release (2013) selling out before it even hit the website. The release prices of the official Port Ellen releases have shot up in recent years: from £125 in 2007 to £185 in 2008 – and now £2,200 in 2014, reflecting the diminution of Diageo's stock.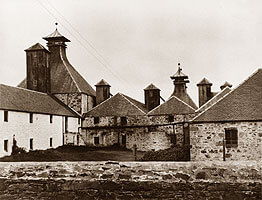 Two things are certain: the market price of previous years' official releases is almost certain never to decrease, while prices of future distillery bottlings will increase further. The 1st release from 2001 started life at £110; today, the retail price is around £2,750.
There are also some casks of Port Ellen still with independent bottlers, but with the speed of sales, I cannot see these lasting many more years. Also, with every new release, we see an increase in price: the average price of a cask-strength Port Ellen was about £50 in 2002; as we reach the end of 2014, it is at least £600.
You can read further information on all lost distilleries in their respective distillery profile sections on the website.
Last Revised October 2014
Sukhinder Singh
Director, TWE
L - Lowland | I - Islay | S - Speyside | H - Highland | Silent - May be re-opened | Dismantled - Buildings still exist | Demolished - Gone for ever