Drambuie Jacobite 45 Year Old
70cl / 40%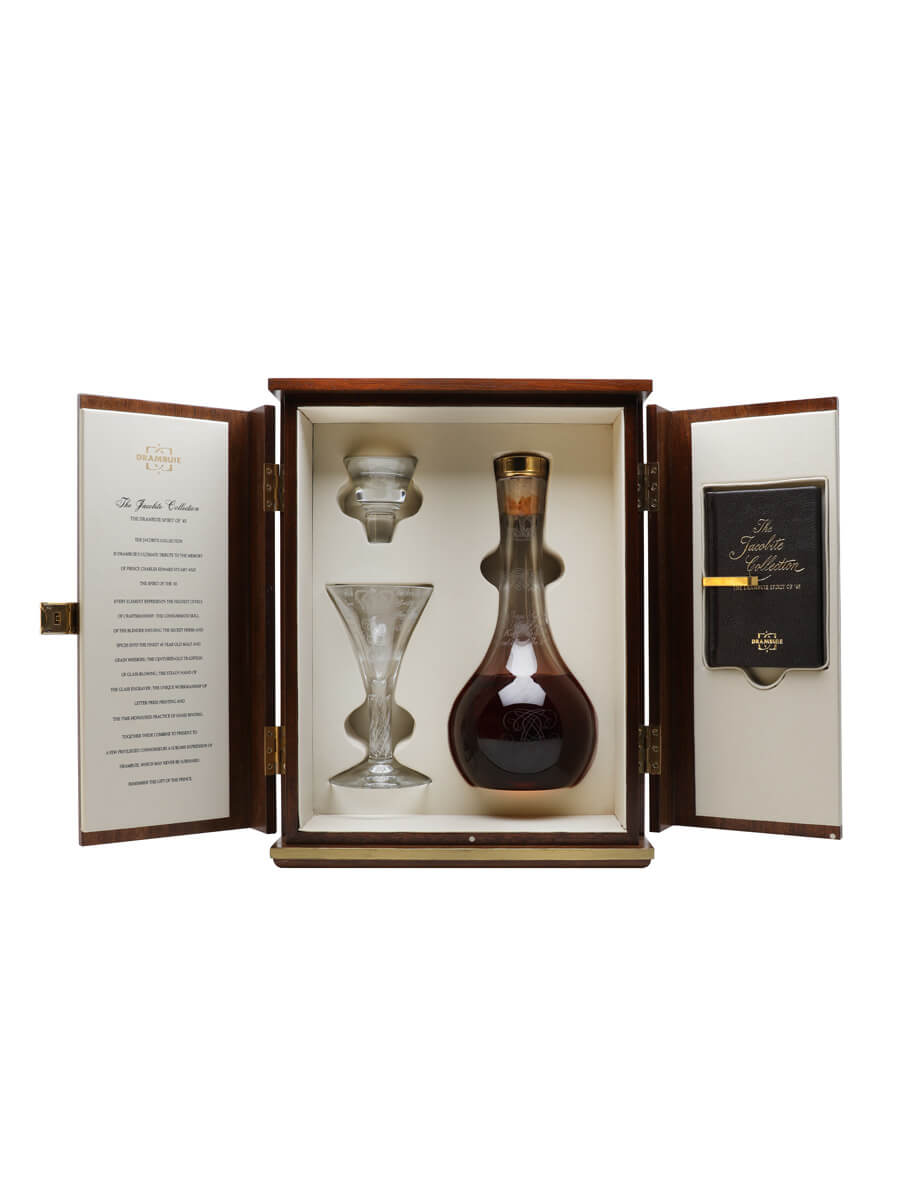 FREE UK Mainland standard delivery
In Stock
£2,500
£2,083.33 ex VAT
(£3,571.43 per litre)
You must be aged 18 or above to buy alcohol in the UK
Estimated Delivery
Express delivery

(Choose a day)

From £6.95

Standard delivery

(UK Mainland)

Free

Click & Collect

(Mon-Fri 10am - 5pm)

Free
An impressive whisky liqueur from Drambuie, with the name celebrating both the legend of its creation during the Jacobite uprising of the 1740s and the company's large collection of Jacobite glassware.
A blend of 21 year old whiskies that was matured for a further 24 years in a mix of sherry and bourbon oak, for a total of 45 years, before mixing with Drambuie's secret recipe of herbs and spices.
The liqueur has been filled into an etched lead crystal decanter and is presented in a double doored wooden cabinet with a replica Spottiswoode 'Amen' glass and a leather bound book telling the story of the Jacobite collection. An impressive liqueur, which was a hit at the 2011 Whisky Exchange Whisky Show, and very limited, with only 100 bottles being produced.
Customer Reviews
Reviews (8)
Reviews
5

My most enjoyed liquer. I am close to 90 years old and for many decades have celebrated another year of living with a "rusty nail" before bedtime.

5

Simply, the BEST!

5

Drambuie! Absolutely amazing! I love it, and I don't even like sweat drinks. I also don't particularly like Scotch! But, what the hell, this is DRAMBUIE we're talking about.

5

Drambuie is simply one of my favorites...I will own this before I die.

5

The "Jacobite " collection, absolutely stunning! " I will, I must, buy this! I''ll pretend I''m in outlander with Sam Heughan aka Jamie Fraser. Lol!
Disclaimer
Disclaimer
While we endeavour to provide full and accurate information on our website, there may be occasions where producers have updated their recipe or failed to provide full details of their ingredients and processes. This may affect factors including the product style and allergen information, and we would advise that you always check the label and not solely rely on the information presented here. If you are at all uncertain about a product then please contact our customer service team before purchase.
Good To Know
How we pack
Eco-friendly Packaging

Our boxes are made of 100% recyclable cardboard. Our special air-inflated packaging is both re-usable and recyclable, as well as efficient to both transport and dispose of.

Flexible Delivery Options

We deliver to countries all over the world! You can also select express delivery, or pick a specific delivery date, at checkout.

Packed With Care

Our experienced warehouse team take great care with every order. As specialists in glass packaging they ensure that your items stay safe and secure in transit.
14-Day returns policy
We want you to be 100% happy with your order and it is our aim to ensure that all products supplied to all customers arrive in perfect condition. You have the right to cancel your order at any time without being charged for the goods ordered within 14 days of purchasing (other than for perishable or personalised products or those products that have been specified as non-returnable).