The Savoy
Dry Vermouth
Giulio Cocchi
£XX.XX
Previously only available at The Savoy hotel in London, a small amount has been released exclusively for The Whisky Exchange to sell.
This special-edition dry vermouth from Giulio Cocchi is based on a 1970s' recipe, and was created to be the perfect ingredient in The Savoy Dry Martini, as well as delicious on its own or over ice. Classic at heart, it is enriched with citrus, bergamot and alpine herbs, which combine to add a distinctive colour and freshness to this pleasantly dry vermouth.
ALLERGEN INFORMATION
This product may contain the following: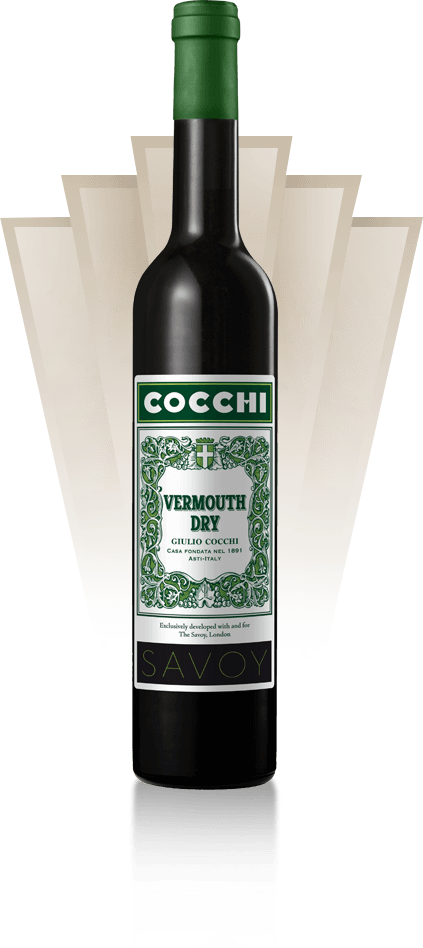 About
The Bottling
Created in partnership between The Savoy and Giulio Cocchi for the American Bar's Dry Martini, The Savoy Dry Vermouth combines a high-quality wine base with traditional botanicals including wormwood, as well as bergamot and alpine herbs from Piedmont, Italy.
The label is styled on the dry vermouths of the 1940s, and also carries the crest of the Counts of Savoy, who ruled the area around Cocchi's home town of Cocconato in the Middle Ages. One of them, Peter II, built the original Savoy Palace near to the site of today's hotel in 1263, creating a link between Giulio Cocchi and The Savoy that has been made stronger with this special bottling.



Tasting Notes
By Rocky Lancer
Nose: Bergamot predominates at first, backed up by sour lemon, and a hint of walnut.
Palate: Medium in body, but big in flavour. Muscat grapes, dry honey and lightly fragrant lavender combine with bergamot, tea, pistachio, cinnamon and a refreshing lemon note.
Finish: Herbaceous notes of fresh mint and bergamot with lemon in the background.
How to Drink
It's refreshing and complex on its own, straight from the fridge. Serving over ice accentuates the distinctive herbal flavours while adding a classic dryness and crispness to the finish – the ingredients for an excellent aperitif.
Where The Savoy Dry Vermouth really comes alive is in cocktails, so what better use than in the cocktail it was created for – The Savoy's Dry Martini.
60ml Bombay Sapphire Gin
15ml The Savoy Dry Vermouth
3 drops The Bitter Truth Savoy Martini Bitters
Garnish: Lemon peel
Method: Combine all ingredients in a mixing glass with ice and stir until chilled. Strain into a chilled Martini glass and garnish with a lemon-peel twist.
If you want to make this cocktail at home and don't have access to Savoy Martini Bitters, then you can substitute them for The Bitter Truth Orange Bitters.

What the Creators Say
Daniel Baernreuther
Assistant Director of Food & Beverage

at The Savoy
"This unique collaboration between Cocchi and The Savoy has resulted in a one-of-a-kind taste experience – a vermouth that not only enhances the finest Martini cocktail, but can and should be also enjoyed chilled or over ice, as the ultimate aperitivo. A masterpiece."

Roberto Bava
Managing
Director

at Cocchi
"I am delighted that people now have the opportunity to purchase a bottle of The Savoy Dry Vermouth. This is a very unique dry vermouth that is the result of a one-of-a-kind partnership between London's most iconic hotel and the boutique Piedmontese vermouth producer, Giulio Cocchi."

About
The American Bar
Opened on 6 August 1889, The Savoy is an iconic five-star hotel located on London's Strand that has counted Charlie Chaplin, Frank Sinatra, The Beatles and Elizabeth Taylor among its guests. Reopened in 2010 after a three-year refurbishment, it has been updated for the modern era, but still retains its traditional feel.
Fine dining has always been integral to the hotel's success, with its bars and restaurants a destination for locals and tourists alike. The American Bar won World's Best Hotel Bar 2011 at Tales of the Cocktail, a renowned spirits event in New Orleans, and is currently under the stewardship of head bartender Erik Lorincz. The hotel publishes its own cocktail book, first written by barman Harry Craddock, which was last updated in 2014 and remains an essential reference guide for any mixologist.

Other Cocchi Vermouths