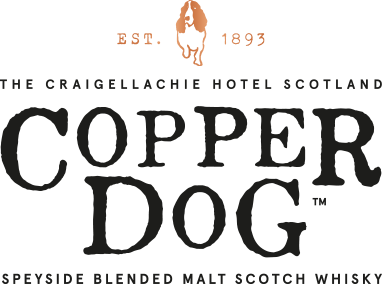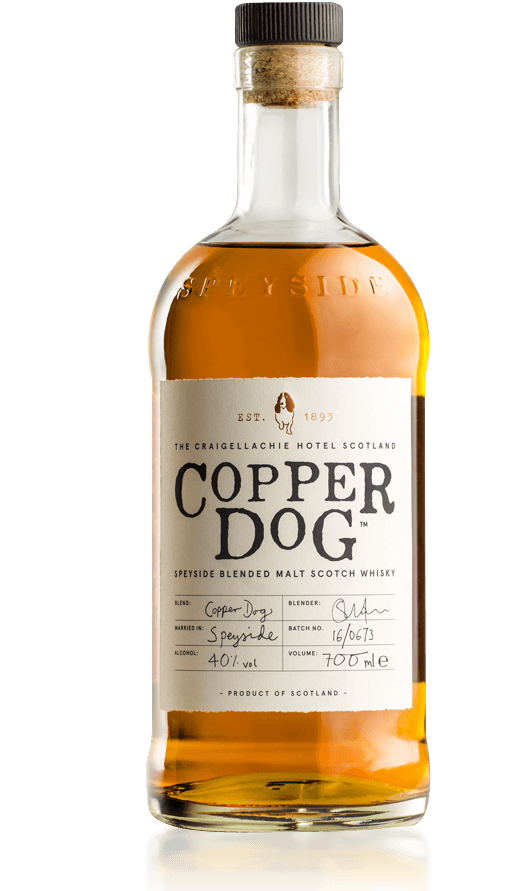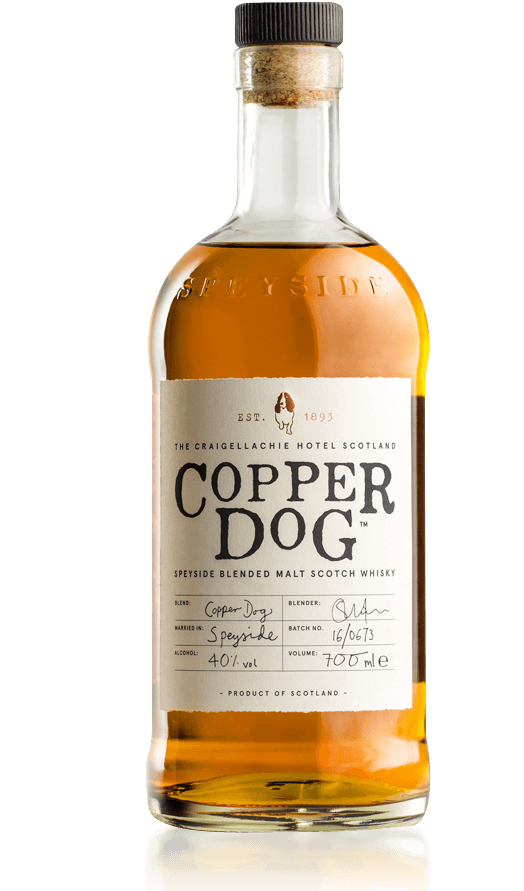 COPPER DOG
Copper Dog is a Scotch whisky that sums up all that is good about Speyside. A combination of eight single malts, Copper Dog is deliciously fruity with a hint of honey and spice.
TASTING
NOTES
NOSE Fresh fruit and toffee apple; an integration of ripe orchard fruits (apples and pears), berries and a hint of citrus, layered above a background of sweet wood and creamy vanilla fudge.
PALATE Rich creamy mouthfeel, toffee apple, caramelised sugars, soft fruits and a gentle wood presence. With water, fresher fruits become more pronounced on the nose (Bramley apple, Conference pear), alongside grape skin, green pear and more wood spice. Subtle, distant spices help carry the fruit and vanilla characters, giving a long and creamy finish.
NOSE Big blast of fresh fruit – Bramley apple, cherries and grapes – then sweeter notes of Bakewell tart, sponge cake and a dash of lemon oil. Some cinnamon and nutmeg in there, too, but overall, clean and bright.
PALATE Very clean and refreshing, with orchard fruit, roasted almonds and freshly baked sponge cake drizzled with honey. Subtle creaminess and notes of vanilla and toffee.
FINISH Lovely balance between the clean fruit and soft honey.
ABOUT
COPPER DOG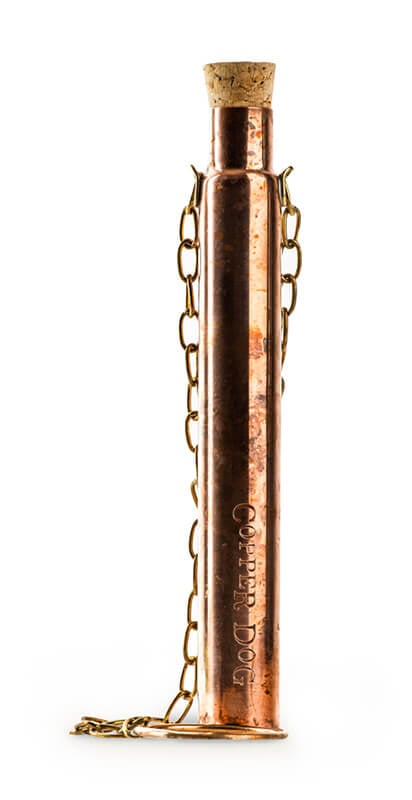 Named after a device used to sneak whisky from the cask to smuggle home, Copper Dog has that same irreverent, cheeky spirit without losing the classic Speyside tradition. It was created by master blender Stuart Morrison as a tribute to all distillery workers, and has its roots in The Craigellachie Hotel, located in the heart of Speyside whisky country.
HOW TO DRINK
AS A COCKTAIL: COPPER DOG OLD FASHIONED
RECIPE
Copper Dog comes alive in an Old Fashioned – a delicious mix of whisky, bitters and sugar syrup.
WHAT YOU NEED
50ml Copper Dog whisky
few dashes of Angostura Bitters
1 teaspoon Monin sugar syrup
1 orange

GLASS
Rocks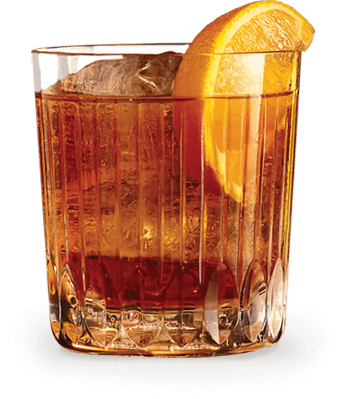 METHOD
1. Pour the sugar syrup, bitters and 25ml of the whisky into a rocks glass
2. Half-fill the glass with ice and stir for 30 seconds
3. Fill the glass with more ice, add the rest of the whisky and stir for another 30 seconds
4. Add garnish
GARNISH
Orange wedge
AS A SIMPLE SERVE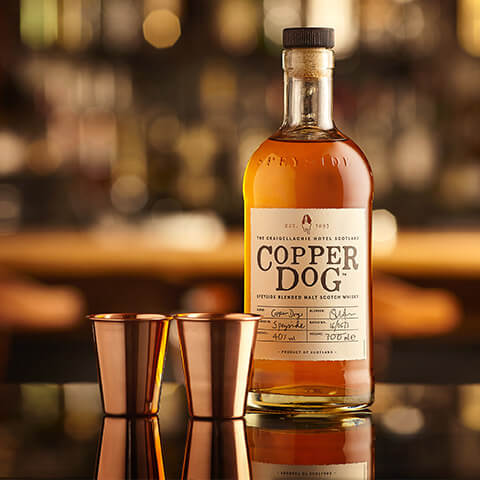 NEAT
DOG
the classic, served straight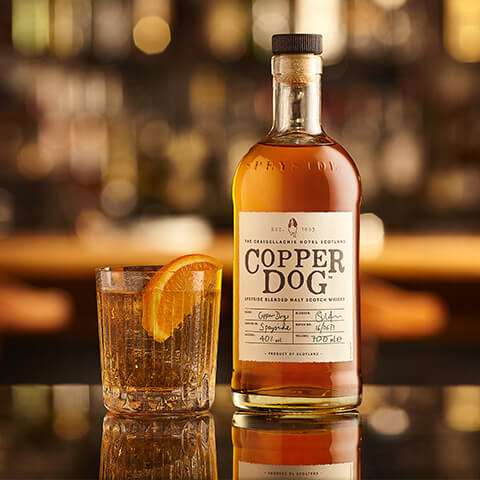 COPPER DOG
& SODA
fresh and clean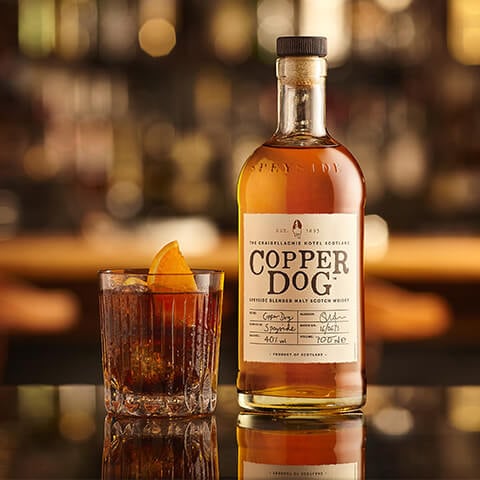 COPPER DOG
& COLA
zesty and refreshing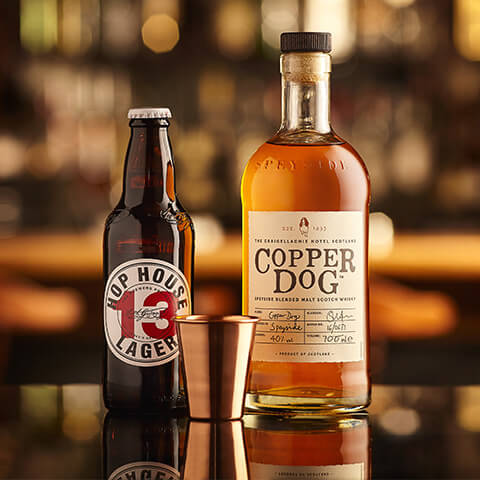 DOG
HOUSE
perfect with cold beer
REVIEWS
25 Customer Reviews
Lovely dram for the price

I tried it at the Craigellachie on a recent trip to Scotland. It's very easy to sip neat and to mix with

Nice neat lovely on the rocks,good value

Lovely and light with just enough kick.

I love Speyside whiskies and Copper Dog is one of the best I've tasted, it's very smooth and nice and cool when swallowing.

If you are looking for more of a sweeter kind of Scotch, I really recommend this one. Also, this is a perfect for mixing and sipping on. I really can't sip whiskey, so I like mixing coke. If you are looking for a great blended Scotch, this is the one for you. I also recommend Monkey Shoulder, both are very similar.

Beautiful whisky. I love it with ginger beer.

Love this blend! Absolute quality for its price and thats why its my new house pour

Lovely whisky and a great value.

Brilliant whiskey for to cost. A great counterpart to bourbon at any home bar, and mixes similarly to classic American whiskey.

Exellent!

Lovely smooth and very enjoyable with great aromas. Perfect for introducing my son to scotch.

Great Value

Tried a Copper Dog Pickleback at Craigellachie Hotel. Wow it was beautiful. A classic blend.

Excellent ....smooth and great aroma and flavor

Great PRODUCT!

Excellent scotch for a casual scotch drinker.

Love it's smoothness with a great taste

Great flavour and easy to drink

Love it. Bought it while in Edinburgh as I was looking for a flavourful blend. Have not been disappointed.
Show 15 more reviews