We Buy Old And Rare Whisky & Fine Spirits
Sell Your Bottle

Most Wanted
Signatory Vintage: Independent Bottlers
We're huge fans of Signatory at The Whisky Exchange and have the privilege of working very closely with them.
Founded in 1988 by Andrew Symington, Signatory have curated and bottled an incredible range of single malts that reflect their own high standards for quality. They are known for their uncompromising stance and for selecting whiskies that that will set new standards and forge a new understanding of a distillery, even those with which whisky lovers are most familiar.
The Signatory Vintage modus operandi is simple: bottle exceptional single casks and preserve their character by using as little intervention as possible. This is achieved by sticking to a few core rules, including bottling at cask strength, not using chill-filtration, and not using colouring, all of which help retain all the natural flavour of the whisky.
Over the past three decades Signatory have bottled some truly legendary single malts, which have changed the whisky world and today become the stars of many old and rare whisky collections. Read on to discover some of our favourites.
Request A Valuation
SIGNATORY VINTAGE: THE "DUMPY" SERIES
The first whiskies that Signatory produced in the late 1980s are easily recognisable thanks to their unique 'dumpy' shape. There are some truly iconic single casks amongst these, including the 30-year-old Ardbeg 1967 Sherry Cask #578, the 28-year-old Ardbeg 1967 Pale Oloroso Cask #575, the 28-year-old Clynelish 1965 Sherry Cask #666 and the 40-year-old Springbank 1969 Sherry Cask #263.
More than 500 bottles were released in these classic dumpy bottles, which originally came with a gold foil seal over the cork and were presented in a fabric-lined box. The dumpy bottles bear a variety of different labels, with the very first being the 'ink' label style.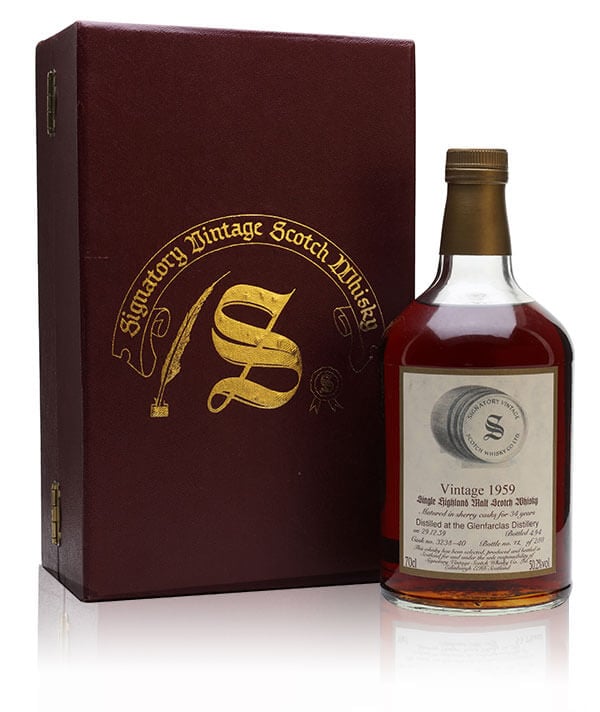 1959 Glenfarclas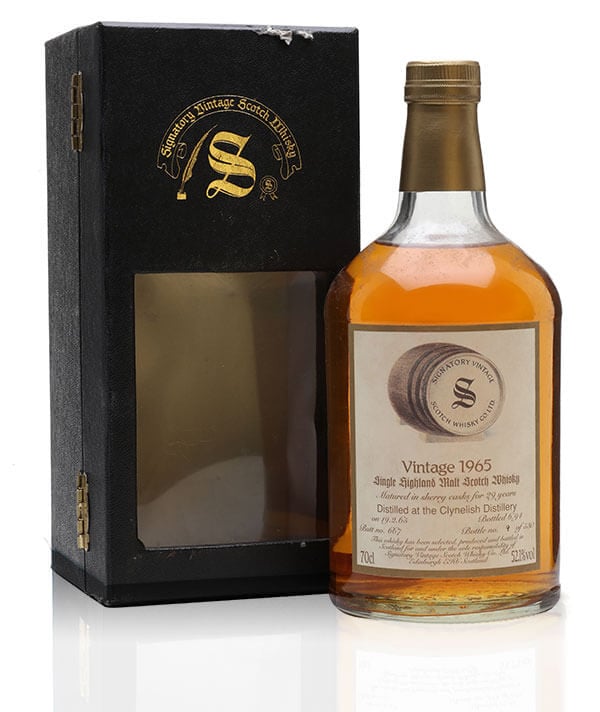 1965 Clynelish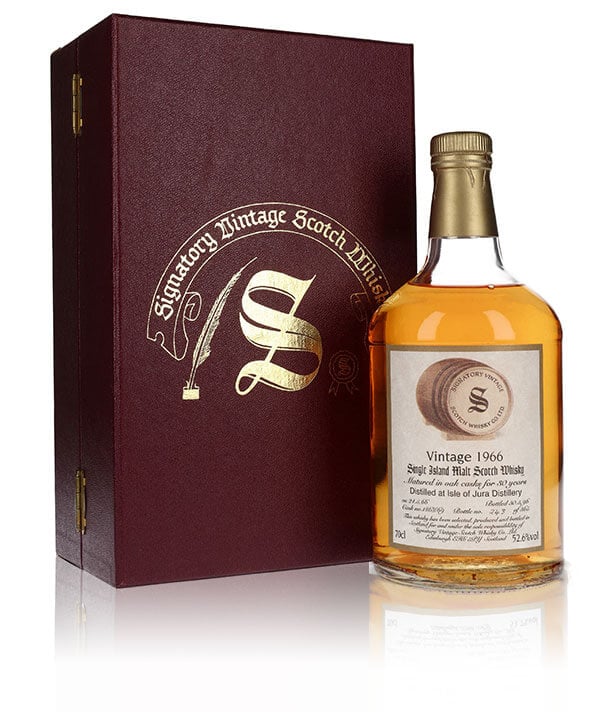 1966 Jura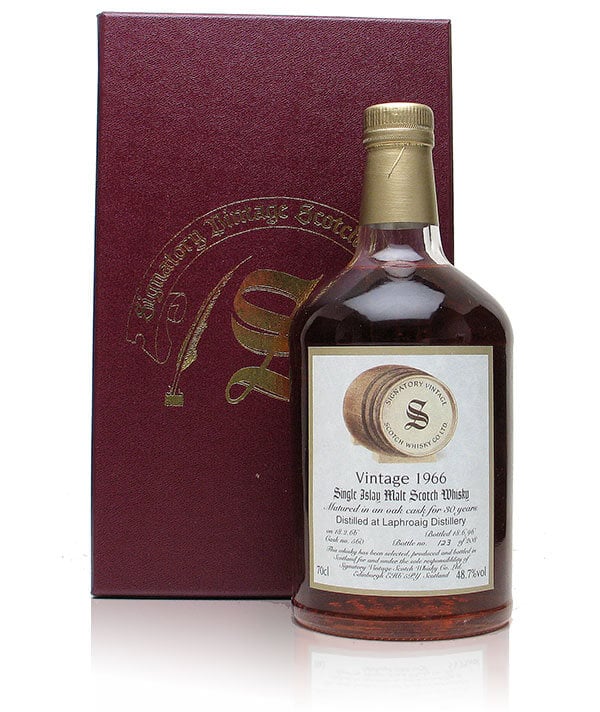 1966 Laphroaig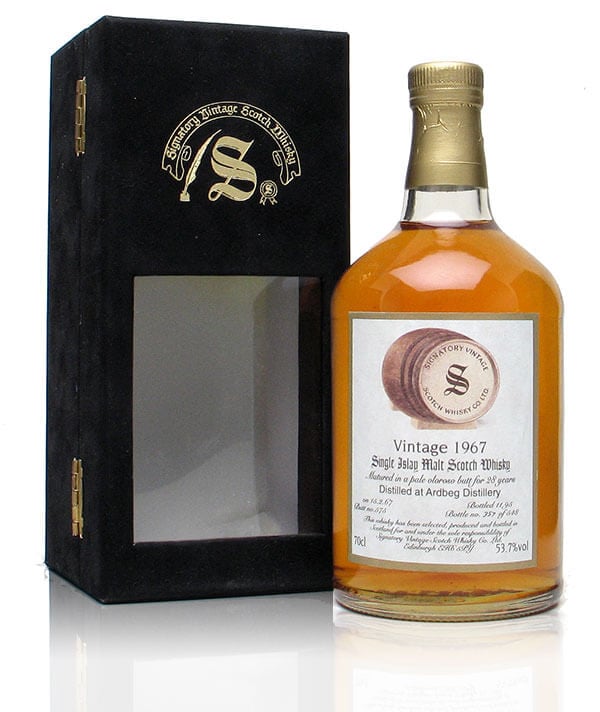 1967 Ardbeg
Most Wanted
Old & Rare Signatory
It's not only the dumpy-style bottles with which Signatory have made history. The Silent Stills series, a range of whiskies from distilleries that have long since ceased to operate, has also brought us some exceptional bottlings, such as the 24-year-old Glenury Royal 1973, the 31-year-old Glenugie 1966 and the 34-year-old Banff 1966.
Another sought-after Signatory range is The Rare Reserve: a series of single-cask single malts presented in wooden boxes with a certificate picturing the cask and signed by Andrew Symington. Some of our favourite examples from this range are the 35-year-old Benriach 1966, the 32-year-old Bruichladdich 1967 and the 32-year-old Bowmore 1968.
Also favourites of ours are bottles from the Millennium Edition series: a selection of single casks bottled for the turn of the last millennium, with the distinctive screen print "2000" under the brand name on the front. Whiskies from this series are presented in handsome wooden cases with a gold-colour plaque on the front.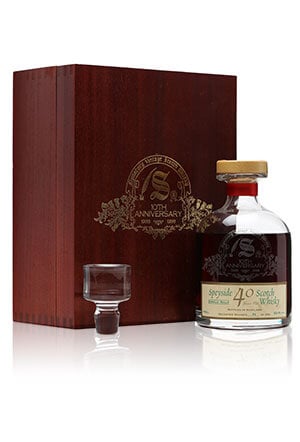 1958 Speyside
40 Years Old Signatory 10th Anniversary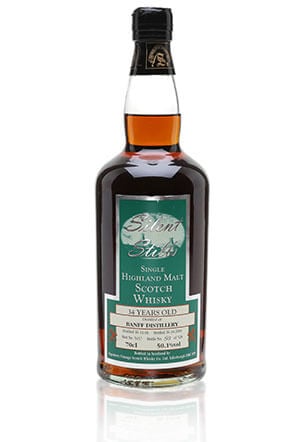 1966 Banff
34 Year Old Silent Stills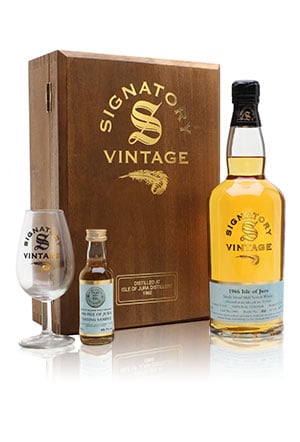 1966 Isle of Jura
35 Year Old Rare Reserve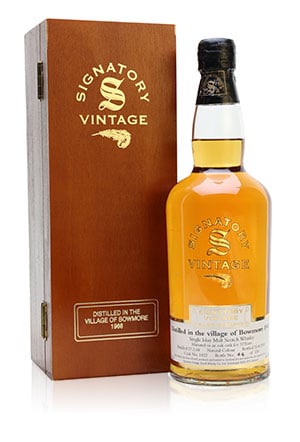 1968 Bowmore
32 Year Old Rare Reserve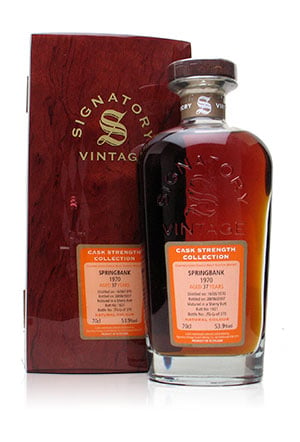 1970 Springbank
37 Year Old Cask Strength Collection