We Buy Old And Rare Whisky & Fine Spirits
Sell Your Bottle

Most Wanted
What Makes Springbank Single Malt Collectible?
This free-thinking Campbeltown distillery has built a reputation for outstanding quality among whisky collectors and fans, with its output from the 1980s and 1990s and independent bottlings from Cadenhead's playing a particularly important role in bringing Springbank to the world's attention.
Springbank was always destined to be special. Situated in the one-of-a-kind coastal region of Campbeltown, where its whiskies are influenced by the unique terroir, this distillery has always employed a very traditional, hands-on production philosophy and handles every step of the whisky-making process itself – something not found in any other Scottish distillery.
For these reasons, although it is still under the radar as far as the general public is concerned, this family-owned distillery is close to any true whisky-lover's heart.
In terms of the whisky's taste, the multi-layered flavour of Springbank makes it unique and collectable, offering a good dose of earthy smoke, bags of juicy fruit and a salty seaside tang. The flavour is allowed to shine through because the distillery's whiskies are usually bottled at 46%, a strength that is higher than most standard Scotch whiskies. The rarest and most sought-after Springbank bottles, furthermore, are those bottled at the still higher strength of 50% or 57%, like a version of the 21-year-old Springbank bottled in the 1980s at 100 proof (57%), or the legendary Springbank 12 Year Old Sherry Wood bottled at 57.1%, an exclusive limited edition of 2,400 bottled imported by Samaroli.
Request A Valuation
Springbank Vintage Statement Bottles
Springbank whiskies with vintage statements are some of our favourite whiskies from the distillery. There are several different versions of the vintage statements, which are often grouped by the colour and design of their labels. All of these are bottled at 46%.
Black Label: The first vintages ever bottled by the distillery have a plain black label with a large Springbank "S" logo. The vintage is indicated on the neck label, and vintages with this design are 1962, 1963, 1964, 1965, 1966 and 1972.
White Label: These bottles have a similar design to the black label series, but have a white label with a golden version of the the "S" logo. Most of these labels feature the month and year of both distillation and bottling.
Coloured Label: These labels are of a similar design to the white ones, but also feature a watercolour painting of Springbank distillery in the background.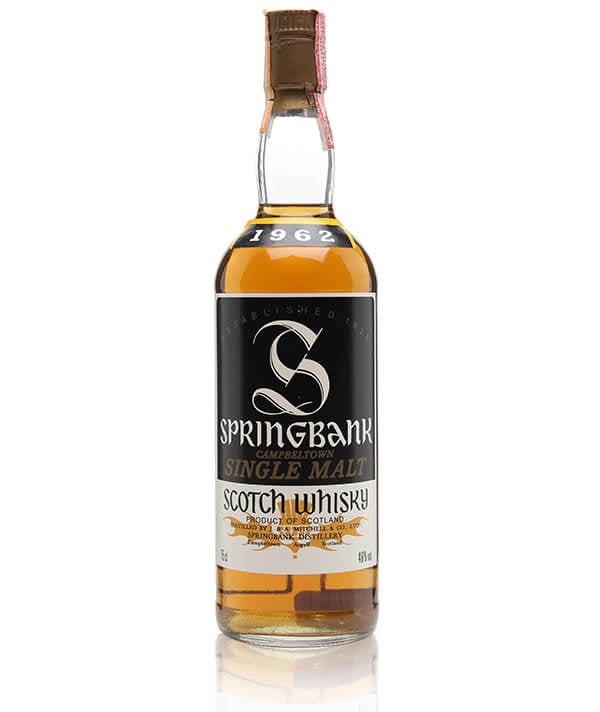 1962 Springbank
Bot.1980s Black Label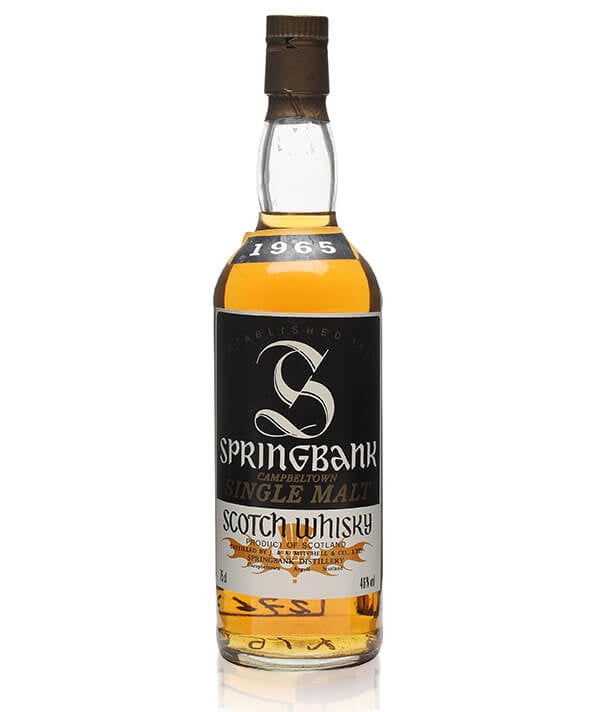 1965 Springbank
Bot.1980s Black Label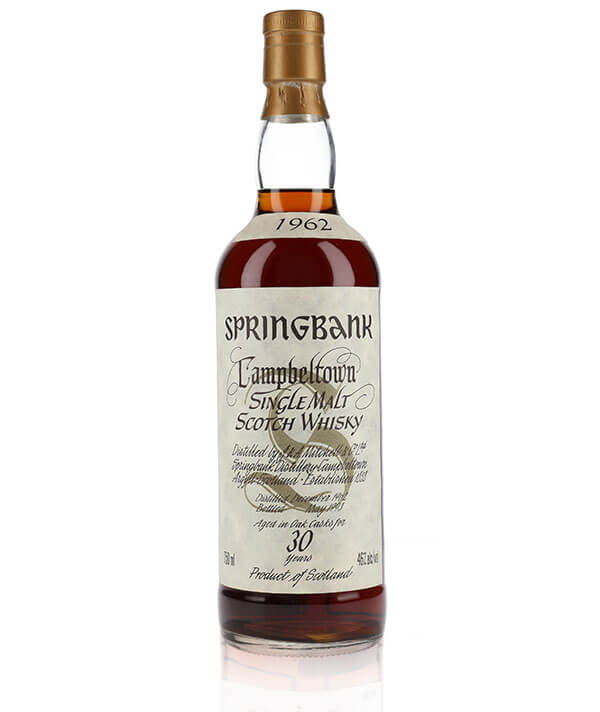 1962 Springbank
30 Year Old White Label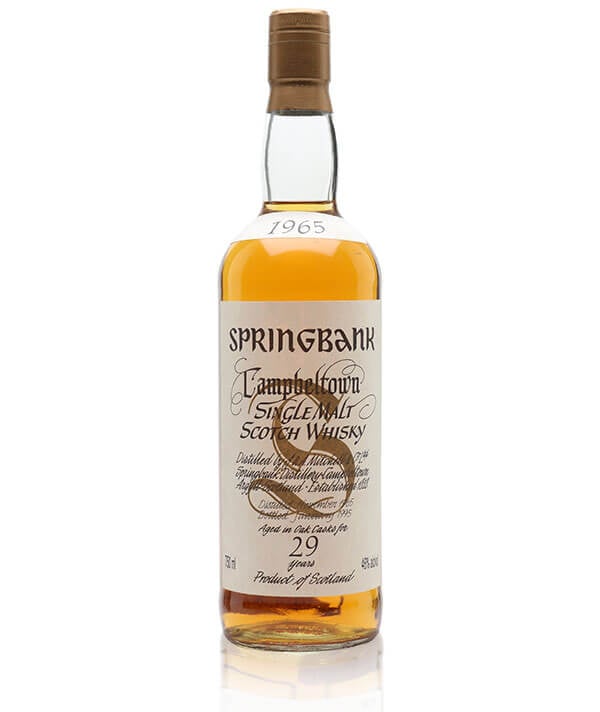 1965 Springbank
29 Year Old White Label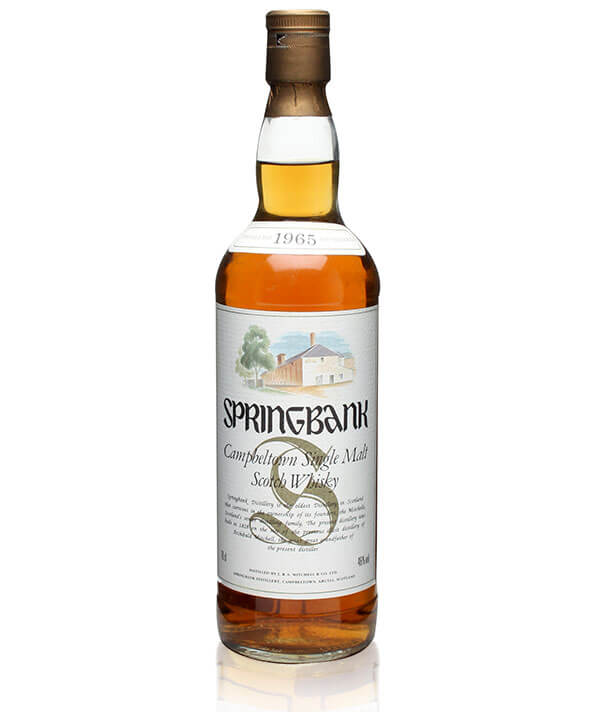 1965 Springbank
Bot.1990s Coloured Label
Springbank Local Barley: The Forefront Of Innovation
One of the most recognisable release from Springbank are the Local Barley single casks. This is not only because of the beautiful label that adorns each bottle, but also because these whiskies were focused on a romantic concept: making a whisky that paid homage to the heydays of Campbeltown, when every single process and every ingredient was made in the region. This sparked the imagination of whisky lovers and, as each of the 1966 whiskies was bottled and released between 1990 to the early 2000s, the love for this series grew ever stronger.
Around 50 casks of Local Barley were bottled in total, with two distinct kinds produced. One kind contains very dark whisky and bears a label with the words 'A West Highland Scotch Malt Whisky', while the other kind contains lighter-coloured whisky and its label proclaims it to be 'A Campbeltown Single Scotch Malt Whisky'. The darker versions are much more rare.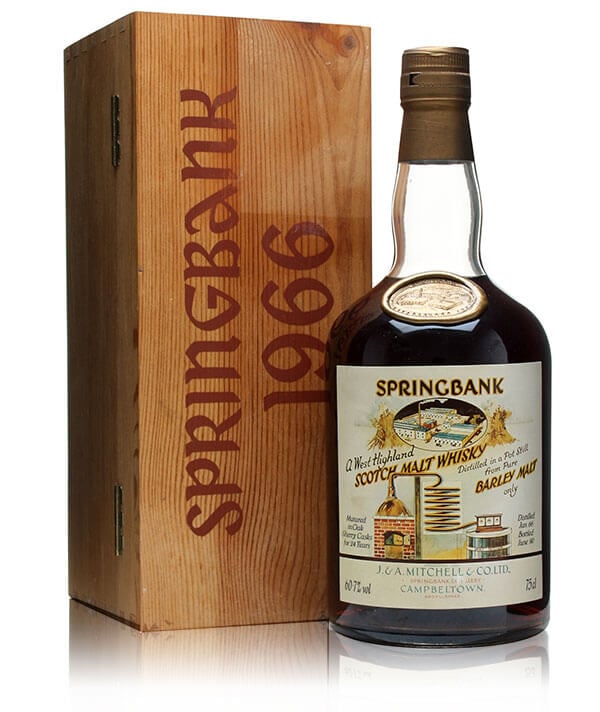 1966 Springbank
Local Barley A West Highland Malt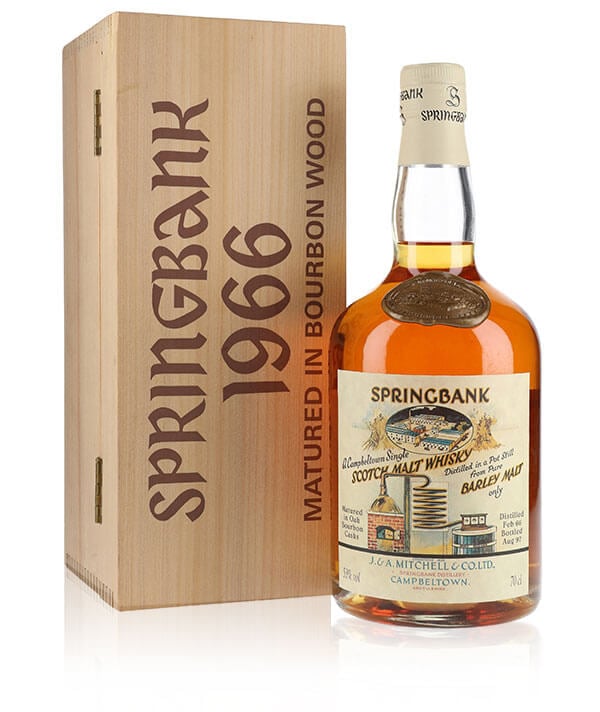 1966 Springbank
Local Barley A Campbelltown Single Scotch Malt Whisky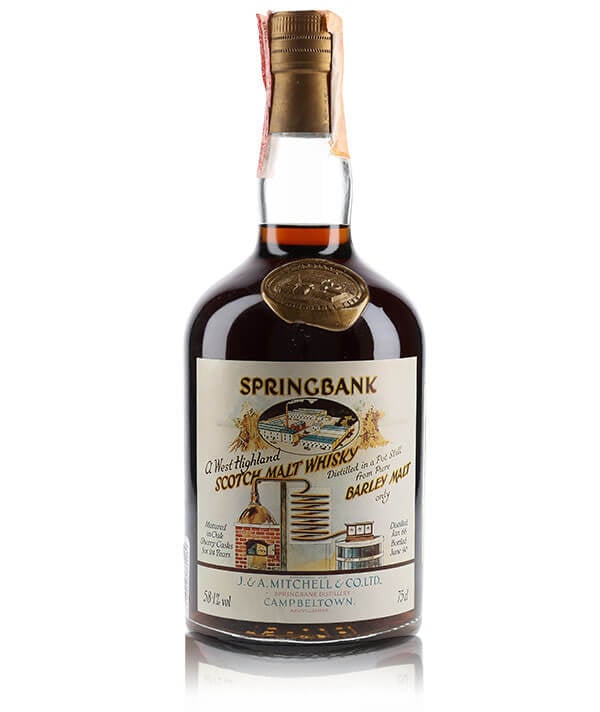 1966 Springbank
Local Barley A West Highland Malt
Springbank: The Millennium Set
In 1998 Springbank released the first of six bottlings in its famous 'Millennium Set'. For those who collected each whisky in the set over the next three years, which was comprised of 25-, 30-, 35-, 40-, 45- and 50-year-old single malts, the distillery offered a special gift of a matching set of miniatures. Only 580 sets were produced and today finding a full set complete with miniatures is very rare.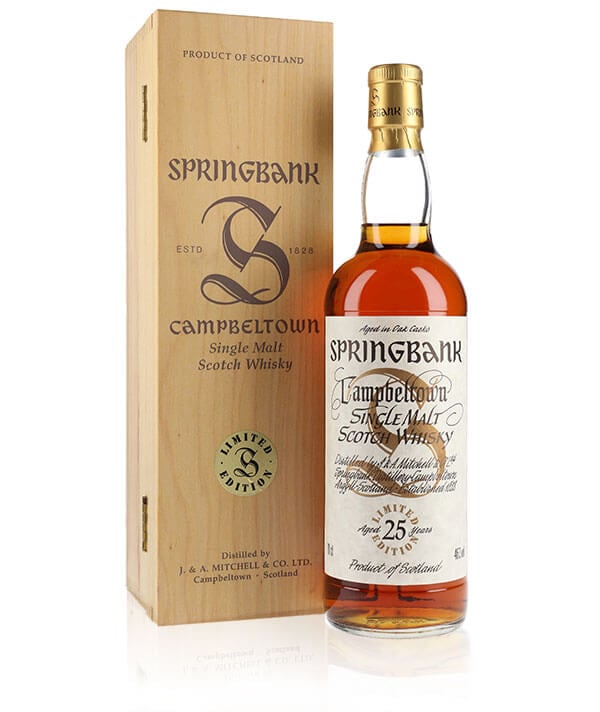 25 Year Old Springbank Millennium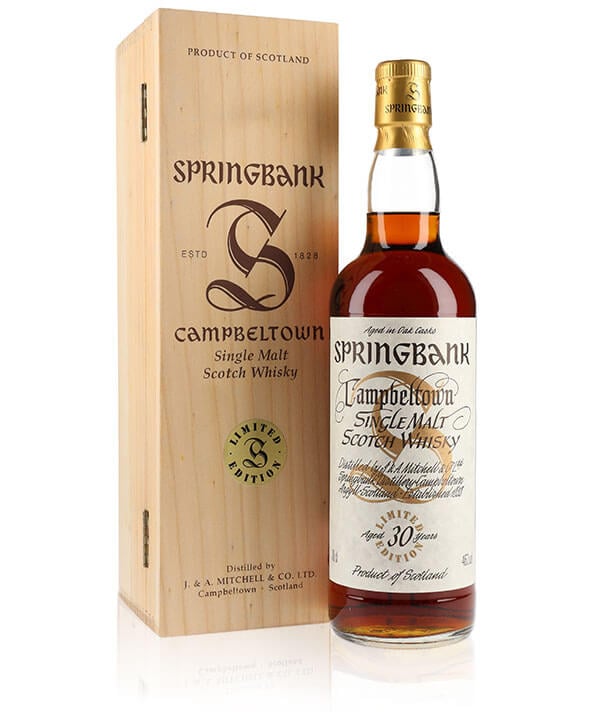 30 Year Old Springbank Millennium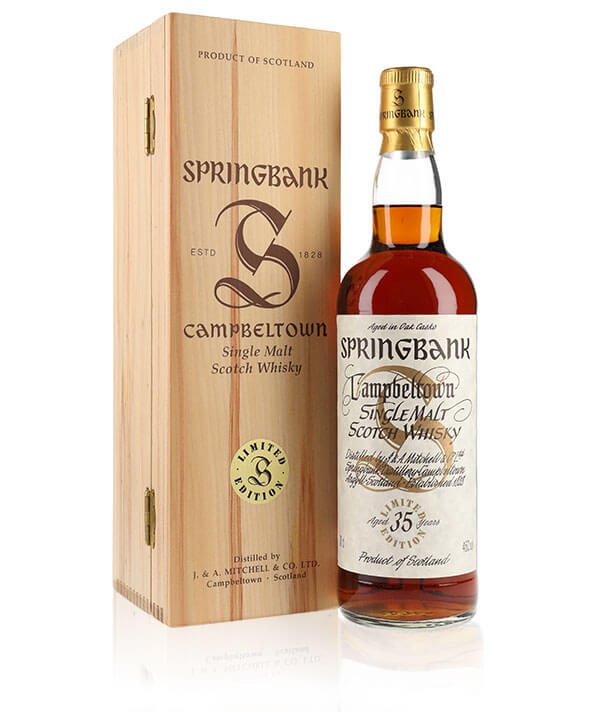 35 Year Old Springbank Millennium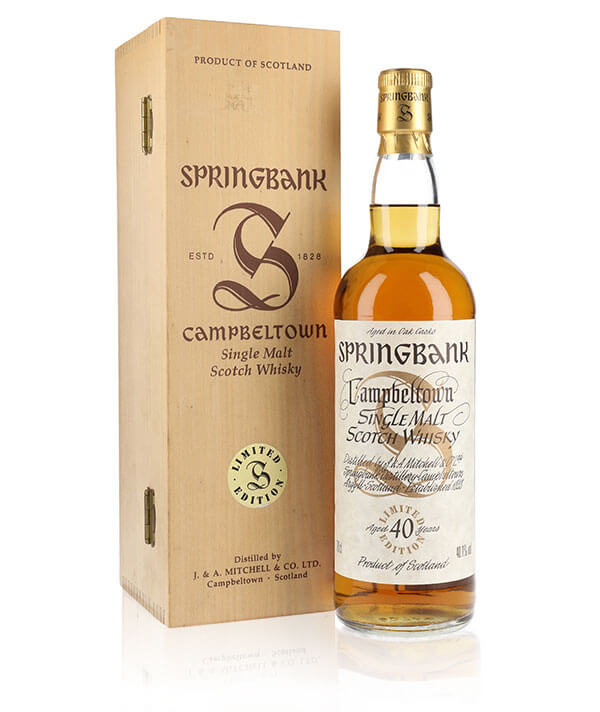 40 Year Old Springbank Millennium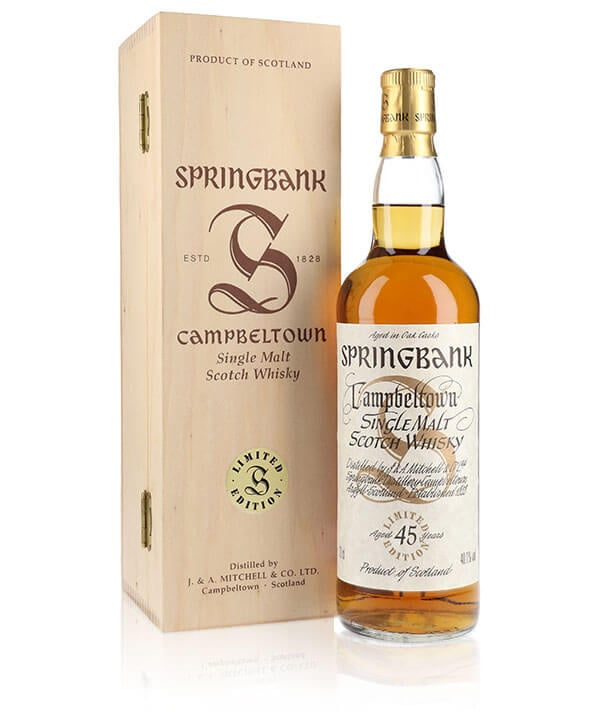 45 Year Old Springbank Millennium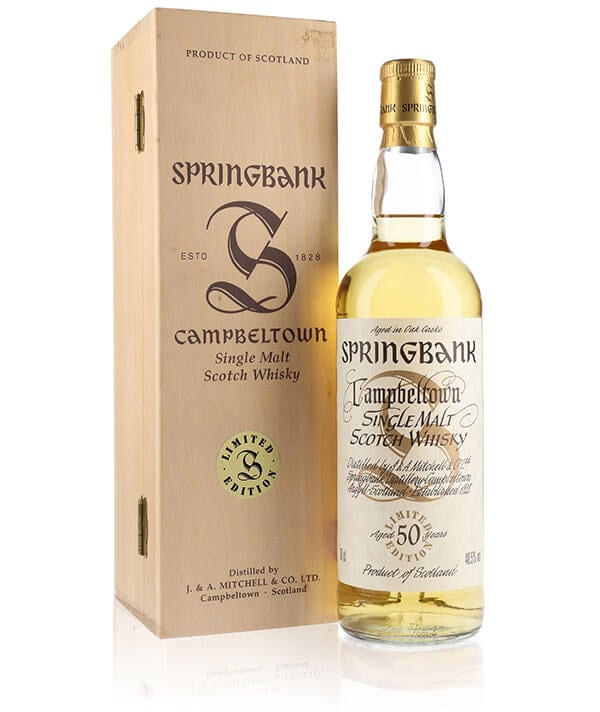 50 Year Old Springbank Millennium
Most Wanted
Old & Rare Springbank
Here you'll discover some of the most rare and collectible bottles of Springbank whisky.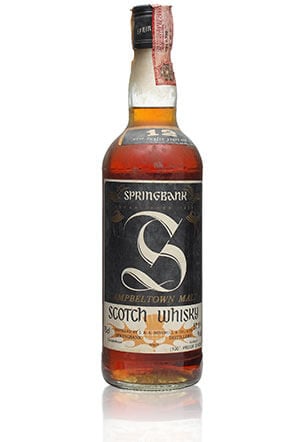 Springbank 12 Year Old
100 Proof Bot.1980s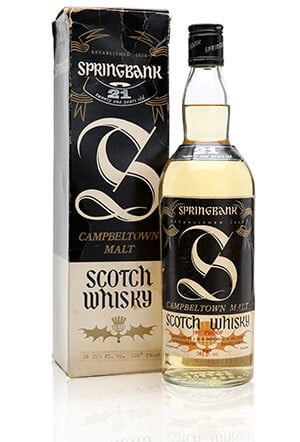 Springbank 21 Year Old
100 Proof Bot.1970s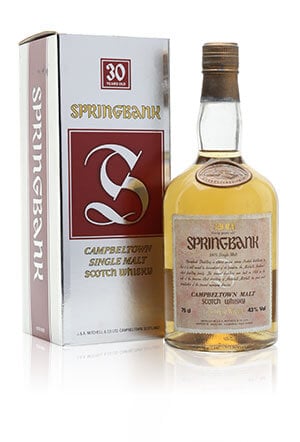 Springbank 30 Year Old Bot.1980s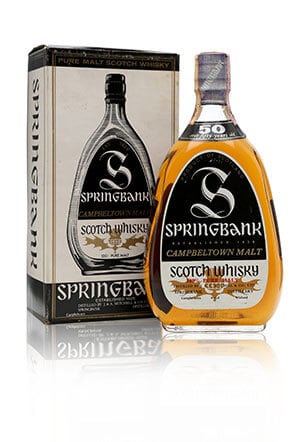 Springbank 50 Year Old Bot.1960s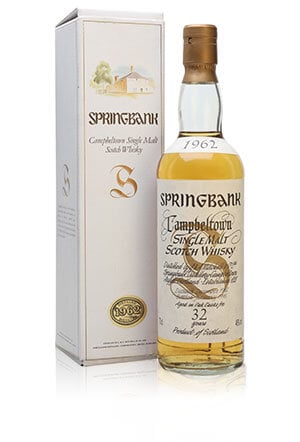 Springbank 1962
32 Year Old White Label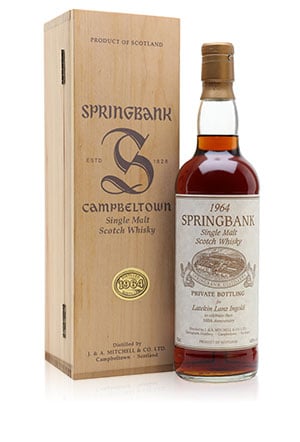 Springbank 1964 Lateltin Lanz Ingold 100th Anniversary