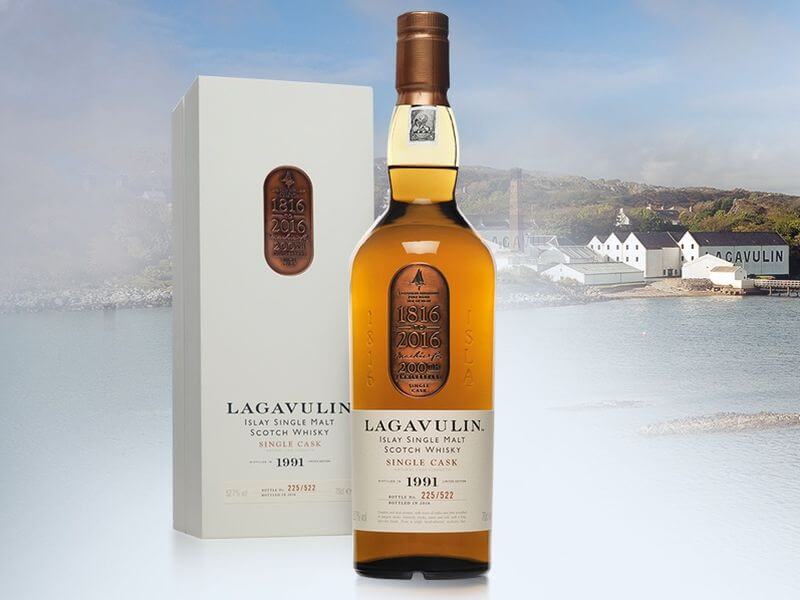 Lagavulin
Islay single malt
Scotch Whisky
Single Cask
1991
200th Anniversary
Charity Bottling
£1,494
This single-cask charity bottling from Lagavulin is the culmination of its 200th anniversary celebrations, and will benefit Islay and the people who live there. A one-off release limited to just 522 bottles, all proceeds received by the owner of Lagavulin, Diageo, will be split among seven Islay charities.
We will select the lucky customers at random via a ballot. If you wish to buy a bottle, register your interest below. The price will be £1,494, and this one-off bottling is only available at The Whisky Exchange.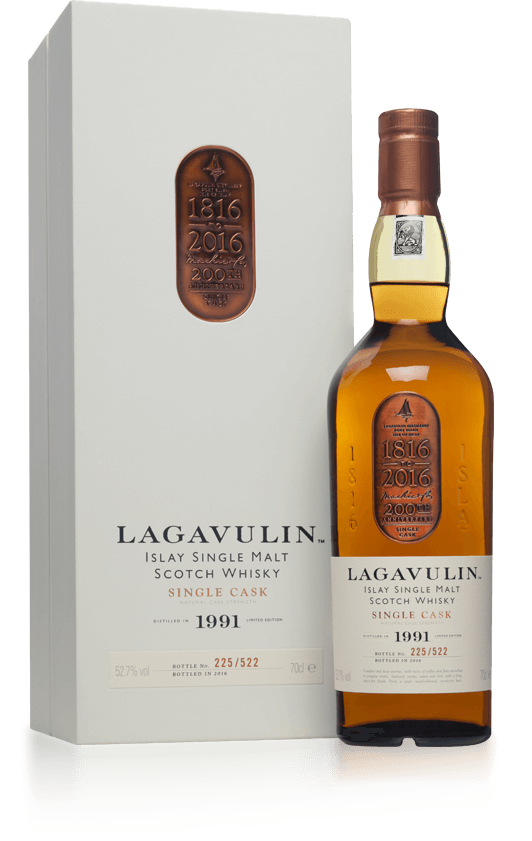 The Lagavulin Legacy
The proceeds received by Diageo from the sale of the Lagavulin 1991 bottling will be donated to the following registered charities in the following proportions, to fund projects on Islay which are designed to enhance the understanding of the rich and diverse history of Islay and enhance the life of the local community.
The seven charities are
Islay & Jura Community Enterprises Limited

(aka Mactaggart Leisure Centre) (OSCR No. SC015815)

£60,000

Islay Heritage

(OSCR No. SC046938)

£310,000

Mactaggart Community Cyber Café

(OSCR No. SC028306)

£60,000

Royal Society for the Protection of Birds

(OSCR No. SC037654) (Charity Commission No. 207076)

£60,000

Finlaggan Trust

(OSCR No. SC000821)

£60,000

Islay Arts Association

(OSCR No. SC000272)

£20,000

Islay Festival Association

(OSCR No. SC004390)

£10,000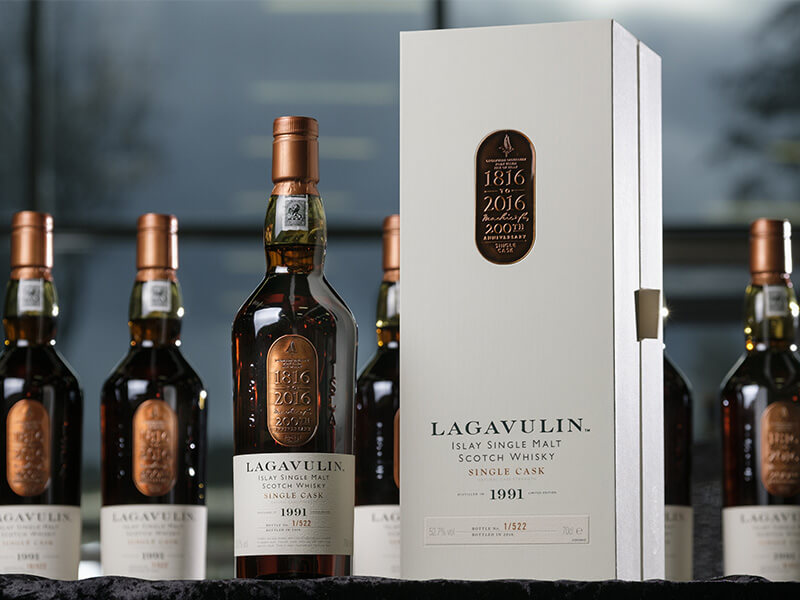 How To Buy A Bottle
The ballot is now closed
Successful applicants will be picked at random and contacted the following week. Bottle #1 of the whisky will be sold on Whisky.Auction in the auction commencing 26 February 2017, with the entire proceeds including the buyer's commission donated to charity. One bottle will also be donated to each of the Diageo archive and The Whisky Exchange respectively. All other bottles will be allocated via this ballot.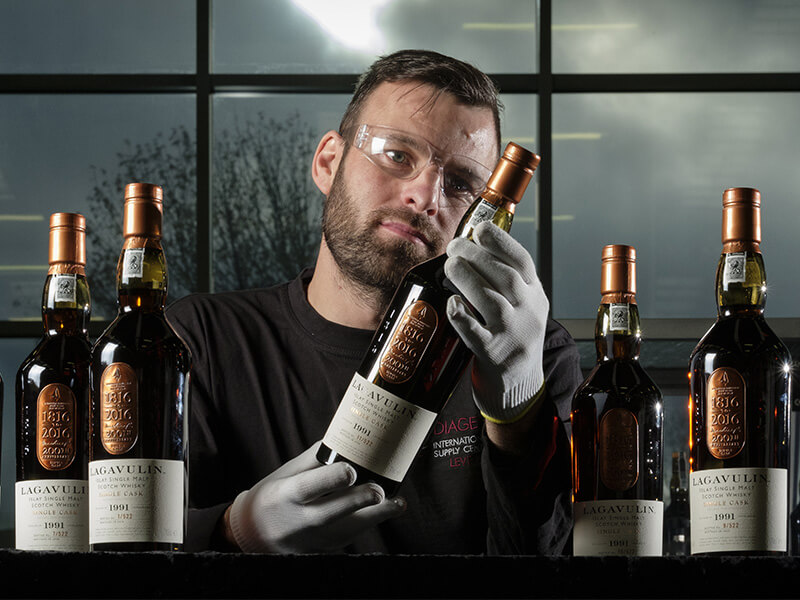 Tasting Notes
Nose

Charred oak timbers, sawdust and voluptuous fruit backed by subtle milk chocolate and vanilla. Grainy new make, developing burnt caramel, subtle spent match and a slight sapid, earthy dampness. A trace of ripe red apple and plum and smoked fish dressed in appley olive oil.

Palate

Hot and sweet. Searing, woody dryness, then calmer with mentholic chocolate notes and comforting honey underscored by a subtle chilli-like heat. A faint sawdust note gives way to charred astringency, acquiring notes of gritty cocoa against an espresso background.

Finish

Quietly persistent with tart red-berry notes, cedar and a spicy, smoky ginger warmth. Leaves the palate minty, with a fruity coffee note and a sprinkling of salt.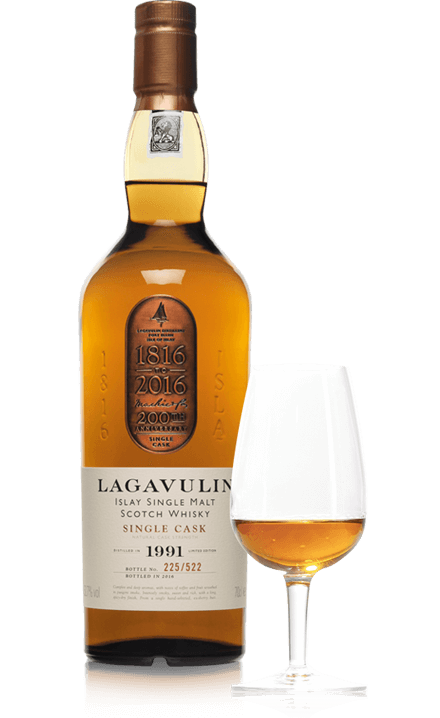 What Whisky Drinkers Think
The 1991 Lagavulin was given a sneak preview at a special Lagavulin Masterclass at The Whisky Exchange Whisky Show in London. These were their comments of those lucky enough to try it:
'Massive in flavour and an entire experience in itself'

Jonathon Webb

'Everything you want from a Lagavulin'

Peter Olofsson

'Rich fruit cake smoked over a log fire…smoky mince pies and Christmas cake'

Tim Ellis

'Outrageously good'

Peter Ghishan

'Nose: Clean and mature, green apple and ozone on top of fantastic raisin and darker fruits. Body: Enormous fruit and Parma violets, light pepper. Finish: Very long, very important'

Ben Cops
Terms & Conditions
customers must be legally allowed to purchase alcohol in their country of residence to participate in the ballot
bottles can only be delivered to the countries and areas listed on the following pages:
Delivery Details
Delivery Information
one entry per customer
successful customers will be notified after the close of the ballot on 12 February 2017 and will have until 11.59pm GMT on Sunday 19 February to purchase their bottle

For full TWE terms and conditions, please click here.

Other terms and conditions may apply.

Promoter: The Whisky Exchange, Elixir House, London NW10 7SF.