Dalmore 18 Year Old
Highland Single Malt Scotch Whisky
Distillery Bottling
70cl / 43%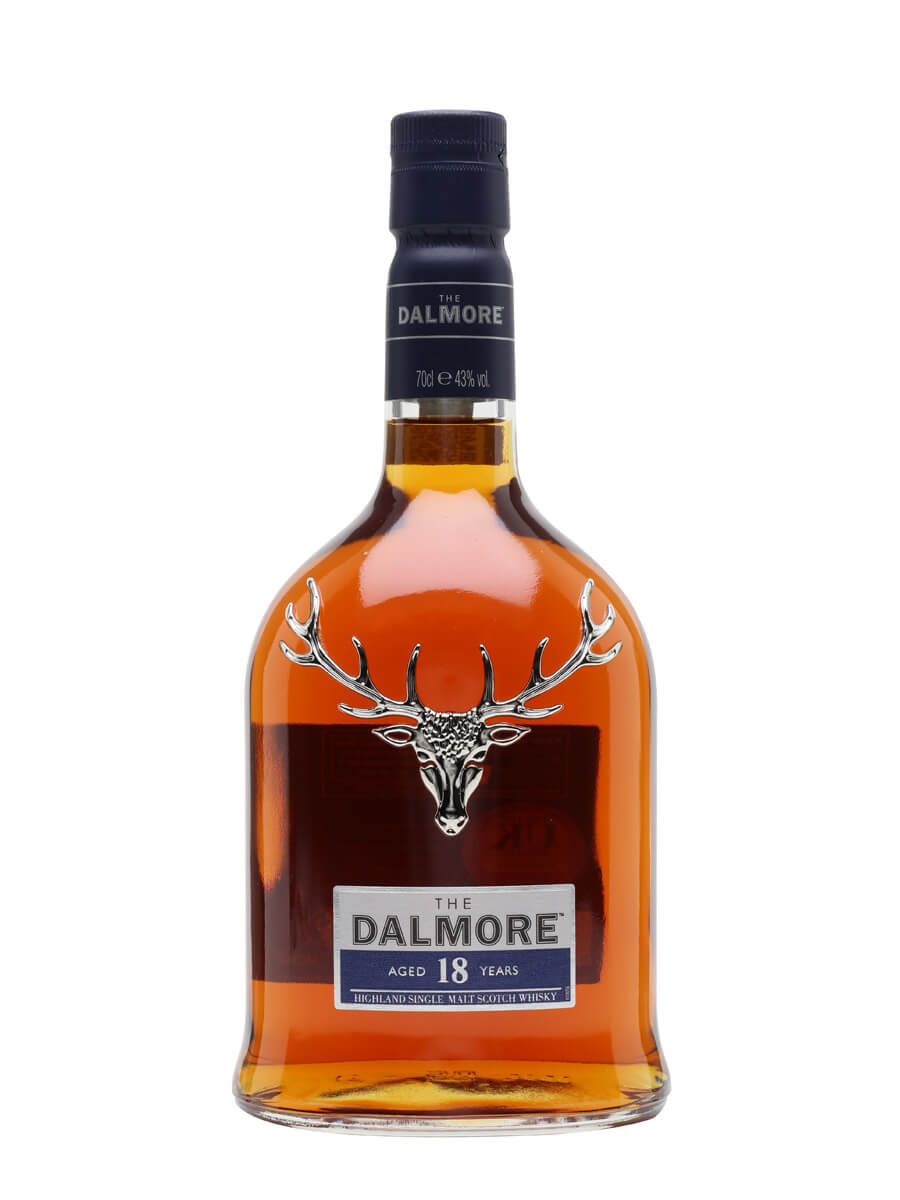 You must be aged 18 or above to buy alcohol in the UK
Not Available
This product is currently out of stock
Enter your email address below to be notified when this product is available.
Dalmore's trademark style is luscious notes of orange, chocolate and spices, and the 18 Year Old bottling is a terrific example. Aged in both bourbon and sherry casks, it has seductive notes of vanilla, dark chocolate and candied orange on the nose, followed by a full-bodied, spicy palate of cinnamon and stewed fruit.
Tasting Notes (1)
Flavour Profile
Style
Body

Richness

Smoke

Sweetness
Character
Vanilla

Cinnamon

Raisins

Orange

Dark Chocolate

Christmas Cake
Facts
Facts
Bottler

Distillery Bottling

Age

Country

Scotland

Region

Highland

Cask Type

Matusalem Sherry Butt Finish

Colouring

Yes
Tasting Notes
Tasting Notes
Tasting Notes from the Producer

Nose

Vanilla, dark chocolate, orange.

Palate

Dark chocolate, candied citrus fruits, rich coffee.

Finish

Citrus fruit, oak.
Customer Reviews
Reviews (29)
Reviews
3

Very smooth, but I have to say I prefer the younger bottles.

4

This is a good sherry bomb

5

I acquired a taste for whisky – and the ability to tell scotch varieties apart – quite late in life. As a relative newbie, therefore, one of the simplest dimensions of distinction is whether one is an Islay person or not. The Dalmore is definitely a whisky for those in the "not Islay" camp. I'd venture as far as to say it's the canonical non-Islay scotch. Not peaty or noticeably smoky at all, but still possessing the rich caramel, vanilla, toffee notes along with a mildly spicy touch. It is one of those rare expressions that starts smooth, stays smooth and finishes smooth. Now, smooth doesn't mean devoid of complexity. The 18 expression is sweeter and smoother than it's 15-year-old sibling, and it makes for a top notch pour over nothing. If you do feel compelled, though, add a cube of ice, not water. You want the perfectly balanced texture to be diluted gradually, not instantly. I read about some color being added or this not being non-chill filtered - doesn't matter much, to my palate at least. If there's further need to justify my rating, how about this - I first tried Dalmore 18 at a quaint restaurant in the Highlands during my trip to Scotland and fell in love with it; when I returned States-side I realized it costs at least twice if not more as it costs in the UK. Therefore, even with shipping included, I get a better deal at Whiskey Exchange than anywhere local (assuming it's even available). I rate this scotch five stars because it's so good I am willing to pay international shipping for it. Go ahead, get this, pour yourself a wee dram (and then not a wee dram... And then 5 more). It'll be tomorrow morning when you're finally done, and you wouldn't be able to wait for the evening cigar or truffles all over again, just to pour one more.

4

Great Taste. Smooth to enjoy have it on the rocks. They do add a lil color so wanted to mention.

5

A perfectly balanced and smooth whiskey. Delicious flavour with just the right hint of smokeynes.
Disclaimer
Disclaimer
While we endeavour to provide full and accurate information on our website, there may be occasions where producers have updated their recipe or failed to provide full details of their ingredients and processes. This may affect factors including the product style and allergen information, and we would advise that you always check the label and not solely rely on the information presented here. If you are at all uncertain about a product then please contact our customer service team before purchase.
Good To Know
How we pack
Eco-friendly Packaging

Our boxes are made of 100% recyclable cardboard and our protective honeycomb paper wrap keeps your package safe and significantly reduces our need for plastic.

Flexible Delivery Options

We deliver to countries all over the world! You can also select express delivery, or pick a specific delivery date, at checkout.

Packed With Care

Our experienced warehouse team take great care with every order. As specialists in glass packaging they ensure that your items stay safe and secure in transit.
14-Day returns policy
We want you to be 100% happy with your order and it is our aim to ensure that all products supplied to all customers arrive in perfect condition. You have the right to cancel your order at any time without being charged for the goods ordered within 14 days of purchasing (other than for perishable or personalised products or those products that have been specified as non-returnable).