Hennessy Paradis Imperial Cognac
70cl / 40%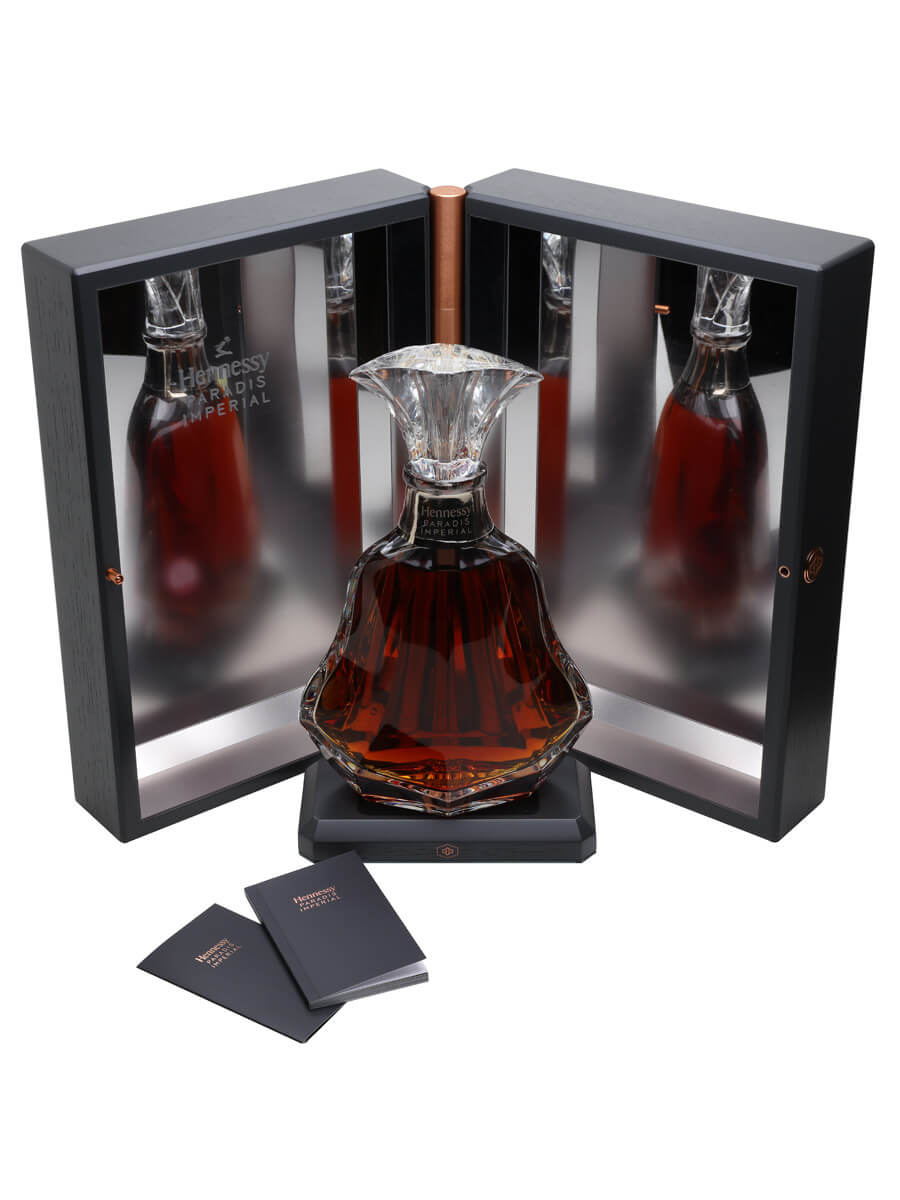 You must be aged 18 or above to buy alcohol in the UK
Not Available
This product is currently out of stock
Enter your email address below to be notified when this product is available.
Paradis Impérial is a blend of rare 19th- and 20th-century Cognacs inspired by the Cognac that the company created in 1818 for Tsar Alexander I as a present from his mother. It's packaged in an elegant crystal decanter designed by Stephanie Balini and features an 18-carat gold-plated label.
Tasting Notes (1)
Flavour Profile
Character
Clove

Cinnamon

Apple

Apricot

Butterscotch

Dried Fruit
Facts
Facts
Country

France

Colouring

Yes

Certification

Vegan

Sustainability

Sustainably Produced
Tasting Notes
Tasting Notes
Tasting Notes by Stuart P

Nose

Soft, rich and creamy, with woodspice, cinnamon and dried fruit to the fore. Then notes of butterscotch and roasted nuts arrive, along with soft, fruity touches of mango, menthol and green apple.

Palate

Rich and decadent, with plenty of weighty spice at first – cinnamon, clove and toasty oak – then softer notes of apricot and spring flowers. Lovely soft mouthfeel, and great balance.

Finish

The spices and toasty oak linger longest, softly fading in unison.

Comment

The skill in blending is obvious here, with delightful shades of light and dark, fruit and spice, floral and oak notes playing against each other.
Customer Reviews
Reviews (2)
Reviews
5

One of the best cognacs i've ever tasted

5

stunning
Disclaimer
Disclaimer
While we endeavour to provide full and accurate information on our website, there may be occasions where producers have updated their recipe or failed to provide full details of their ingredients and processes. This may affect factors including the product style and allergen information, and we would advise that you always check the label and not solely rely on the information presented here. If you are at all uncertain about a product then please contact our customer service team before purchase.
Good To Know
How we pack
Eco-friendly Packaging

Our boxes are made of 100% recyclable cardboard. Our special air-inflated packaging is both re-usable and recyclable, as well as efficient to both transport and dispose of.

Flexible Delivery Options

We deliver to countries all over the world! You can also select express delivery, or pick a specific delivery date, at checkout.

Packed With Care

Our experienced warehouse team take great care with every order. As specialists in glass packaging they ensure that your items stay safe and secure in transit.
14-Day returns policy
We want you to be 100% happy with your order and it is our aim to ensure that all products supplied to all customers arrive in perfect condition. You have the right to cancel your order at any time without being charged for the goods ordered within 14 days of purchasing (other than for perishable or personalised products or those products that have been specified as non-returnable).