TWE Exclusive
Arran 1996
17 Year Old
Distilled 11 December 1996
Bottled 9 June 2014
Single Sherry Hogshead #1996/2033
At the end of 1996, the Arran Distillery had been in full operation for just 18 months, but already their spirit was starting to turn heads in the whisky world. On 11 December, they filled an active sherry hogshead, and after 17 years we've been very fortunate to have them bottle it exclusively for The Whisky Exchange.
Each of the 245 bottles is individually numbered, and the whisky has been bottled at cask strength with natural colour and no chill-filtering.

Tasting Notes
This elegant sherried Arran is reminiscent of crème brûlée, with soft dried fruits and spice.
Unexpected soft floral notes intermingle with cinnamon, cloves and fruit-cake richness.
A lovely toasty oak note lingers under a layer of Arran's signature toffee-apple character.
Nose: Big aromas of dates, damson jam and stewed fruit with a refreshing hint of greengage, too, then the sweetness follows: custard tarts, fresh pastries, orange marmalade and dark chocolate.
Palate: More elegant than the nose would suggest; nevertheless, the rich fruit takes centre stage, supported by candied orange peel and a welcome clean backnote. Rich and mouthfilling texture.
Finish: Nutty spice and cocoa powder.
Comment: Amazing colour, heading towards PX Sherry territory. The perfect example of what a top-notch sherry cask can do to a whisky. So rich and alive, but refreshing, too.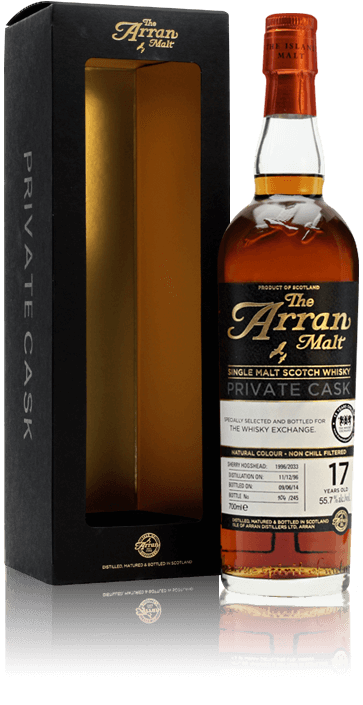 About Arran
Situated at the northern end of the island which gives its name, Arran Distillery is set in a striking location – sandwiched between the high ground of Torr Meadhonach and the sea by the village of Lochranza. Founded in the early 1990s, it is one of the first in the new wave of whisky distilleries that were built around the turn of the millennium.
Now well into its late teens, Arran's spirit is truly coming of age. With both peated and unpeated spirit, and finishes using everything from port and rum to Amarone and Pomerol wine casks, they continue to experiment and produce a range of excellent single malt whisky.