Glenmorangie Pride 1974
41 Year Old
Highland Single Malt Scotch Whisky
Distillery Bottling
100cl / 52%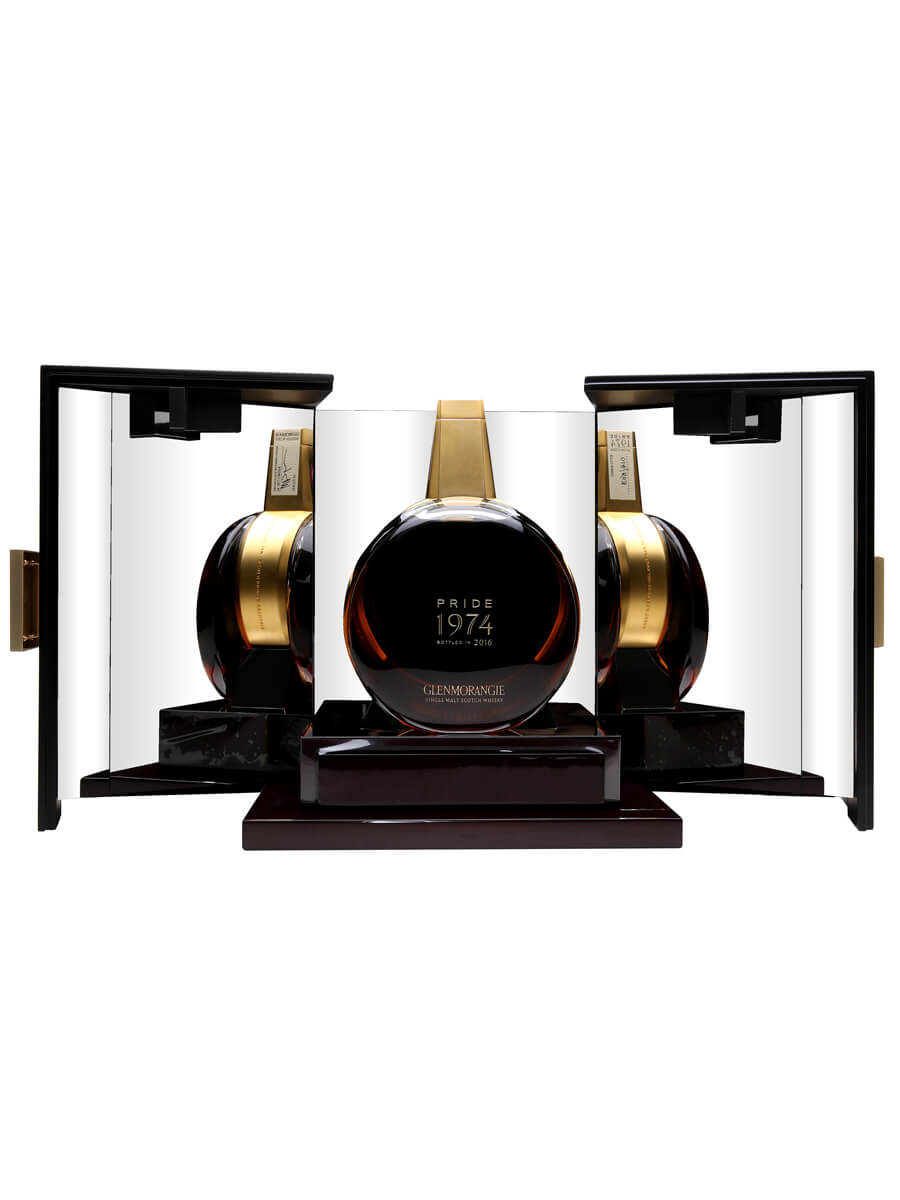 Not Available
This product is currently out of stock
Enter your email address below to be notified when this product is available.
This is the oldest official bottling from Glenmorangie, at 41 years of age. A marriage of whiskies aged in oloroso sherry and bourbon casks, this is rich and complex with notes of apple, orange, honey, toffee and clove.
Each of the 503 bottles is encased in a dramatic presentation box that features the same wooden finish as Steinway & Sons applies to its pianos. The Glenmorangie and Steinway partnership is an old and prestigious one, and to mark the creation of this very special whisky Steinway musician Aaron Diehl composed a new musical score that was premiered in New York at its launch.
Tasting Notes (1)
Facts
Facts
Bottler

Distillery Bottling

Series

Pride

Age

Vintage

Bottling Date

2016

No of Bottles

503

Country

Scotland

Region

Highland
Tasting Notes
Tasting Notes
Producer's Tasting Notes

Aroma

Salted caramel toffee and chocolate truffles dance with Turkish delight, rum-and- raisin ice- cream and a hint of aged balsamic vinegar, for a nose wonderfully deep and rich. Add a splash of water to conjure warm brioche, yeast flour, ginger-snap biscuits and gentle blood orange, followed by baked bread and cedar wood.

Taste

A soft, gentle mouthfeel leads to the astonishing vibrancy of baked apples, oranges, honey and menthol. Then toffee comes forth, balanced by molasses, double cream, spicy clove and aniseed.

Finish

Pecan nuts and leather mingle with fudge and creamy caffè latte, for an aftertaste that is lingering and gently soothing.
Disclaimer
Disclaimer
While we endeavour to provide full and accurate information on our website, there may be occasions where producers have updated their recipe or failed to provide full details of their ingredients and processes. This may affect factors including the product style and allergen information, and we would advise that you always check the label and not solely rely on the information presented here. If you are at all uncertain about a product then please contact our customer service team before purchase.
Good To Know
How we pack
Eco-friendly Packaging

Our boxes are made of 100% recyclable cardboard. Our special air-inflated packaging is both re-usable and recyclable, as well as efficient to both transport and dispose of.

Flexible Delivery Options

We deliver to countries all over the world! You can also select express delivery, or pick a specific delivery date, at checkout.

Packed With Care

Our experienced warehouse team take great care with every order. As specialists in glass packaging they ensure that your items stay safe and secure in transit.
14-Day returns policy
We want you to be 100% happy with your order and it is our aim to ensure that all products supplied to all customers arrive in perfect condition. You have the right to cancel your order at any time without being charged for the goods ordered within 14 days of purchasing (other than for perishable or personalised products or those products that have been specified as non-returnable).