Kavalan Vinho Barrique 2012
TWE Exclusive
Taiwanese Single Malt Whisky
Distillery Bottling
70cl / 53.2%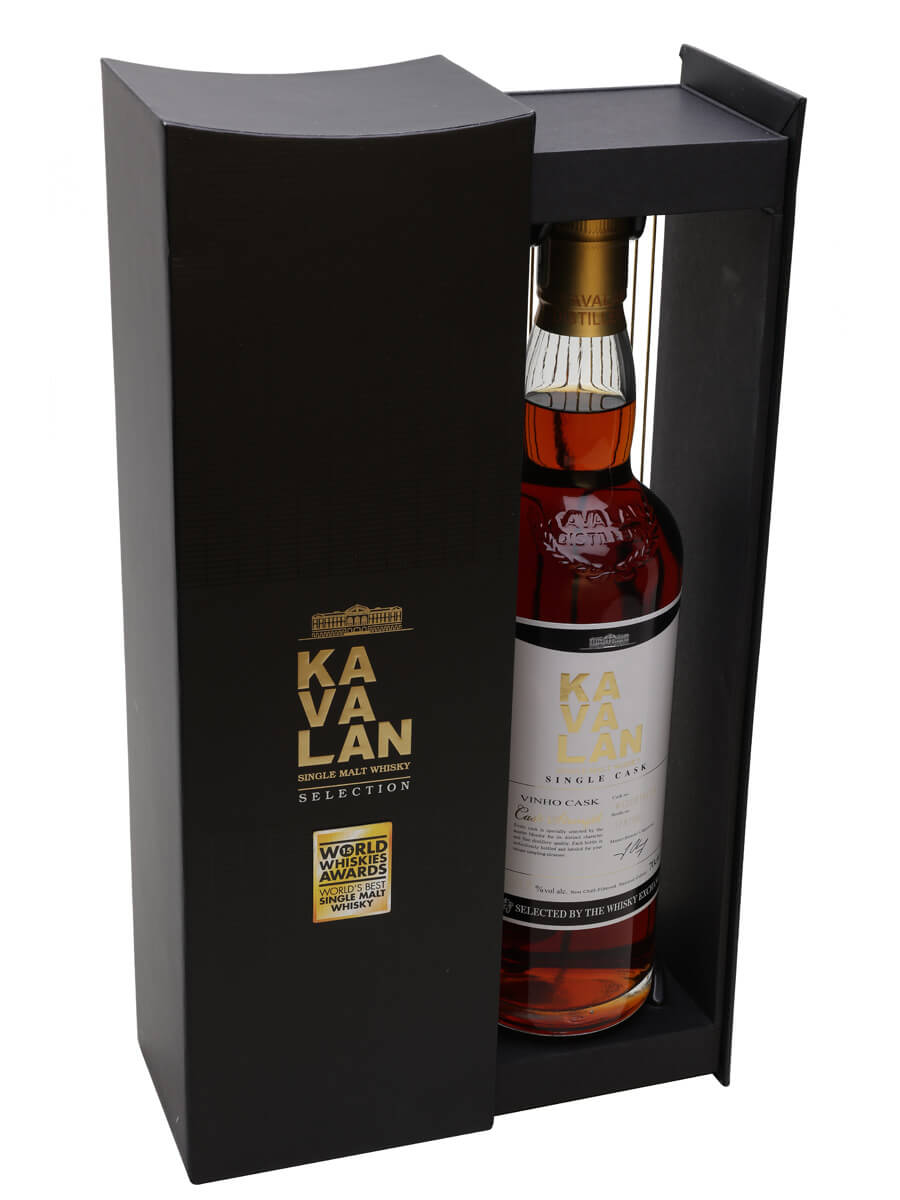 You must be aged 18 or above to buy alcohol in the UK
Not Available
This product is currently out of stock
Enter your email address below to be notified when this product is available.
A cask-strength, single-cask Kavalan distilled in June 2012, aged entirely in a wine barrique and bottled in 2018, exclusively for The Whisky Exchange. The resulting whisky is a full-on wine cask experience, with layers of rich dried and berry fruit complimented by sweet apple, spice and a touch of the tropical.
Tasting Notes (1)
Facts
Facts
Bottler

Distillery Bottling

Age

Vintage

Bottling Date

October 2018

No of Bottles

180

Country

Taiwan

Cask Type

Wine Barrique

Cask Number

W120614028

Chill Filtered

No

Colouring

No
Tasting Notes
Tasting Notes
Tasting notes by Billy Abbott

Nose

Danish pastries with wine-soaked raisins to start. Baked apples drizzled with toffee sauce follow, along with rich lardy cake packed with soft brown sugar. Caramel shortbread develops, heavy on the caramel, with cherry jam, spiced butter and a touch of chamois leather. Char notes hide underneath, gentle and balancing the brown-sugar sweetness.

Palate

A punch of liquorice and blackcurrant leads to dry, toasted spice – cinnamon sticks, cloves and a smashed nutmeg. Tannic berry skins build, with spiced shortbread, black treacle and richly-flavoured maraschino cherries. Dried mango and spicy baked apples pop up at the back squashed on toasted black bread and sprinkled with crushed, spicy speculaas biscuits.

Finish

Liquorice and char linger, with sweet apple and spiced sponge cake fading in and out.

Comment

A full-on Kavalan with a big sherry-like wine cask giving stacks of berry and dried fruit character. Intense and intimidating as it is, Kavalan's fruity spirit still shines through, with apple and mango uncowed.
Customer Reviews
Reviews (1)
Reviews
5

Think rich and juicy, with chocolate spices and licorice, sultanas galore and a nice punch.
Disclaimer
Disclaimer
While we endeavour to provide full and accurate information on our website, there may be occasions where producers have updated their recipe or failed to provide full details of their ingredients and processes. This may affect factors including the product style and allergen information, and we would advise that you always check the label and not solely rely on the information presented here. If you are at all uncertain about a product then please contact our customer service team before purchase.
Good To Know
How we pack
Eco-friendly Packaging

Our boxes are made of 100% recyclable cardboard. Our special air-inflated packaging is both re-usable and recyclable, as well as efficient to both transport and dispose of.

Flexible Delivery Options

We deliver to countries all over the world! You can also select express delivery, or pick a specific delivery date, at checkout.

Packed With Care

Our experienced warehouse team take great care with every order. As specialists in glass packaging they ensure that your items stay safe and secure in transit.
14-Day returns policy
We want you to be 100% happy with your order and it is our aim to ensure that all products supplied to all customers arrive in perfect condition. You have the right to cancel your order at any time without being charged for the goods ordered within 14 days of purchasing (other than for perishable or personalised products or those products that have been specified as non-returnable).