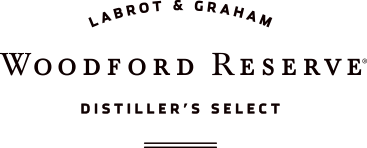 L&G
Woodford Reserve
Distiller's Select Kentucky Straight
Bourbon Whiskey
Rich and full-bodied, Woodford Reserve is a delicious bourbon, triple distilled for extra smoothness, and loaded with notes of dried fruit and sweet spice. Ideal served as a digestif after dinner, on the rocks, or as the basis for a cocktail.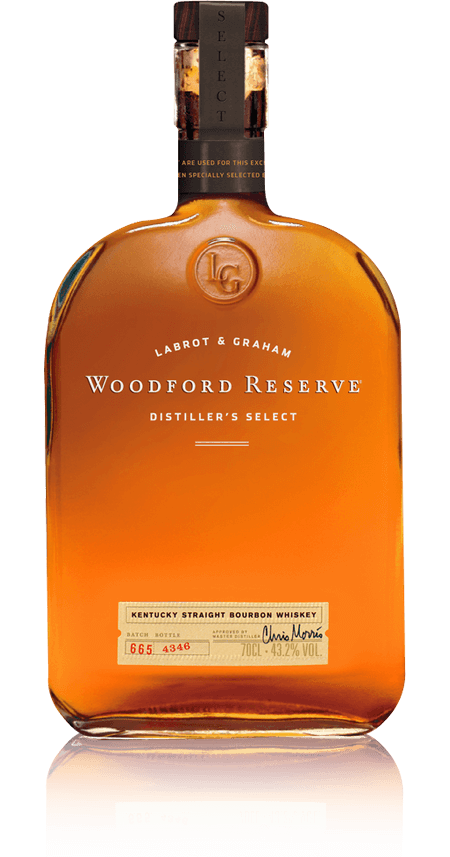 Tasting Notes
Appearance: Clean, brilliant honey amber.
Nose: Heavy with rich dried fruit, hints of mint and oranges covered with a dusting of cocoa. Faint vanilla and tobacco spice.
Taste: Rich, chewy, rounded and smooth, with complex citrus, cinnamon and cocoa. Toffee, caramel, chocolate and spice notes abound.
Finish: Silky smooth, almost creamy at first with a long, warm satisfying tail.
Nose: Rich aromas of cinnamon and nutmeg, with fresh mint running underneath. Then cookie dough, brioche and honey, along with apricots and sultanas, a touch of vanilla and candied citrus peel.
Palate: Great balance between sweet fruit, toasty oak and warm spices. Juicy sultanas, cinnamon-dusted pastries and Demerara sugar, freshened up with mint and caraway seed. Deliciously soft mouthfeel.
Finish: The soft dried fruit and sweet spice linger in harmony.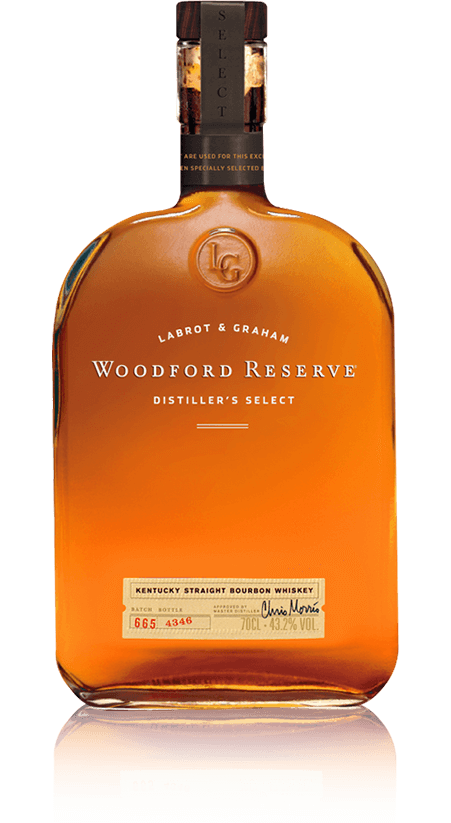 About
Woodford Reserve
Labrot & Graham distillery has been the home of Woodford Reserve since 1996, but distilling has been taking place on site since 1780 – the current building was erected in 1838. The ever-popular Distiller's Select is the mainstay of the Woodford Reserve range, but the limited-edition Master's Collection bottlings have proved very popular with whiskey fans.
Woodford Reserve Reviews
77 Customer Reviews
Tried it. Did the Micheal Doubl?. Got no connotations of mint or ginger. Side by side with Monkey Shoulder, I think this time it's the Woodford Reserve that gets the cold shoulder.....

I've always loved top shelf bourbons, this is smooth and an enjoyable to hve after work or with a nice big steak!!

I recently tied this and boy was i surprised. I wish i had not. Now the other bourbons i used to like a great deal; ie. Jack, jim knobb even my old fav makers mark dont stand a chance. Sad and true i love the finish a slight sweetness on the back of the toungue. Quick fiery begining then transforms thru a wave of fading notes n tones with a tingling on the lips signsture of a good bourbon. Awsome is the word!

This is my "decanter whiskey" at home. It always impresses me and any guests I might serve. A very full bourbon that makes other whiskeys in this price range seem more like diet RC Cola. Not a dram that you need to search for tasting notes, they present themselves without fear. If you haven't left the plastic bottle "bourbons" behind yet....it's time my friend.

Excellent

Smooth, hints of fruit with a nice spicy kick. Love to drink a two finger measure with two ice cubes to,bring out the initial sweetness. Worth the money. This is a great bourbon.

Had this delicious bourbon with ginger ale loved it ....

Smooth bourbon - just add a single cube of Ice to enjoy good sipping or a dash of ginger for a tasty mixed

Extremely drinkable, very smooth and easy to drink; lovely flavour too.

This is hands down my go to bourbon if I want to get something on a budget of 30-35. My favourites are Blanton's Gold and Four Roses Single Barrell (in that order) but WR isn't far behind, and for the price difference it's saying a lot for WR. It's just a great example of a really good all round classic bourbon. Robust flavours of caramel, vanilla and cherries and a lovely 'chewy' aroma and taste. And by the way, Jack Daniels is not a bourbon; it's a Tennesy whiskey.

A friend served me some of her Woodford Reserve, and I nearly finished off her bottle! Smooth & neat ,with a hint of fruits & spices, I'm totally hooked.

Wonderful in every way. Smells fruity and has a great natural sweetness to it. It's also nice and mellow. Perfect neat whiskey.

Has alittle more robust flavor than my tried and true drink the dbl oak . Overall still one of the best bourbons out there .far more superior than the common ones.. way to go guys!!!

Having been a JD drinker for a couple of years I decided to have a go at other Bourbon, came across this and wow, stunning had it with an old fashioned cocktail, my new favorite tipple, a bottle sitting nicely now in my cupboard ready for the new year, being a Scott I better not say to much, however JD is now off the menu

Very nice Has a bit of bite

I love this whisky.far better than jack Daniels, Jim beam, even lovely than makers mark.cheers to wood ford reserve

Very smooth and so easy to drink! My favourite bourbon, and I've tried nearly them all, but keep going back to Woodford reserve!!

Excellent!!! Would make a great Christmas present

This is one of the best sipping bourbons around. Nose, palate and finish are just a but under Blanton's Single Barrell but WELL above Jim Beam, Jack Daniels and all other common mid-shelf bourbons. It is readily available and priced to fit any budget. Along with Blanton's, W.L. Weller 12 and Elmer T. Lee, this is true top-shelf bourbon. Give it a try with a good cigar-------you'll NOT be sorry.

Fine scotch whisky is a beautiful experience, whether it's peaty mellow flavour you prefer as I do, or the full on hairy chested granite infused rocket fuel. The fact is they need to be sipped with an accompanying Cuban cigar after a fine game meal enjoyed with a full bloodied merlot or naughty French Sauvignon. Bourbon however is the whisky you neck back on a night out, it's raw, it's raucous, it's a loud mouthed American burger munching uncouth libation........or is it? This bourbon has certainly broken the mould. It's smokey and smooth, it's Aretha Franklin, Etta James and Billie Holiday backed by the Vienna Philharmonic orchestra.......if you've ever tried No7 or Jim Beam this is a Lamborghini compared to a Lara. Six stars I'm converted for sure........sadly I'm now looking at an empty bottle.
Show 67 more reviews