Nikka Taketsuru 17 Year Old
70cl / 43%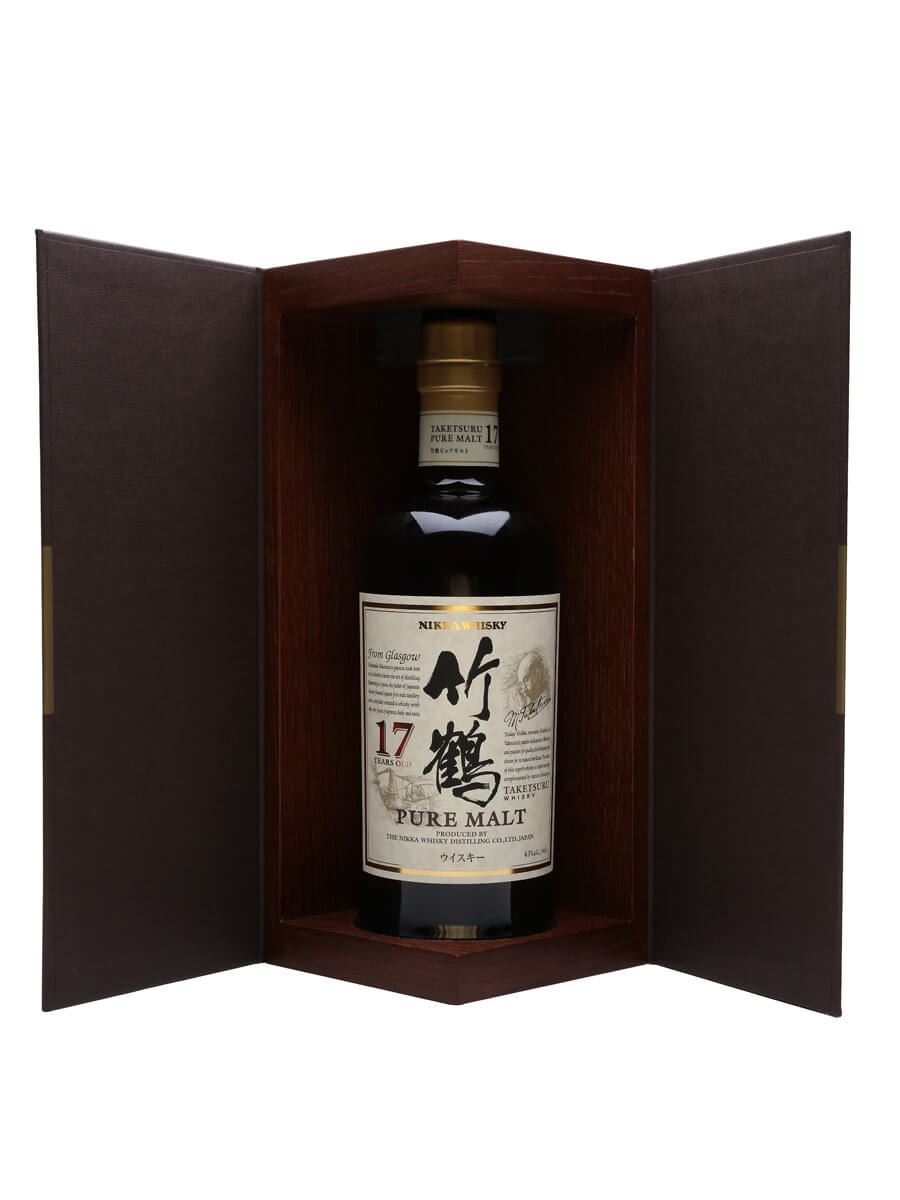 You must be aged 18 or above to buy alcohol in the UK
Not Available
This product is currently out of stock
Enter your email address below to be notified when this product is available.
Another winner from Nikka's Taketsuru range. This was named for the founder of the company, Masataka Taketsuru and is a big, bold full-bodied vatted whisky of truly exceptional depth, grace and balance.
Tasting Notes (6)
Flavour Profile
Style
Body

Richness

Smoke

Sweetness
Character
Brine

Honey

Acetone

Leather

Tobacco

Dried Fruit
Facts
Facts
Age

Country

Japan

Colouring

Yes
Tasting Notes
Tasting Notes
Tasting Notes by Mark Gillespie, World Whiskies Awards 2012

Dried fruits, tobacco, leather, honey. The palate is dry and spicy with cinnamon, honey leather, and liquorice notes. Spicy and lingering.

Tasting Notes by Tim Forbes, World Whiskies Awards 2012

Dry smoke and syrup, some soot. Bonfire palate with lovely sweet edges, leather and oak. Some pepper, dried kelp, wet earth and sea spray.

Tasting Notes by Joel Harrison, World Whiskies Awards 2012

Freshly brewed oolong tea, warehouse floor, truffles on the nose. Palate gives balanced blood orange, meaty BBQ steak and wood spice.

Tasting Notes by Charlie MacLean, World Whiskies Awards 2012

A complex array of scents - fruits, turpentine and polish. Slightly minty with water. Sweet, rounded and pleasant.

Distributor's Tasting Notes

A tropical nose with a touch of cherries and baked apples and a little toffee and smoke as it broadens. Starts sweetly on the palate but soon the spice and oak kick in with heavier emphasis and the balance is maintained by the roundness and the touches of vanilla and mocha on the finish.

Tasting Notes by Dave Broom

Nose

Clean, with layered tropical fruit. Eucalyptus, red fruit, vanilla. Oak. Good weight and breadth.

Palate

Oily, fruity and juicy. Almost Irish. Firm with obvious oaken structure but sufficient sweetness (cocoa, liquorice, vanilla) to carry.

Finish

Lightly gripping.

Comment

Images of a weather-beaten oak. Mature, but sweet-hearted.
Customer Reviews
Reviews (5)
Reviews
5

Liquid gold....

5

If there was a God and he drunk whiskey, this would be in his cabinet.

Lots of spices, wood and some dried figs. Full bodied, for sure. Nice and complex, but for this price level there is lots of nice competitors..

This is a ravishing powerhouse of a whisky that is well-crafted, impactful, and yet smooth and elegant. Way too complex to be Irish whiskey, which to my palate is easy drinking but flat. This is meaty, smoky, fatty and much more like an Islay (if comparison must be made). The 17 year is the best example, to my mind, as the 21 is much more subdued and less, well, gnarly. Enjoy it neat, water back.

Great in Old Fashioned. Great character,lovely floral nose
Disclaimer
Disclaimer
While we endeavour to provide full and accurate information on our website, there may be occasions where producers have updated their recipe or failed to provide full details of their ingredients and processes. This may affect factors including the product style and allergen information, and we would advise that you always check the label and not solely rely on the information presented here. If you are at all uncertain about a product then please contact our customer service team before purchase.
Good To Know
How we pack
Eco-friendly Packaging

Our boxes are made of 100% recyclable cardboard and our protective honeycomb paper wrap keeps your package safe and significantly reduces our need for plastic.

Flexible Delivery Options

We deliver to countries all over the world! You can also select express delivery, or pick a specific delivery date, at checkout.

Packed With Care

Our experienced warehouse team take great care with every order. As specialists in glass packaging they ensure that your items stay safe and secure in transit.
14-Day returns policy
We want you to be 100% happy with your order and it is our aim to ensure that all products supplied to all customers arrive in perfect condition. You have the right to cancel your order at any time without being charged for the goods ordered within 14 days of purchasing (other than for perishable or personalised products or those products that have been specified as non-returnable).