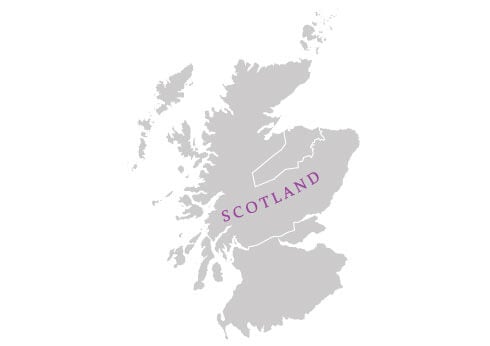 Grain Scotch Whisky
Single malts get the headlines, but they almost certainly wouldn't exist without grain whisky – essential to the creation of the blended Scotch brands which are the backbone of the industry. The vast majority of grain whisky goes into blends, but there are a small (and growing) number of specialist grain bottlings.
A continuous process
You make grain whisky by cooking up unmalted cereal grains – wheat or maize, but typically wheat these days – and then combining them with some malted barley to help kick-start fermentation.
Distillation is carried out using the continuous patent still process, a method pioneered and refined in the 19th century. Apart from the obvious efficiencies of this being a continuous process – in contrast to single malt distillation, which happens in batches – the aim here is produce a spirit high in alcohol and light in character.
What about the flavour?
If this makes grain spirit sound neutral and unexciting, that's unfair. The rules governing Scotch whisky production stipulate that grain whisky must keep some flavour from its raw materials, and different grain distilleries – like their malt cousins – produce different styles. With practice, you can tell your Cameronbridge from your North British or your Girvan.
Add in oak maturation, typically in first-fill former Bourbon casks, and you have a gentle, often fruity and sweet whisky which at its best acquires a refined, velvety character as it ages.
Grain's new wave
Bottlings from the big grain distilleries, whose main role remains to feed the vast blended Scotch whisky industry, have long been bottled and sold, mostly as curiosities to pique the interest of the whisky enthusiast. But things are changing.
Scotch whisky iconoclasts Compass Box's blended grain whisky Hedonism (you can blend grains from different distilleries in a similar way to blended malts) has been a favourite for several years, while fellow blended grain Snow Grouse, unusually designed to be drunk cold, is a good introduction to the world of grain.
And now William Grant, owner of the Girvan grain distillery, has gone further by producing its own range of aged single grain whiskies, including an NAS bottling and a distinctly high-end 25-year-old. Exciting times – at last – for grain whisky.
Did you know?
malted barley

, so vital to single malt production, is crucial to grain, too. Mixed with unmalted cereal grain, its enzymes help get fermentation going
in theory, you could use

any

cereal for grain whisky production – maize, wheat, oats or rye – but these days wheat has replaced maize as the chosen crop
Loch Lomond Distillery is the

only one

in Scotland to combine single malt and grain production on one site – and combines the two to produce a whisky it calls a 'single blend'
Typical Character and Style of Grain Scotch Whisky
Toffee

Butterscotch

Toast
The Grain Scotch Whisky region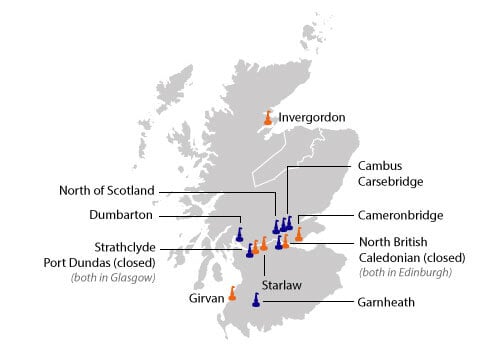 Close