Shirakawa 1958
Japanese Single Malt Whisky
70cl / 49%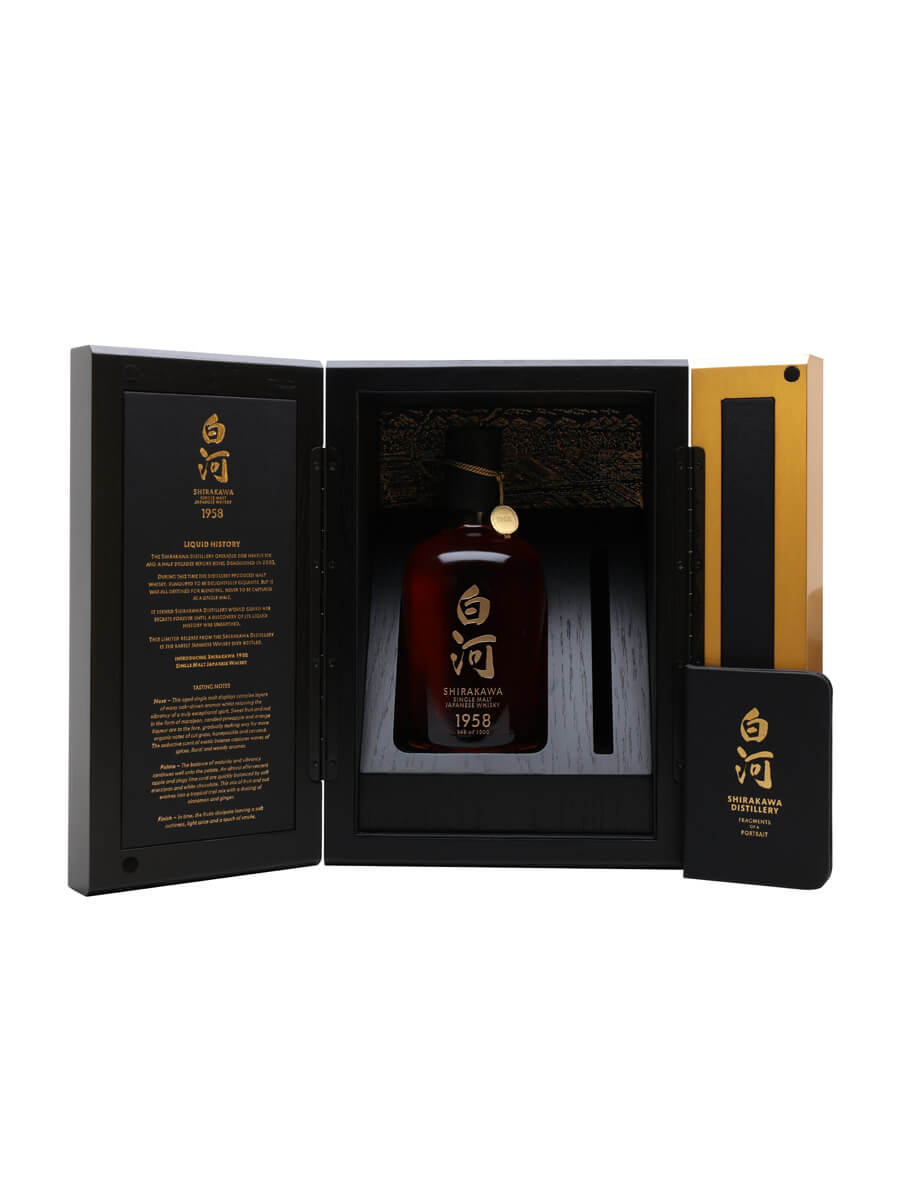 FREE UK Mainland standard delivery
In Stock
£25,000
£20,833.33 ex VAT
(£35,714.29 per litre)
You must be aged 18 or above to buy alcohol in the UK
Estimated Delivery
Express delivery

(Choose a day)

From £6.95

Standard delivery

(UK Mainland)

Free

Click & Collect

(Mon-Fri 10am - 5pm)

Free
Shirakawa Distillery was built in the Fukushima Prefecture in 1939 and demolished in 2003. In 1951 it became one of the first distilleries in Japan to produce malt whisky and it continued to do so uninterrupted until 1969.
In 2019, Single Malt Whisky from Shirakawa Distillery was discovered in a stainless steel tank, which had lain forgotten in one of its parent company's warehouses for decades. This 1958 release is the earliest-known single vintage Japanese whisky ever bottled.
Each bottle of this historic single malt is presented in a beautiful gold and blackened wood box which opens to reveal the whisky bathed in the glow from a golden background. There is a wealth of beautiful detail to discover, from the multiple nods to Japanese tradition to the illustration based on a rare photograph of Shirakawa distillery in its heyday.
Tasting Notes (1)
Flavour Profile
Character
Mint

Grass

Lemon

Resin

Wax
Tasting Notes
Tasting Notes
Dave Broom, whisky writer

Nose

Resinous, slight dry earth, dried citrus peels, a hint of wax. Aromatic. A drop of water makes it more vibrant and also shows clear maturity as well as a hint of incense. Exotic.

Palate

The palate is expansive with a succulent texture and hints of fragrant grass. Fruits emerge in the middle. Layered, spiced, and dry. Water brings out ash from an incense burner, a satisfying mouthfeel and surprisingly perky acidity.

Finish

Nicely balanced and persistent on the finish which picks up mint flavouring and makes it more camphor-like.
Customer Reviews
Reviews (1)
Reviews
5

It is definitely a refined and luxurious whiskey. It is also quite different in that the nose is more exotic than fruity. In the perfume world nose is roughly split between floral aromas, rose, lavender etc and exotic musk resinous, sandalwood or spice. The 1958 is out and out exotic, musky and just a touch of lemon. It benefits from a touch of water to open up those exotics but when it does, oh yes, wonderful.
Disclaimer
Disclaimer
While we endeavour to provide full and accurate information on our website, there may be occasions where producers have updated their recipe or failed to provide full details of their ingredients and processes. This may affect factors including the product style and allergen information, and we would advise that you always check the label and not solely rely on the information presented here. If you are at all uncertain about a product then please contact our customer service team before purchase.
Good To Know
How we pack
Eco-friendly Packaging

Our boxes are made of 100% recyclable cardboard. Our special air-inflated packaging is both re-usable and recyclable, as well as efficient to both transport and dispose of.

Flexible Delivery Options

We deliver to countries all over the world! You can also select express delivery, or pick a specific delivery date, at checkout.

Packed With Care

Our experienced warehouse team take great care with every order. As specialists in glass packaging they ensure that your items stay safe and secure in transit.
14-Day returns policy
We want you to be 100% happy with your order and it is our aim to ensure that all products supplied to all customers arrive in perfect condition. You have the right to cancel your order at any time without being charged for the goods ordered within 14 days of purchasing (other than for perishable or personalised products or those products that have been specified as non-returnable).