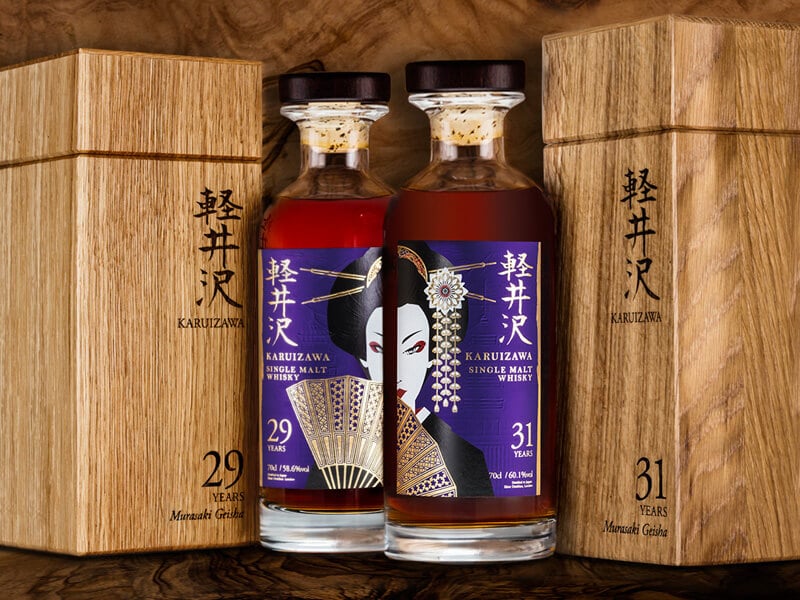 The Imperial
Purple (Murasaki) Geishas
Bottled by Elixir Distillers exclusively for The Whisky Exchange
Karuizawa's whiskies are legendary, and with good reason. The product of impeccable attention to detail and the felicity of an unmatched maturation climate, they are now widely acknowledged as some of the best whiskies ever produced. Unfortunately the distillery's closure almost 20 years ago means that very few people can now experience them, which is why we are allocating these rare whiskies via ballot.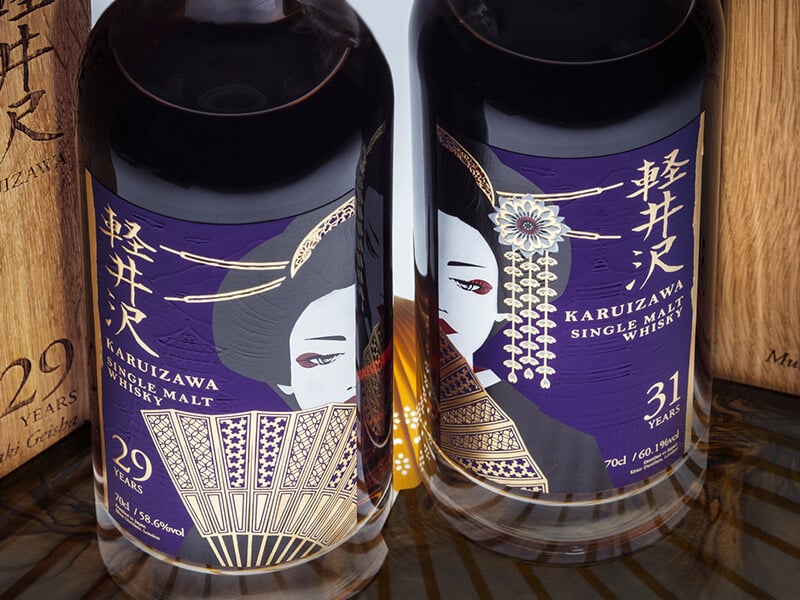 The Imperial
Purple Geishas
The Karuizawa Geishas series was created to bring the hidden beauty of the geisha to life. Often profoundly misunderstood, often written off as the product of a bygone age, the artistry of the geisha – much like that of Karuizawa – is manifestly worth celebrating. The labels, designed by our creative director Raj Chavda, pay homage to the exquisite, inaccessible beauty of the meiko on her way to become geisha.
Imperial Purple, or murasaki in Japanese, is a nod to the innate majesty that is geisha. Our Murasaki Geishas are two single malts that were both distilled in the early 1980s and transferred into demijohns when we felt they had reached the peak of perfection. They now take their fitting place in our Karuizawa Geishas series.

29 Year Old

31 Year Old
With only 60 of each bottled, we will be allocating this exquisite whisky by ballot.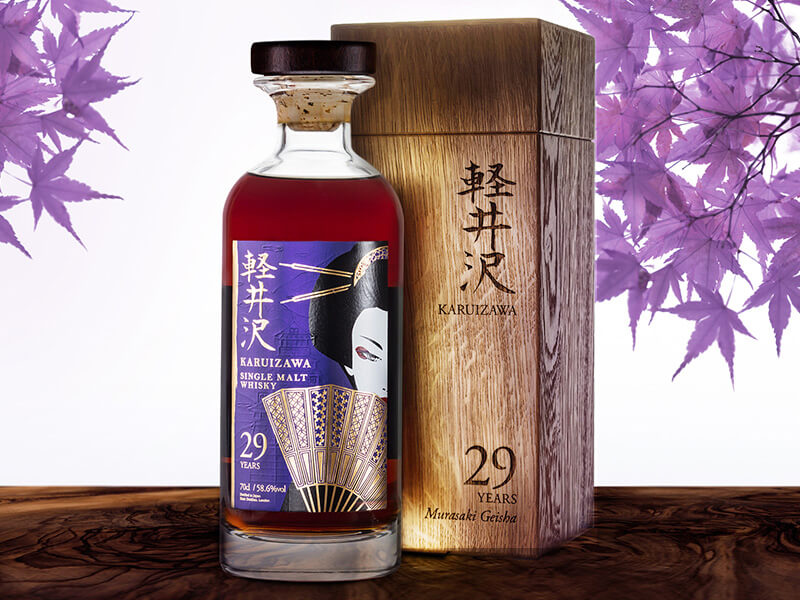 29 Year Old
Sherry Cask
£6,000
(£8,571.42 per litre)
Tasting Notes by Billy Abbott
THE WHISKY EXCHANGE
Nose

Incense, polished oak and a touch of dusty library - old and full of complexity. Stone fruit notes develop: peach pie and dried apricots. Rich, dark fruitcake lies beneath, with raisins, dates and thick, bittersweet molasses.

Palate

Jucy and mouth-watering. Sultanas, raisins, stewed apples, peaches, pears and the apricots from the nose wash across the palate. Darkness follows: sticky liquorice, more fruitcake, singed raisins and a touch of barrel char. Clove-studded oranges appear, spicy, rich and juicy.

Finish

Brown sugar, nutmeg and cinnamon toast. Stewed apples and sultanas remain.

Comment

Rich dark and fruity, with a balance of fresh and sherry-cask fruit character.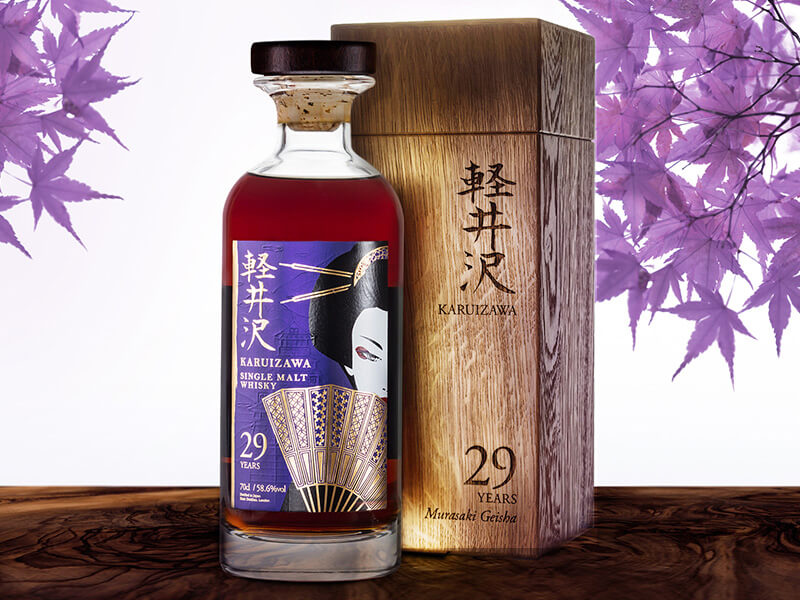 31 Year Old
Sherry Cask
£6,000
(£8,571.42 per litre)
Tasting Notes by Billy Abbott
THE WHISKY EXCHANGE
Nose

Lardy cake: layers of bread, spice, brown sugar and umami richness. Umami richness. Citrus boiled sweet notes develop: lemon and lime with a touch of sour orange. A hint of gummi jelly leads to a deep pool of spice: cinnamon allspice, clove, nutmeg and candied ginger.

Palate

Thick dark and sweet to start. Salted caramel and liquorice sticks with demerara-sugar-dusted apples and a spoon of winter-berry compote. The demerara provides a sweet base that balances more savoury notes of mushroom, forest floor and barrel char.

Finish

Savoury rancio notes fade to reveal dark sugars.

Comment

More old-fashioned in style than the 29, with savoury flavours taking the fore, carefully balanced by sweet fruit.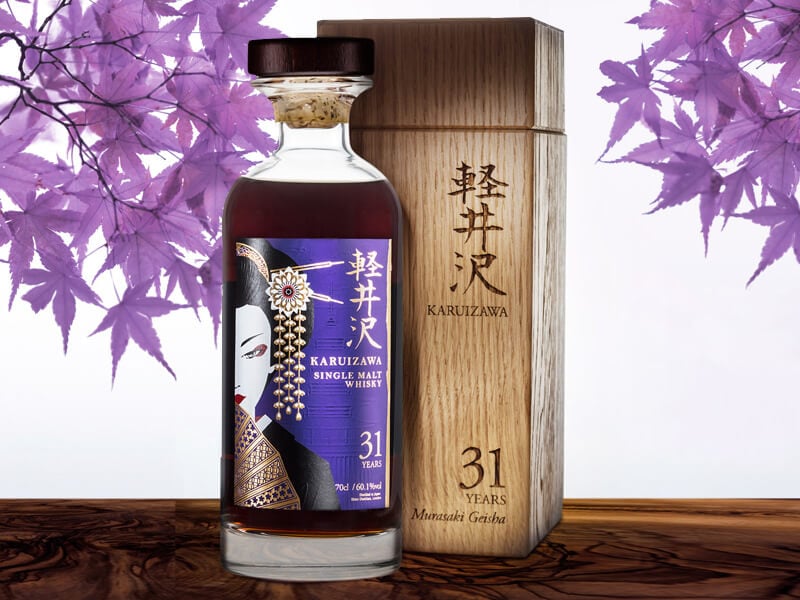 The Ballot
The ballot for The Karuizawa Imperial Purple Geishas is now closed. If you have already entered, we will let you know whether you were successful as soon as possible.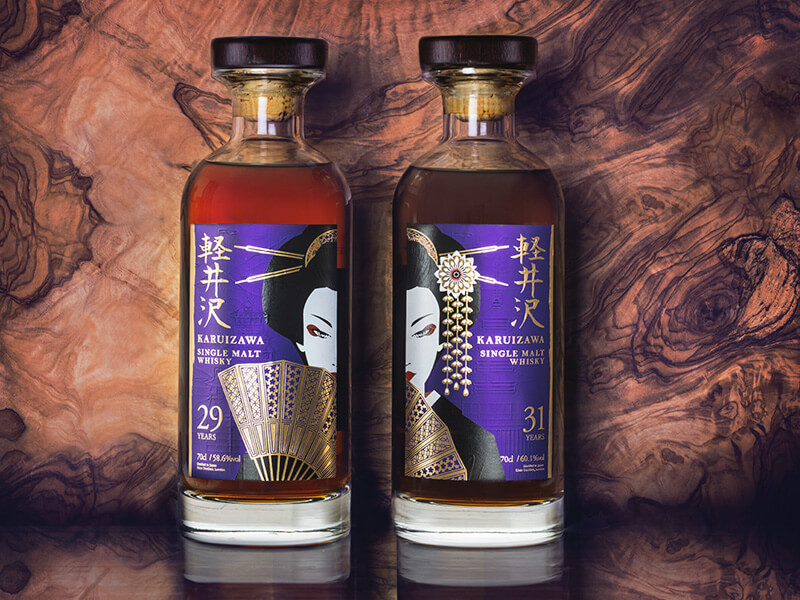 Prooftag
Fake bottles of rare whisky and spirits do occasionally appear on the market. It is therefore important for you to be 100% sure your bottle is genuine and contains the liquid stated on the label. The Whisky Exchange and Elixir Distillers are working with Prooftag to ensure this.
Already used in the wine industry, the Prooftag Bubble Tag™ is a unique bottle seal that allows you to authenticate your whisky. No two tags are alike, and the combination of a code and uncopiable features means that you can check online that your bottle is real. Bottle authentication and more information can be found on the Elixir Distillers website.
Terms and Conditions
winners of the Karuizawa ballot will be automatically be charged for one bottle (£6,000) plus any relevant delivery fees
each winner can only purchase one bottle - once a person's name has been drawn as a winner, they will not be drawn as a winner for the other bottle
only one entry per bottle per person. Multiple entries will be ignored
the ballot will close at 23.59 GMT on Sunday 28 October 2018
the draw will take place after Monday 29 October 2018
ballot winners will be contacted with confirmation of purchase
those unsuccessful in the ballot will receive confirmation that they have not been selected
entering the ballot will add you to our mailing list. You will have the opportunity to unsubscribe whenever we send you an email.

For full TWE terms and conditions, please click here.

Other terms and conditions may apply.