Diplomatico Ambassador
Single Traditional Pot Rum
70cl / 47%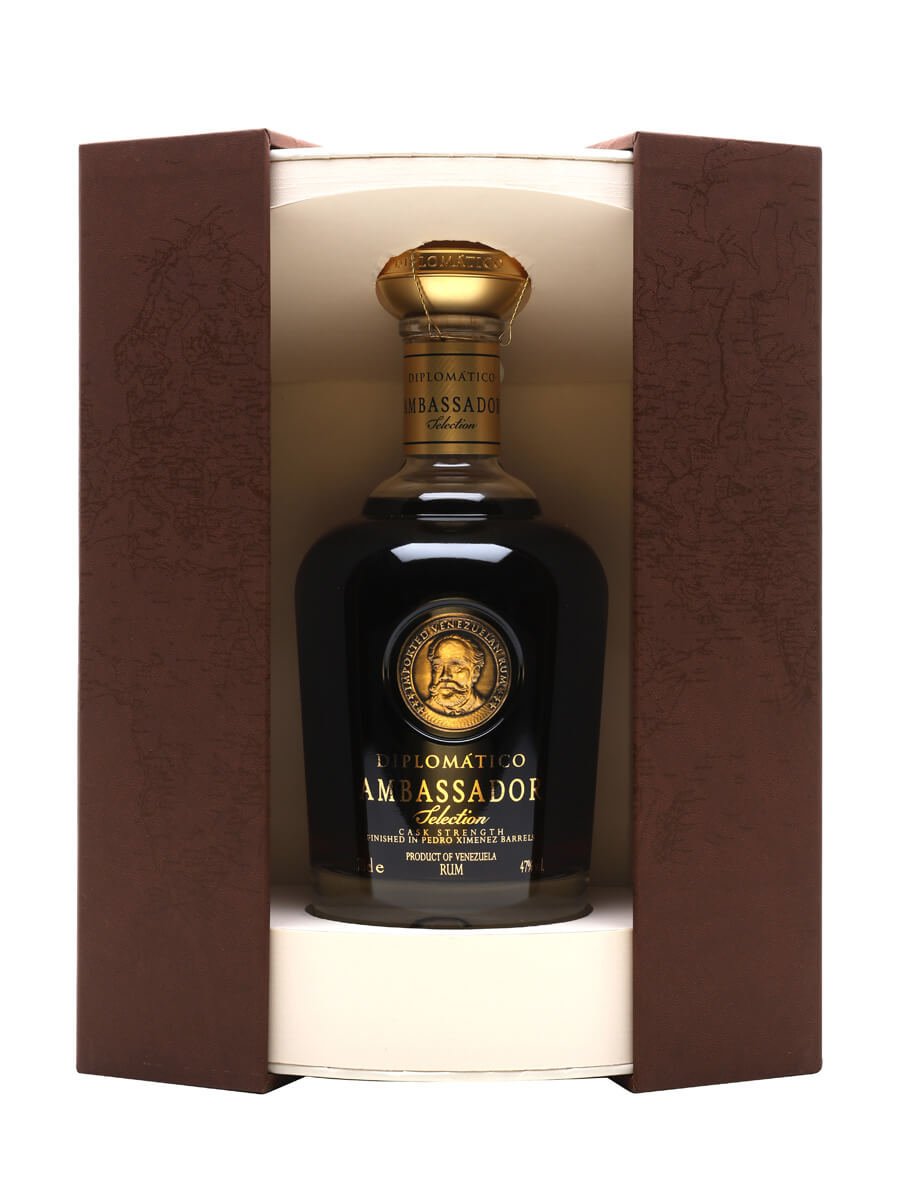 FREE UK Mainland standard delivery
In Stock
£235
£195.83 ex VAT
(£335.71 per litre)
You must be aged 18 or above to buy alcohol in the UK
Estimated Delivery
Express delivery

(Choose a day)

From £6.95

Standard delivery

(UK Mainland)

Free

Click & Collect

(Mon-Fri 10am - 5pm)

Free
Created by award-winning Master Blend Tito Cordero, Ambassador is the star of Diplomatico's collection. Matured in ex-bourbon barrels and finished for a couple of years in Pedro Ximénez cask, this is a rich, fruity rum with notes of warm spices, tobacco leaves and dates.
Tasting Notes (1)
Flavour Profile
Character
Liquorice root

Cinnamon

Raisins

Apricot

Banana

Toffee
Facts
Facts
Country

Venezuela

Style

Plain

Type

Molasses

Colouring

Yes
Tasting Notes
Tasting Notes
Tasting notes by Billy A

Nose

Rich raisins, stewed apricots and soft brown sugar are balanced by drying woody tannins hinting at recently emptied cigar boxes.

Palate

Rich and sticky, with more raisins, cinnamon butter and caramelised bananas shot through with soft caramel which holds it all together.

Finish

Lingering hints of liquorice root and dark sugars sweetened up by light sugar syrup.

Comment

A rum that shows the power of good cask management – an excellent selection of well-matured rums, blended by a master and finished in high-quality PX casks to add depth and complexity to an already impressive spirit.
Customer Reviews
Reviews (6)
Reviews
5

Incredible rum, the best I've tried.

5

Having started out with the Reserva and progressed to the 2002 Single Vintage, I purchased a bottle of the Ambassador as a Birthday gift to myself. It gives you different notes with each sip. If you drink this once in a lifetime consider it a blessing.

5

Smooth like velvet! At first a strong taste of sultanas, raisins and muscovado sugar. The somewhat strong alcohol isn't there to find, and the taste grows in your mouth. Liquid candy is the word for this rum, and is one of the best ones out there.

5

A stunning rum.

5

Packaging was very very good, so many layers of bubblewrap and packing peanuts, nothing could have happened to it! Very pleased, the engraving was exactly how I wanted it and looked beautiful on the bottle.
Disclaimer
Disclaimer
While we endeavour to provide full and accurate information on our website, there may be occasions where producers have updated their recipe or failed to provide full details of their ingredients and processes. This may affect factors including the product style and allergen information, and we would advise that you always check the label and not solely rely on the information presented here. If you are at all uncertain about a product then please contact our customer service team before purchase.
Good To Know
How we pack
Eco-friendly Packaging

Our boxes are made of 100% recyclable cardboard. Our special air-inflated packaging is both re-usable and recyclable, as well as efficient to both transport and dispose of.

Flexible Delivery Options

We deliver to countries all over the world! You can also select express delivery, or pick a specific delivery date, at checkout.

Packed With Care

Our experienced warehouse team take great care with every order. As specialists in glass packaging they ensure that your items stay safe and secure in transit.
14-Day returns policy
We want you to be 100% happy with your order and it is our aim to ensure that all products supplied to all customers arrive in perfect condition. You have the right to cancel your order at any time without being charged for the goods ordered within 14 days of purchasing (other than for perishable or personalised products or those products that have been specified as non-returnable).