Highland Park Odin
16 Year Old Valhalla Collection
Island Single Malt Scotch Whisky
Distillery Bottling
70cl / 55.8%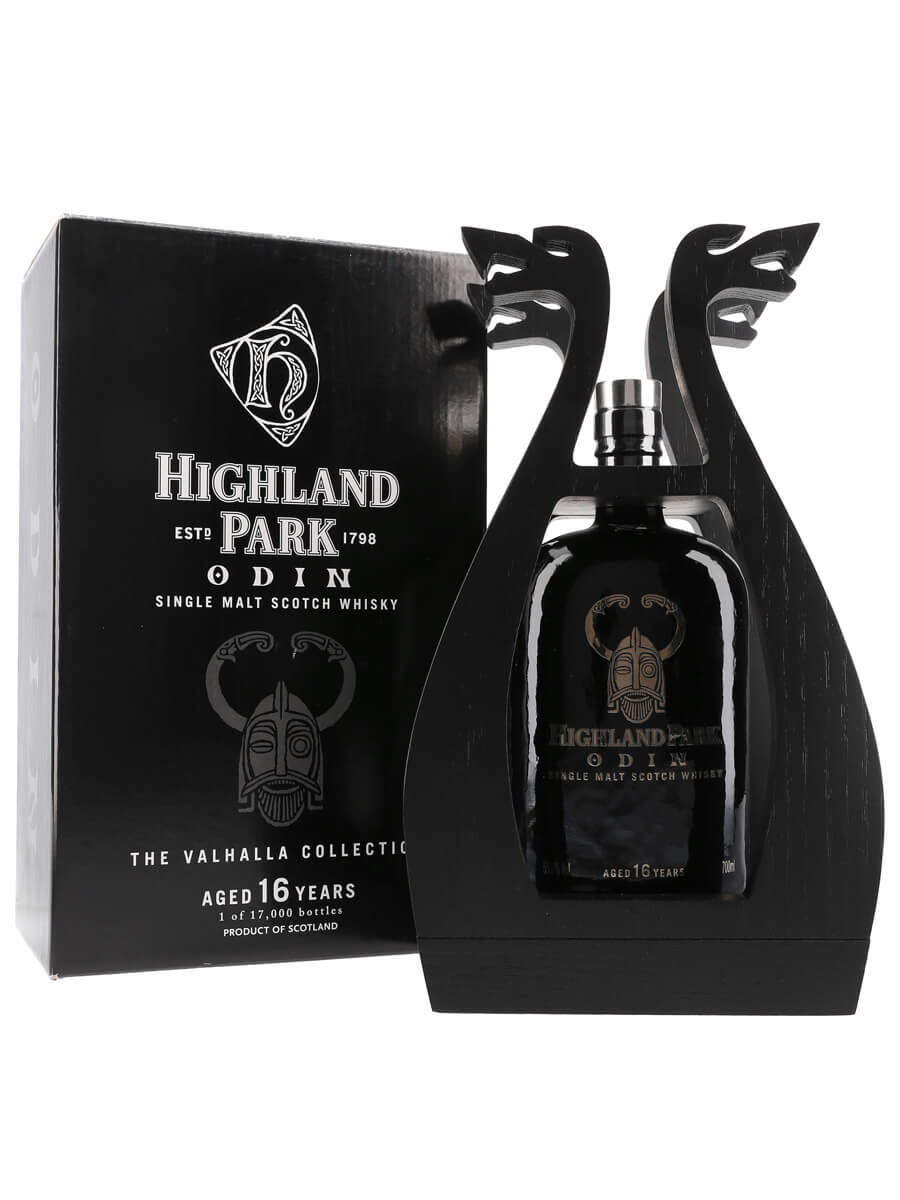 FREE UK Mainland standard delivery
In Stock
£500
£416.67 ex VAT
(£714.29 per litre)
You must be aged 18 or above to buy alcohol in the UK
Estimated Delivery
Express delivery

(Choose a day)

From £6.95

Standard delivery

(UK Mainland)

Free

Click & Collect

(Mon-Fri 10am - 5pm)

Free
The long-awaited fourth and final entry in Highland Park's The Valhalla Collection. Odin (aka 'The Furious One'), is a rich and dark whisky with the distillery's trademark sweet and gently peaty character. Aged for 16 years in a combination of first-fill sherry casks and refill hogsheads, this is one not to miss.
Tasting Notes (3)
Flavour Profile
Style
Body

Richness

Smoke

Sweetness
Character
Cinnamon

Smoke

Leather

Oak

Dried Fruit

Stewed Fruit
Facts
Facts
Bottler

Distillery Bottling

Age

No of Bottles

17,000

Country

Scotland

Region

Island

Colouring

No
Tasting Notes
Tasting Notes
Tasting Notes by Stuart P

Nose

Almost refined, by Highland Park standards, with toasty honeycomb, marshmallows over an open fire, red-berry fruit, strawberry Fruitella sweets and pink peppercorns. The smoke is there, but lurking in the background.

Palate

Way more robust than the nose, this delivers a big, bold whack of peat and smoke initially, then starts to reveal complex, mouth-filling notes of bitter chocolate, old books, honeycomb and finally, the fruit (red-fruit compote and a hint of candied orange peel). I also get an earthy note – plenty to contemplate here.

Finish

Red-berry fruit is the dominant note, then the peat smoke takes hold. Nice that the fruit makes itself heard among all that fire and brimstone.

Tasting Notes by Billy A

Nose

Rich and leathery, with concentrated dried fruit, dark oak and hints of marzipan. As it sits, stewed apples and cinnamon develop, with the sweeter notes balanced by charred oak and a touch of fresh polished leather boot.

Palate

The leatheriness of the nose comes through at the start, with a strong savoury, umami note. Old oak, forest floors and damp earth dominate to start, with sweet fruit cake. The fruit cake doesn't stay sweet, with burnt edges and charred raisins joining with barrel char and earthy smoke to provide a savoury kick on the mid-palate, although sweetened with some liquorice and chocolate touches.

Finish

Soft and sweet, with spiced apple, honeysuckle and sponge-cake batter initially. However, the darker and spicier notes build, with barrel char and damp earth joined by lingering woody spice.

Comment

A rich and dark end to the Valhalla Collection, jumping to the other end of the flavour spectrum to last year's Freya. A fitting final chapter.

Producer's Tasting Notes

Colour

Vivid burst of sunlight.

Nose

This intense whisky possesses a fierce spice. Cinnamon bark and nutmeg rise from Odin's spirit. Behind the spice, toasted walnuts smoulder with pulsating explosions of smoke. Odin cuts an ominous figure and this whisky is no different.

Palate

A huge, powerful palate draws on the complexity of Odin's character. Layers of peat uncover thousands of years of wisdom. Dense oak combines with rich charred walnuts.

Finish

Throughout is a subtle sweetness, sharing the knowledge of well-seasoned sherry wines. Plums and soft fruit disappear into the dark as the peaty embers glow into a smoky finale.
Customer Reviews
Reviews (3)
Reviews
5

Fantastic. Bold flavours with a warm finish. Thoroughly enjoyable and a pleasure to have discovered.

5

Perfect

5

Quality, strong, worthy!
Disclaimer
Disclaimer
While we endeavour to provide full and accurate information on our website, there may be occasions where producers have updated their recipe or failed to provide full details of their ingredients and processes. This may affect factors including the product style and allergen information, and we would advise that you always check the label and not solely rely on the information presented here. If you are at all uncertain about a product then please contact our customer service team before purchase.
Good To Know
How we pack
Eco-friendly Packaging

Our boxes are made of 100% recyclable cardboard. Our special air-inflated packaging is both re-usable and recyclable, as well as efficient to both transport and dispose of.

Flexible Delivery Options

We deliver to countries all over the world! You can also select express delivery, or pick a specific delivery date, at checkout.

Packed With Care

Our experienced warehouse team take great care with every order. As specialists in glass packaging they ensure that your items stay safe and secure in transit.
14-Day returns policy
We want you to be 100% happy with your order and it is our aim to ensure that all products supplied to all customers arrive in perfect condition. You have the right to cancel your order at any time without being charged for the goods ordered within 14 days of purchasing (other than for perishable or personalised products or those products that have been specified as non-returnable).